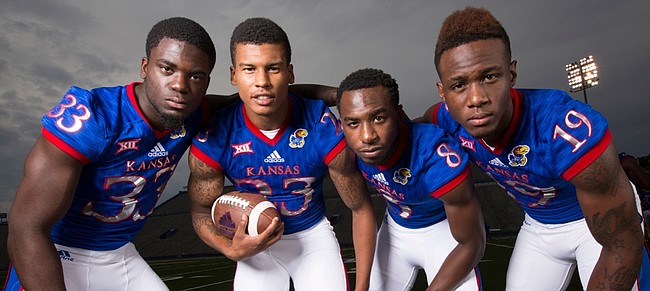 Four days before the 2015 season opener against South Dakota State, Kansas University football coach David Beaty has dismissed cornerback Matthew Boateng from the team.
The news came out in press release sent out Wednesday afternoon.
"Matthew has been dismissed from our program for a violation of team rules," Beaty said in the release. "We wish him well in his future endeavors."
No further details about the rules violation were made available but Boateng's dismissal figures to be a blow to the already-thin KU secondary. Projected as a second-string cornerback behind starters Brandon Stewart and Tyrone Miller Jr., Boateng was one of the few KU cornerbacks returning with game experience.
In 2014, the true freshman from Toronto played in eight games, recording nine tackles, one forced fumble and one interception.
It remains to be seen who will slide into Boateng's spot on the depth chart, but it will certainly be a player with far less experience. Beaty did not release a Week 1 depth chart, but it's likely that senior Ronnie Davis is slotted as one back-up cornerback. And it's possible Davis' role may expand to backing up both Stewart and Miller.
Sophomore Colin Spencer, a converted wide receiver who appeared in 10 games last season (most on special teams), could be another option to fill Boateng's role, while transfer Marnez Ogletree, walk-on Chevy Graham and incoming freshman Shaq Richmond also could find themselves moved up on the depth chart.
Of that group, Ogletree seems to be the most ready for action. The 5-foot-10, 190-pound transfer from Fullerton College arrived at KU with a reputation as a big time athlete and potential impact guy in the secondary.
KU opens the 2015 season at 11 a.m. Saturday against South Dakota State at Memorial Stadium.