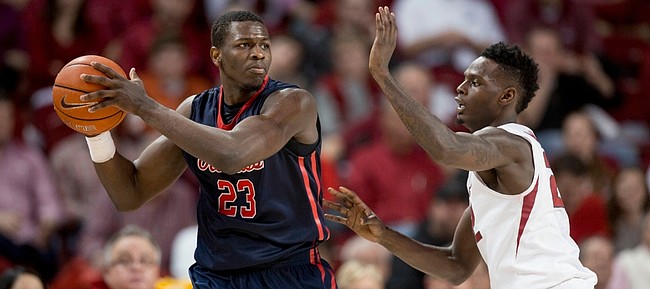 Former Ole Miss power forward Dwight Coleby knows it's going to be extremely difficult to practice, but not play in games during his red-shirt transfer season at Kansas University.
"It will be tough. It will be long. I just have to stay focused, stick with it, keep working at it. Hopefully it'll be good," said the 6-foot-9, 230-pound Bahamas native, who announced plans to leave Oxford for Lawrence last spring.
"Everything," he added of what he'll be working on in preparation for the final two years of his college career, starting in 2016-17. "Getting stronger, quicker, more skilled in the post."
Coleby — he averaged 5.4 points (off 53.2 percent shooting) and 4.8 boards while logging 16.5 minutes per game his soph season at Ole Miss — committed to KU on the second day of a three-day campus visit in May.
It was just 12 days after announcing plans to leave Ole Miss. He made no other campus visits.
"It was a hard decision," he said of leaving the SEC school. "I thought about it for a while. After talking with my family I decided I needed something different, something new. As soon as I came here I had a feeling it was good," added Coleby.
"The history of big men ... I feel working with coach (Bill) Self, he'll make me better and to help get in the league (NBA). He told me if I came in and worked hard I should be able to contribute heavily to this team."
Coleby said his strength is "probably rebounding, playing tough in the post."
He'll need that toughness going against KU's bevy of big men in practice.
"All the bigs are good," he said. "Especially they are leaving next year (seniors Perry Ellis, Jamari Traylor, Hunter Mickelson and perhaps freshman Cheick Diallo) so I feel I should continue doing what they were doing (at KU)."
Of the 6-9 Diallo, who has yet to be cleared by the NCAA, Coleby said: "He's young. He's still got to learn, but he has a lot of potential. He'll be very good. They are pretty good players," he added of the 2015-16 Jayhawks. "If they keep working they should be able to win the next championship this year."
Coleby was hoping to help the Bahamas win the Caribbean Confederation Championships June 8-21 in British Virgin Islands. However, a thief broke into Coleby's buddy's car outside a Nassau gym and swiped clothes, shoes and more importantly, Coleby's passport.
"Devastating," he said. "I was thinking about it the whole year (playing next to his brother Kadeem, a former Wichita State player). They (national team players, coaches) were looking forward to me being there. I told them I didn't have a passport, visa. They were upset for me."
Not having a passport delayed his arrival at KU from second session of summer school to just a couple weeks ago.
"It's supposed to take longer than what it actually took (to replace)," Coleby said. "I'd probably still be in the process now if we didn't know somebody to try to push it. It would take a long time."
Darrell Sears, his St. George's High School and Bahamas Jaguars AAU coach, was able to advise Dwight on how to replace his materials.
"Darrell Sears has been with me from Day One," Coleby said. "I was running on the beach one day (in Freeport) and he so happened to have his team out there running on the beach. He was like, 'Come out for basketball.' I didn't know he was at the school holding basketball practice. Since then we've been together," added Coleby, who competed in the high jump in track as a youth.
Of Coleby, who scored in double figures six times in 2014-15 with 11 points and nine boards in a game against Florida, Sears said: "Dwight is certainly somebody people here are very proud of. He's not only going to pave the way for opening the doors for many other Bahamian kids who aspire to play at the highest level, he is kind of at the highest level."
KU coach Self said: "He reminds me a lot of Darnell Jackson. I think he can be a Darnell Jackson-type player. He's got a great motor. He can play on the block. He can play facing. He's a premier athlete and should be a solid rebounder and defender right off the bat."
Coleby likes what he's seen of KU so far. "Kansas is a good school, has a deep history. I'm happy to be here. Very happy," he said with a smile.
•
Recruiting: Malik Monk, a 6-3 senior from Bentonville (Arkansas) High, has cut his list to KU, Arkansas, Florida State, Kentucky, North Carolina and Oregon. The country's No. 6-rated player will visit KU for the Oct. 9 Late Night in the Phog. ... Udoka Azubuike, 6-11 senior from Potter's House in Jacksonville, Florda, who is ranked No. 26, will visit KU on Sept. 18.