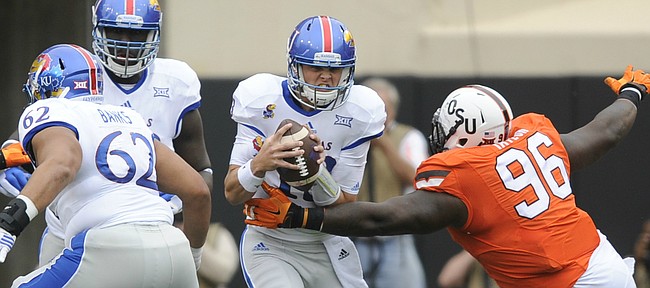 Stillwater, Okla. — A wave of emotion leading up to kickoff gave way to a sea of orange jerseys swallowing the Kansas University offense during Oklahoma State's 58-10 victory Saturday at Boone Pickens Stadium.
A few hours after a 25-year-old Stillwater woman drove her car into a crowd of people at a homecoming parade near OSU's stadium, killing four and injuring a few dozen others, the 14th-ranked Cowboys (7-0 overall, 4-0 Big 12) delivered a much-needed distraction for the home crowd of 59,486 in the form of a dominant win over the overmatched Jayhawks.
Prior to Saturday's kickoff, there was talk about canceling the game. But OSU officials said they believed the game should be played as scheduled as a way to honor the victims and their families.
"I just want to start by saying how sorry our staff, the Oklahoma State family and our team is about the incident earlier today," OSU coach Mike Gundy said after the game. "My message to (our team) was that a decision was made to play the game so we need to play the game. After that, we need to do everything we can to help the people and the families involved."
Photo Gallery
KU football v. Oklahoma State
View a gallery of images from Saturday's game between the Jayhawks and Cowboys at T. Boone Pickens Stadium in Stillwater, Oklahoma.
Added KU coach David Beaty: "This is a football game. As upset as I am right now, it pales in comparison to what these families are going through. I just can't imagine."
The moment of silence that preceded Saturday's game was the last time the Jayhawks were in this one. OSU's offense, which racked up 331 yards in the first half and 583 for the game, scored touchdowns on five of its first six possessions and built a 35-10 lead at the break.
Three OSU touchdowns in the third quarter and a safety late in the fourth set the final margin of the loss, which looked a lot more like KU's last couple of trips to Stillwater — a 42-6 loss in 2013 and 70-28 drubbing in 2011 — than last week's encouraging effort in a 30-20 loss to Texas Tech.
Podcast episode
KU coach David Beaty shares prayers for Oklahoma State, disappointment over KU's play
"You try not to hang your head," said sophomore linebacker Joe Dineen, who led KU with 11 tackles and a sack. "This one was tough, though. Momentum? I think it's still there. We obviously took a step back but I think we're still on the right track."
As with any game, and especially when a guy like Beaty is the one looking for them, there were a few good signs on Saturday. But the first-year KU coach, who has remained poised and positive in the face of some tough moments this season, looked visibly upset during his post-game meeting with the media. The reason? Effort.
"I can handle getting beat by a really good football team," Beaty said. "It's hard for me to deal with people when they can't play to the end. Most of 'em did that. But there were a few that I saw (who had) a lack of confidence towards the end there. And we'll get that fixed."
Added Dineen of Beaty: "He wasn't happy after the game. Any time you have guys that don't play through the end of the fourth quarter, it's frustrating. When you get down that much, it sucks. But you've gotta keep playing and keep fighting. There's more to play for. You gotta play for your pride."
If you're not counting missed tackles and KU penalties, the lasting image from Saturday's loss — and you can bet it was one freshman quarterback Ryan Willis saw Saturday night in his sleep — was Willis sprinting away from pressure, attempting to square his body to throw and firing a pass into the turf at the feet of his receivers.
Oklahoma State's defense, which entered Saturday ranked 29th in the nation, had a lot to do with Willis' 12-of-31 passing day that included two interceptions, two sacks and no time to breathe.
KU's offensive line provided little resistance for much of the game and Willis, in just his third career start, barely had time to secure the snap, let alone process what he saw from the defense.
"There's no two ways about it," Beaty said. "That's probably as good of a pass rush as I've seen in a long time. They were big and they're fast.... The last group I played against that looked that big was Alabama that first year we were at (Texas) A&M.; You guys know me. I don't mince words. I pat 'em on the back when they deserve it. We didn't play very good up front today. Not at all."
Added center Keyon Haughton on OSU's defense, which recorded two sacks, five quarterback hurries and eight tackles for loss: "It was really different watching it in person."
In its latest and arguably most disappointing loss of the season, Kansas (0-7, 0-4) committed 10 penalties, lost the turnover battle and committed yet another blunder on special teams. OSU blew the game open early, sacking Willis to end the first quarter and blocking a punt for a touchdown to start the second quarter on the very next play.
"They out-coached us and they outplayed us today," Beaty said. "Simply put. In all areas."
It wasn't just the KU defense that missed tackles at an alarming rate. The offense got in on the act, as well. When OSU junior Devante Averette picked off Willis early in the fourth quarter, the 6-foot, 230-pound linebacker rumbled his way to an 18-yard return that side-stepped five or six attempted tackles by the Jayhawks.
"We made it a lot easier on them today than it really should've been," Beaty said. "We're growing. We've got a bunch of young guys in there, but that's absolutely no excuse. We coach those things up. They know what they're supposed to do. We gotta do a better job of making sure it gets carried over to the field. Obviously nobody wants to be sitting here where we're at. But we are. So we can whine and moan and complain or we can get up and go to work and try to fix it for next week. It's a tough conference, and that's what makes it so much fun to play in. As hard as it was to walk off that field with that type of result, man, that's as much fun as you'll ever have in your life, playing in a Big 12 football game."
— See what people were saying about the game during KUsports.com's live blog.
---
More news and notes from Kansas at Oklahoma State
---