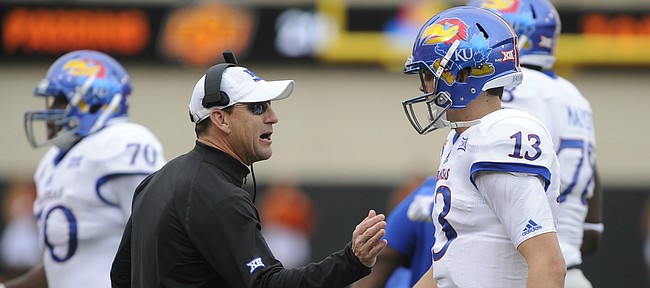 Stillwater, Okla. — Trailing by 25 points at halftime and looking for a spark to give them hope of crawling back into the game, in what turned out to be a 58-10 loss at Oklahoma State, Kansas started the second half with a surprise onside kick that resulted in two penalties — one for kicking the ball out of bounds and the other for sideline interference.
KU coach David Beaty said the onside kick attempt was something KU drew up in the locker room and he was upset it didn't work.
"We were gonna go for that chip at the start of the second half," Beaty said. "We knew that we had it, we knew it looked really good. We had seen it earlier in the game. And we didn't execute it."
Failing to shift the momentum was the least of Beaty's concerns about the close call on the kick.
Photo Gallery
KU football v. Oklahoma State
View a gallery of images from Saturday's game between the Jayhawks and Cowboys at T. Boone Pickens Stadium in Stillwater, Oklahoma.
"Where we went from there, that's probably the most disappointing thing," Beaty said of his team, which surrendered 21 points and nearly 200 yards of offense to OSU while gaining just 47 yards of its own in the final two quarters.
Season-long from scrimmage
Freshman quarterback Ryan Willis' 46-yard completion to senior receiver Tre' Parmalee in the second quarter marked the Jayhawks' longest offensive play of the season.
Podcast episode
KU coach David Beaty shares prayers for Oklahoma State, disappointment over KU's play
Parmalee, who finished with game highs of 115 receiving yards and six receptions, said he and Willis communicated well throughout the game.
"I was in his ear all day," Parmalee said. "(Injured KU quarterback) Michael Cummings was also in his ear, just telling him to speed the clock up because we knew that they had a good front. I was just telling him go back there and relax and have fun."
The streaks continue
KU's loss at Oklahoma State marked the program's 36th consecutive setback away from Lawrence, a losing streak that dates back to 2009.
KU also now has lost 29 consecutive Big 12 road games. Kansas' last road win in Big 12 play came in 2008 against Iowa State.
This and that...
The Jayhawks won Saturday's opening coin toss for the third week in a row and, this time, elected to receive the opening kickoff.... Freshman linebacker Osaze Ogbebor recorded the first tackle of his college career, a sack in the fourth quarter..... Junior safety Fish Smithson finished with 10 tackles, giving him double-digit tackles in four of KU's seven games this season.... The safety given up by Kansas, which came when Willis was flagged for intentional grounding in the end zone in the fourth quarter, was KU's first since 2011.... Place kicker turned punter, Matthew Wyman handled punting duties for the second week in a row and finished with a career-high eight attempts and a 43.1-yard average, including punts of 52 and 56 yards.... Temperature at kickoff was 62 degrees, under mostly cloudy skies with winds of 8 mph out of the northwest.
— See what people were saying about the game during KUsports.com's live blog.
---
More news and notes from Kansas at Oklahoma State
---