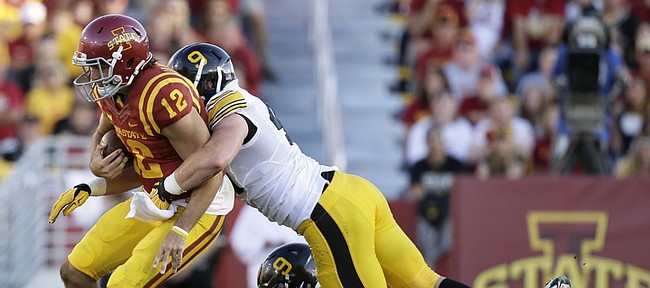 11 a.m. Saturday, Jack Trice Stadium, Ames, Iowa
Game-time forecast: Sunny, 53 degrees, 14 mph E winds • TV: FOX Sports Net (cable chs. 36, 236) Log on to KUsports.com for our live game blog and follow our coverage team on Twitter: @KUSports @mctait @TomKeeganLJW and @bentonasmith
THREE KEYS FOR KANSAS
Sack masters
KU coach David Beaty said this week that he has been a little disappointed in the play of his defensive ends so far this season. Senior Ben Goodman has been solid, but newcomers Damani Mosby, Anthony Olobia and Dorrance Armstrong have just one sack between them and have been largely quiet thus far. This week represents a perfect opportunity for the Jayhawks to get those guys on track. Through three games, Iowa State's 12 sacks allowed ranks dead last among all FBS teams in the country. Olobia and Mosby flip-flopped spots on the depth chart this week, so perhaps Olobia in the starting lineup and Iowa State's troubles will get KU on the right track.
Quality coverage
The Iowa State receiving corps is a talented and experienced bunch with a good mixture of size, speed and skill. Allen Lazard, D'Vario Montgomery, Dondre Daley and Quenton Bundrage are the top threats in the ISU passing game, with Lazard seemingly the most dangerous. Lazard leads the team with 15 receptions and a 150 yards, and three other Cyclones have topped 100 yards and scored a TD so far this season. KU true freshman Tyrone Miller Jr. and junior-college transfer Brandon Stewart have had up-and-down seasons in coverage so far this year. Both will have to be sharp in this one to give the Kansas defense a chance of slowing down the pass-heavy ISU offense.
O-Line must be better
After paving the way for junior running back Ke'aun Kinner to top the century mark during its first two games, the KU offensive line took a step backward against Rutgers. In last week's 27-14 loss in New Jersey, the Jayhawks managed just 64 yards on 29 carries, with 41 coming on one run by senior De'Andre Mann. Left tackle Jordan Shelley-Smith said KU's offensive linemen were disappointed in their performance last week. Though disappointed in the production, offensive coordinator Rob Likens said the struggle against Rutgers was good to see because it helped the KU coaching staff identify areas in which opposing defenses try to expose the KU running game.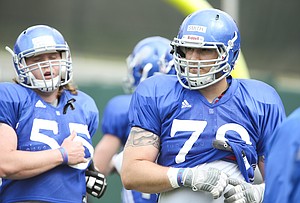 MEGA MATCHUP
ISU senior DE Dale Pierson vs. KU LT Jordan Shelley-Smith
For the second week in a row, the Kansas offensive line will be asked to stop one of the country's premier pass rushers. This time that player is Iowa State's Dale Pierson. Through three games, Pierson has racked up five sacks — ranking him in the top five in the country — and often has drawn extra attention from opponents. The senior has 15 tackles, six for loss, one quarterback hurry, an interception and a pass defended. So even if the Jayhawks are able to keep Pierson away from quarterback Montell Cozart, Pierson is fast, athletic and active enough to be disruptive in other ways. "We have to know where he is and have to have a plan for him," Beaty said of Pierson. The bulk of the responsibility for that likely will fall on the shoulders of Shelley-Smith.
FIVE QUESTIONS WITH ... WR TRE' PARMALEE
Has the way you've played this season and the role you've had — possession receiver, running reverses, team leader, etc. — always been your vision for the way you could contribute to this program?
"Most definitely. I always knew that it was possible. It's just taken hard work to get there. There have been ups and downs along the way, but I always knew I could be at this moment right now, where I'm helping my team and just trying to be as consistent as I can in the run game and the pass game."
If you look at your bio in the game notes, nearly every one of your career highs has the year 2015 attached to it. What's it been like to get your last season of college football off to such a good start?
"It's great. Getting off to a good start really boosts your confidence. It feels great, but there's a lot more that can be done. My game can still elevate to another level."
Coming out of Bishop Miege High, most programs recruiting you told you they wanted you to play defensive back. Do you ever think to yourself, 'What if I had gone somewhere to play DB instead of coming to KU to be a receiver?'
"No, not really. Maybe my freshman year I thought about it a little bit, but besides that, not really. I love offense. I love getting the ball in my hands and helping put points on the board."
With nothing but Big 12 games left on the schedule, what's the most important thing a veteran such as yourself can tell the young guys on this roster about surviving Big 12 play?
"I just tell 'em not to get down and to keep working every week. I mean, every team loses a game, and if you get down then there's a chance that it could really create a snowball effect and things could go negatively."
You and KU quarterback Montell Cozart come from the same high school. What's your bond with him like and how proud are you of the way Montell has handled all of the ups and downs that have been thrown his way?

"In my four years here, we've gotten a lot closer. We're basically like brothers now. And it's awesome to see him thrive like he did last week (at Rutgers), even though he was really sick. It was just great to see him go in there and gut it out for the team. That shows a lot of pride and a lot of character."
JAYHAWK PULSE
Having finished winless in nonconference play for the first time since 1988 and just the third time since 1967, the Jayhawks jump into Big 12 Conference play against the one team which many believe KU has the best chance of being competitive and possibly beating in Iowa State. That fact — which comes largely from the confidence gained by topping ISU 34-14 at home in 2014 — along with the belief that they have gotten a little bit better each week of 2015 have the Jayhawks looking forward to the start of Big 12 play instead of dreading it.
TALE OF THE TAPE
KU run game vs. ISU run D, advantage Kansas
KU pass game vs. ISU pass D, advantage Iowa State
ISU run game vs. KU run D, even
ISU pass game vs. KU pass D, advantage Iowa State
Special teams, advantage Kansas