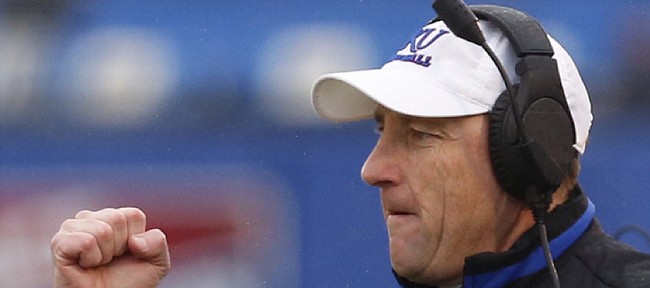 Kansas University's football team made the wrong kind of history Saturday with its 45-14 loss to Kansas State cementing the first winless season in Big 12 history.
While the Jayhawks (0-12 overall, 0-9 Big 12) became the first team to fail to win a game since the inception of the Big 12 Conference, they're not the only current member of the Big 12 to have experienced such a sad-sack season.
Winless FBS teams since 2000
2015 — Kansas — Big 12
2015 — UCF — American
2013 — Miami (Ohio) — MAC
2013 — Georgia State — Sun Belt
2012 — Southern Miss — C-USA
2009 — Western Kentucky — Sun Belt
2009 — Eastern Michigan — MAC
2008 — Washington — Pac-12
2006 — Fla. International — Sun Belt
2006 — Duke — ACC
2005 — New Mexico State — WAC
2004 — UCF — MAC
2003 — Army — Independent
2003 — SMU — WAC
2001 — Navy — Independent
2001 — Houston — C-USA
2001 — Duke — ACC
2000 — Duke — ACC
In fact, Saturday's opponent, Kansas State, turned in back-to-back winless seasons in 1987 (0-10-1) and 1988 (0-11) as a member of the old Big Eight. Oklahoma State (0-10-1 in 1991) and, most recently, Iowa State (0-10-1 in 1994) also suffered through winless seasons in the Big Eight.
KU's season of futility goes well beyond just Big 12 records, though. Since 2000, only four teams from the Power 5 conferences have finished without a victory. Three of them were fielded by Duke, which went 0-11 in 2000 and 2001 but trounced KU during Week 2 of the 2014 season, and the other belongs to Washington, which finished 0-12 in 2008.
"It's embarrassing to me personally, and I think it's embarrassing to KU, our university," first-year KU coach David Beaty said after Saturday's loss. "They deserve better than that. We're going to work our tail off every day, knowing that they deserve better. We can't do much about what's behind us, but we can certainly do something about what's in front of us. And that motivation is plenty there. We have a lot to learn from."
Coincidentally, KU, Duke and Washington also were the last three Power 5 programs to have tracks around their football fields. The tracks at KU and Washington have since been removed, and the Blue Devils have plans to replace theirs soon.
Kansas became the 18th FBS program since 2000 to finish a season without a victory. This season, the only other FBS program to finish without a win was Central Florida, which went 0-8 in the American Athletic Conference and 0-12 overall.
Two Power 5 programs — Boston College at 0-8 in the ACC and Oregon State at 0-9 in the Pac-12 — finished without a conference win, but BC won three games overall, and OSU went 2-10.
Four other FBS programs finished without conference victories in 2015, but all of those came outside of the Power 5, and all of those teams won at least one game in nonconference play.
That's what made KU's rough season one for the ages, as the Jayhawks not only set the futility mark throughout college football, but also became just the second KU team all-time to finish without a victory, joining Chuck Mather's 1954 team that finished 0-10.
"I understand what happened this year," Beaty said. "I know where our season is. But I'm not discouraged. I'm excited about moving forward. It's going to be a great, great 2016. I'm fired up about it."