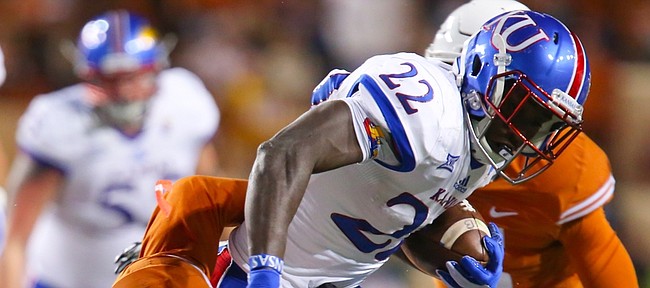 After battling through nagging injuries for the past five or six weeks, Kansas University running back Ke'aun Kinner is finally back, and he's ready for Saturday's 11 a.m. showdown at TCU.
Kinner, the junior-college transfer who opened the season with back-to-back 100-yard rushing games, topped 100 total yards in last week's loss at Texas and is hoping to pick up where he left off in that one against the eighth-ranked Horned Frogs.
"I love it," Kinner said. "You can't really get this in any other conference, playing a top-ranked team every week. I like to call 'em money games. And that's just a chance for you to do what you can do against the top teams in the country."
For Kinner, the frustrating part about being injured was not what it did to his statistics. After rushing for 270 yards on 43 carries during the first two weeks of the season, Kinner combined for just 114 yards on 50 carries in the next six. But even more frustrating than that was him not feeling like himself.
"I've been pretty banged up," he said. "But that just goes back to my weight. I've gotta gain a few pounds and maybe I can carry more of the load."
Asked what the injuries affected most, Kinner did not hesitate to point to the one thing that helped him make tacklers miss with regularity during the opening weeks.
"It was mostly my lateral movement," he said. "I couldn't really cut the way I wanted to and I couldn't really get to my top speed. Nothing really serious, though. I'm very fortunate for that."
With his body feeling good again last week against Texas, Kinner received his first double-digit carry total since Sept. 12. More important than him being able to handle the work and show some explosion was the fact that he emerged from the game ready for more.
"He's finally getting healthy and now he's feeling a lot better and looking good," KU offensive coordinator Rob Likens said. "He looked like his old self in the game and that was great to see."
Doctson in or out?
TCU star wideout Josh Doctson, who is among the nation's leaders in several receiving categories but injured his wrist in last week's loss at Oklahoma State, was at the center of some confusion on Thursday.
Comments made by TCU coach Gary Patterson on a radio interview with SiriusXMCollege were misinterpreted and later reported as Doctson being out for the season.
Later in the day, the school and Patterson both clarified the situation and said that Doctson still could play against Kansas.
At this point, it looks like a game-time decision for the senior wide receiver who ranks second nationally in yards per game (146.1) and third in receptions per game (8.7) and has 14 touchdowns.
On the road again
KU entered the 2015 season hellbent on breaking their 33-game losing streak in games played outside of Lawrence. But it hasn't happened.
The Jayhawks are 0-4 on the road this season, with losses to Rutgers, Iowa State, Oklahoma State and Texas coming by an average score of 46-14. Saturday's 11 a.m. kickoff against No. 13 TCU marks KU's final shot at ending the road losing skid this season. If they don't, the next opportunity to end the madness will not come until Week 3 of the 2016 season, when KU travels to Memphis on Sept. 17, 2016. TCU (8-1 overall, 5-1 Big 12) is a 45-point favorite over the winless Jayhawks.