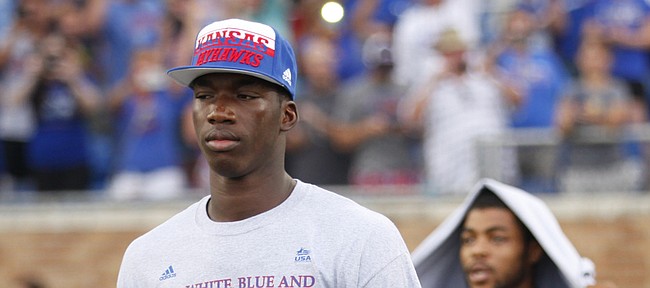 Don Jackson, attorney who is working on KU freshman Cheick Diallo's eligibility case, sent out an e-mail to media Thursday indicating the NCAA Eligibility Center was "incapable of objective analysis of African American and African student-athletes' credentials for initial eligibility at NCAA member institutions."
He expressed concern over a Tweet attributed to a higher-up in that NCAA department, who four days ago is said to have written on Twitter: "I Webmd'd the symptoms for Ebola. They're identical to a hangover. Now I'll think I have it every morning after wine wednesday #ebolajokes."
Here's attorney Jackson's statement. The Journal-World is not using the NCAA official's name because the Tweet has been unable to be located at this time. No officials were available for comment at the NCAA on Thursday night.
"Over the past several years, I have consistently stated my concerns about racial implications in many investigations that were initiated by the NCAA Eligibility Center and Enforcement Staff. Although I have been quite hesitant to directly state that investigators or representatives of the NCAA have 'racist' motivations, I have been quite open about the statistical disparities between the intensive reviews of African American and international athletes and other racial groups. Currently, there are a number of very high profile African American and native born African Basketball student-athletes whose eligibility is in question. The international student-athletes' eligibility and academic futures are in the hands of the Eligibility Center and (more specifically) the group that oversees international student-athlete initial eligibility certifications. (Named person) oversees that group.
Podcast episode
Kansas basketball coach Bill Self meets with media members Thursday afternoon at Allen Fieldhouse to discuss the Jayhawks' season opener. But it didn't take long for the talk to turn toward freshman big man Cheick Diallo. Self discusses the freshman's impact at length and remains confident Diallo will play for ...
"Since my involvement in the Cheick Diallo matter became public several days ago, I have received no less than 40 calls and texts from coaches at various NCAA member institutions around the country about a Tweet from (Named Person). The tweet is attached. (Named Person's) apparent effort to engage in an off color comedic comparison between Ebola symptoms and a 'hangover' are at the very core insensitive and potentially racist. In (this person's) current position, (Named Person) has primary responsibility to certify the initial eligibility of African student-athletes for participation at NCAA member institutions. (The) comments demonstrate that (Named Person) is philosophically incapable of objectively rendering decisions on the academic credentials and amateur status of African student-athletes.
"It is undeniably clear that (this person's) superiors at the NCAA were quite aware of (this person's) philosophical disposition and racial views. (The) comments and philosophical leanings clearly demonstrate long held beliefs that render (this person) and the Eligibility Center incapable of objective analysis of African American and African student-athletes' credentials for initial eligibility at NCAA member institutions."
Jackson indicated in an e-mail other reporters also attempted to locate the tweet Thursday to no avail.
Jackson stated: "Interestingly, immediately after my involvement in the case became public knowledge, I had a number of calls from coaches and athletic administrators about the tweet. These were coaches from schools that are not impacted by the current investigations."