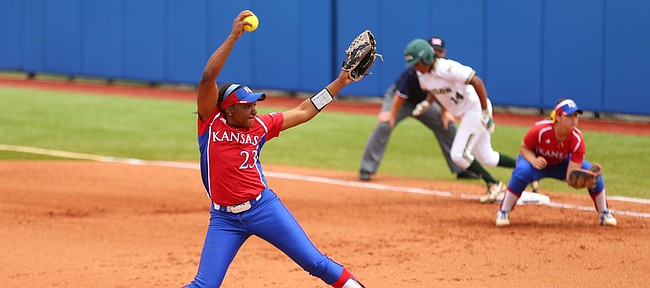 Kansas University softball players were hoping to give their seniors a few extra reasons to celebrate on their Senior Day, but a couple of bad innings cost them in a 6-1 loss against No. 14 Baylor on Saturday at Arrocha Ballpark at Rock Chalk Park.
The Jayhawks have lost four straight games and six of their last eight.
They honored their four seniors — Alicia Pille, Chanin Naudin, Maddie Stein and Beth Wilson — in a ceremony after the game.
"I said that I was pretty much cried out by the end of the ceremony, because I cried so much yesterday and then prior to this," Stein said with a laugh.
For the second straight day, the Bears (36-13 overall, 10-4 Big 12) hit the ball well in the early innings. They scored two runs in the first inning against KU starter Monique Wesley when Baylor's Jordan Strickland drilled a two-run double into the left-center gap, past diving KU center fielder Briana Evans.
In the second inning, Baylor opened the frame with four straight hits, including an RBI double from Kaitlyn Thumann and a RBI single from Lindsey Cargill.
"I was certainly hoping for a better outcome and a better start," KU coach Megan Smith said. "I think we were flat. I think Monique started off extremely well, then our defense let her down. One of those hits should have been caught and we have to do a better job defensively to get our pitcher some backup. I thought we let her down that first inning."

The Jayhawks (35-12, 5-9) managed only one hit in the first three innings against Baylor right-hander Kendall Potts before they pieced together three straight hits from Daniella Chavez, Naudin and Jessie Roane in the fourth inning. Roane hit an RBI single, scoring Chavez, but Potts induced two pop flies to end any further damage.
KU nearly added on in the fifth inning when Chaley Brickey hit a two-out double to left and Stein drew a walk, but Chavez flied out to the warning track in right field. The Jayhawks went 2-for-11 at the plate with runners on base.
"I think we just weren't attacking them like we know we can," Naudin said. "If we just play like we're capable of, we're going to hit those pitchers very well. We just weren't being ourselves, trying to do too much."
Baylor scored two more runs in the fourth inning against KU reliever Sophia Templin, who gave up five hits and zero earned runs in six innings while striking out three.
"We weren't as focused and Baylor jumped on it," Smith said. "You can't give a team like Baylor opportunities like we did and expect to win the game."
Though the seniors didn't have their day go as planned, it didn't take away from their excitement and emotions when they were honored afterward. They were proud of the way they've lifted the program to new heights, including an appearance in the NCAA Tournament last year and a new ballpark.
"There's a lot of emotions of course," Naudin said. "For me, this has just been such a special place for me for the past four years. I just love it so much to where it just like makes you reflect on all that you've done and how much this program has grown in the four years."
The Jayhawks will conclude their series against Baylor in their final home game at noon today.
Baylor 220 200 0 — 6 10 0
Kansas 000 100 0 — 1 6 0
W — Kendall Potts, 7-3. L — Monique Wesley, 3-1.
2B — Jordan Strickland, Jessie Scroggins, Kaitlyn Thumann, Lindsey Cargill, BU; Chaley Brickey, Jessie Roane, KU.
KU highlights — Sophia Templin, 6 IP, 5 H, 0 ER, 4 BB, 3 K; Roane, 2-for-3, RBI.