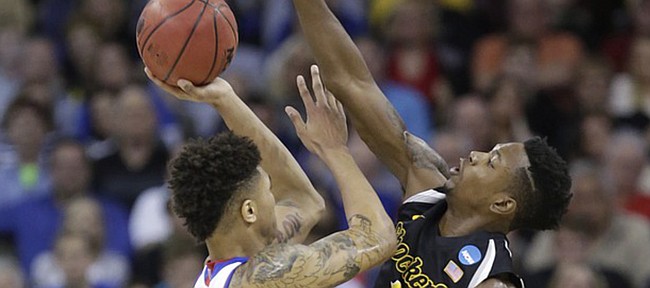 Omaha — There were a dozen big shots, all kinds of clutch moments and even a few runs that decided Sunday's 78-65 victory by seventh-seeded Wichita State over No. 2 seed Kansas at CenturyLink Center.
But no play better illustrated the difference between the two teams or defined the reason for the final score like the hustle play and ensuing slam dunk made by Wichita State freshman Zach Brown with 9:33 to play in the game.
With just under 10 minutes remaining and the Jayhawks (27-9) trailing by nine points but closing in on some momentum, KU point guard Frank Mason III drove to the rim looking to make a play. As Mason floated under the basket, he attempted to fire a pass toward Kelly Oubre Jr. on the perimeter.
Photo Gallery
Kansas basketball v. Wichita State in NCAA

Images from the Jayhawks third-round NCAA Tournament game against Wichita State Sunday, March 22, 2015 at the CenturyLink Center, Omaha, NE.
Podcast episode
Minutes after Kansas University's basketball season ended Sunday in Omaha, Jayhawks coach Bill Self, as well as players Perry Ellis and Devonté Graham, answer questions from the media about how Wichita State knocked them out of the NCAA Tournament.
WICHITA STATE 78, KANSAS 65
Brown, who said his job on the play was to deny any pass toward his man, got his finger tips on Mason's bullet pass and sent the ball tracking toward mid-court. Oubre appeared to have a step or two lead on Brown in the race to chase it down, but just before the KU freshman could clamp down on the bouncing ball, Brown darted in front of him, poked it away and raced in for an uncontested dunk that put the Shockers up 56-45.
"That summarized the game right there," said WSU point guard Fred VanVleet, who finished Sunday with 17 points, six rebounds and six assists. "That guy's supposed to be a lottery draft pick and we've got Zach Brown just outworking him and getting the ball. That was big for us. That sums up us. That sums up the game."
Brown, a 6-foot-6, 213-pound forward from Houston who finished with seven points and three fouls in 13 minutes, downplayed his contribution in the joyous WSU locker room following the game.
"Everybody made a play out there," he said. "I won't say that play was the difference, but it was a turning point in the game."
As the freshman who averaged just 10.4 minutes per game this season continued to deflect credit for Sunday's victory onto others, Brown's teammate, red-shirt sophomore Zach Bush, a walk-on from Wichita, had no problem speaking for him.
"He wanted it more," boasted Bush. "He wanted it more."
In a less convicted way, Brown himself confirmed as much moments later.
"I have no idea how it happened," he said. "I just really wanted the ball. He had the ball in his hands but I managed to tip it out."
From there, the only decision left was whether to get the sure two or try to rattle the rim. Brown elected for the latter and cocked the ball behind his head for a monster, two-handed slam.
"Dunk, layup, it's all two points," Brown said. "I knew the dunk would give us a little more momentum and get everybody more hyped."
It worked, and the Shockers (30-4) rolled into the Sweet 16 from there, with their lead never again dipping below eight points.
"To me, this is probably one of the biggest wins I've been involved with (as) a Shocker," said WSU guard and native Kansan Ron Baker, who scored a dozen, eight coming in the first half. "Just because we don't get the opportunity to play KU and we're going to the Sweet 16, both tremendous achievements."
---
More news and notes from Kansas vs. Wichita State in the NCAA Tournament
---