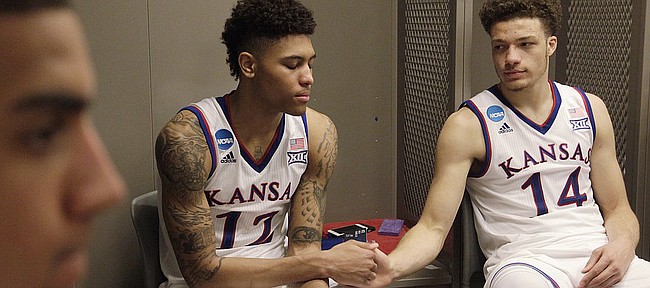 Omaha — Kelly Oubre, Jr., a McDonald's All-American who arrived at Kansas University as an almost-certain one-and-done college player, shed no light on his future plans after Sunday's 78-65 loss to Wichita State in the NCAA Tournament.
"I go to Kansas University. I have no thoughts about the future right now," freshman wing Oubre said after scoring nine points and grabbing five rebounds in what could be his final college game.
"I'm just recovering from this tough loss to end my season. I love this university. I give this university my life. Losing the way we did is something that doesn't sit right with me."
Photo Gallery
Kansas basketball v. Wichita State in NCAA

Images from the Jayhawks third-round NCAA Tournament game against Wichita State Sunday, March 22, 2015 at the CenturyLink Center, Omaha, NE.
Podcast episode
Minutes after Kansas University's basketball season ended Sunday in Omaha, Jayhawks coach Bill Self, as well as players Perry Ellis and Devonté Graham, answer questions from the media about how Wichita State knocked them out of the NCAA Tournament.
WICHITA STATE 78, KANSAS 65
Asked by a reporter if there's "any chance" he'll return, Oubre said: "I go to the University of Kansas. I'm letting this loss sink in. I'm definitely not trying to think about the future right now. I'm trying to be with my brothers and let this sink in."
Junior Perry Ellis, another McDonald's All-American, was asked about possibly turning pro and skipping his senior season.
"I've not thought about that at all," said Ellis, who had 17 points. "I'm just trying to play. I'm sad the season is over. I'm not thinking about that at all."
Of the loss to his hometown school, Wichita native Ellis said: "It's hard to describe. It's tough. Your time is running out, your junior year. It's just tough."
Sophomore Wayne Selden, Jr., a McDonald's All-American who has NBA aspirations, was quizzed about his future after scoring no points and grabbing a rebound with two turnovers and no assists in 23 minutes.
"I don't have any comment on that (NBA)," Selden said. "It's all about this team. It's nothing about me. I'm not going to make it about me. It's all about this team. We didn't come out to play tonight. As a leader I take pride in that and we didn't come to play.
"It's not about next year," Selden added. "We had something special this year. We have so much talent in this room right now. We have leaders. We had everything we needed. We didn't come through. You can't look to next year when this is still heavy on our minds and this still hurts."
Freshman Sviatoslav Mykhailiuk told the Journal-World on Saturday he definitely would return to KU next season and not play overseas in advance of his expected entry into the 2016 NBA Draft.
Freshman Cliff Alexander, a McDonald's All-American who was ineligible for the NCAA Tournament as the NCAA looks into possible improper benefits, is expected to turn pro, but he has made no definitive statement on his future.
---
More news and notes from Kansas vs. Wichita State in the NCAA Tournament
---