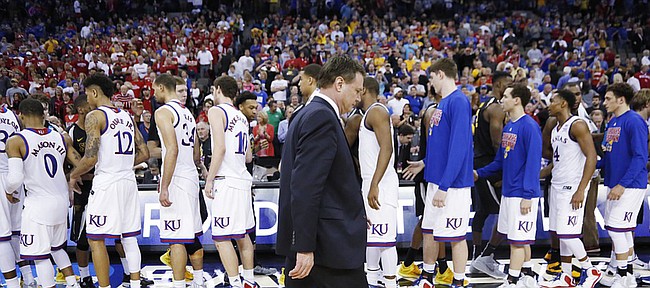 Omaha — The much-talked-about, long-awaited, highly-anticipated battle between major-college power Kansas University and mid-major extraordinaire Wichita State didn't turn out to be much of a contest Sunday in CenturyLink Center.
"We laid an egg, I guess," KU junior forward Jamari Traylor said after the NCAA Tournament Midwest Regional's No. 2-seeded (27-9) Jayhawks were steamrolled by the No. 7-seed (30-4) Shockers, 78-65, in a Round of 32 game.
"They kind of had their way with us," freshman wing Kelly Oubre, Jr. added after scoring nine points off 3-of-9 shooting on a day the Jayhawks converted just 35.1 percent of their shots to Wichita State's 49 percent.
Photo Gallery
Kansas basketball v. Wichita State in NCAA

Images from the Jayhawks third-round NCAA Tournament game against Wichita State Sunday, March 22, 2015 at the CenturyLink Center, Omaha, NE.
Podcast episode
Minutes after Kansas University's basketball season ended Sunday in Omaha, Jayhawks coach Bill Self, as well as players Perry Ellis and Devonté Graham, answer questions from the media about how Wichita State knocked them out of the NCAA Tournament.
WICHITA STATE 78, KANSAS 65
The Shockers trailed by as many as eight points in the first half, yet led by three at halftime, 11 with 15:47 to play and never saw their lead dip below eight points the rest of the way.
WSU shredded KU's proud defense for 49 points off 59.3 percent shooting the final half. Only Iowa State (50) scored more in a half versus KU this season.
"It's a sad and disappointing thing, a worse nightmare for our fans and our program. We let ourselves down," KU sophomore Brannen Greene said. He and fellow wing Wayne Selden, Jr., didn't score off combined 0-for-7 shooting while playing a combined 43 minutes.
"It's a sad way to end the season, them being our state rival. Losing like that is the worst feeling," Greene added.
Sophomore forward Landen Lucas, who had 10 rebounds and two points in 22 minutes, applauded the Shockers for outperforming the Jayhawks so decisively. All five WSU starters scored in double figures.
"I hate to say it, but I feel they might have wanted it a little bit more than we did," Lucas said. "I think we came in this game thinking that we did (want it more) but if you look at the small things when it really mattered ... the loose balls, extra possessions, executing, listening to coach, focus, I think the veteran team (WSU) came out and took the game. I credit them for that, (but) it sucks losing that way."
Early on it looked as if the Jayhawks might have the right stuff to overcome the Shockers and advance to Thursday's Sweet 16 contest against Notre Dame in Cleveland.
KU led, 22-16, when Perry Ellis was elbowed in the nose by Fred VanVleet (17 points, six assists, six boards) while going in for a layup attempt. The Jayhawks upped the lead to eight points at 5:08 and led by four when Ellis returned at 3:40. However, three-pointers by Ron Baker (12 points) and Van Vleet and a bucket and foul shot by Tekele Cotton (19 points) helped the Shockers grab a 29-26 lead at halftime. WSU continued its blitz to start the second half, completing a 25-6 run that turned its eight-point first-half deficit into a 41-30 advantage just 4:20 into the final half.
"I'm not going to say that (Ellis' leaving the game at that point) was the reason at all. He still played 34 minutes," KU coach Bill Self said of Ellis, who hit four of nine shots and nine of 10 free throws, good for 17 points with eight boards. "He'd have had to take a rest anyway. He was only out two to four minutes. We didn't play smart, took bad shots, rushed shots, basically gave them confidence.
"I thought Wessel's (Evan, four threes, 12 points) three at the top of the key when we guarded well was the biggest shot of the game (cutting KU's eight-point lead to five right after Lucas missed an inside shot). It kind of took the lid off. He was the best player in the game, to me," Self added of the Wichita Heights graduate.
WSU always seemed to have an answer to prevent KU from, in Self's words, feeling any "game pressure."
"Whatever we tried, they had a counter," Self stated.
For instance, KU trailed, 54-45, with 10:25 left. However Oubre missed a shot and KU committed a turnover after a WSU miss, leading to a Zach Brown dunk and two free throws by Van Vleet as WSU built the lead back to 13 with 8:18 left.
The Jayhawks were down, 63-55, at 5:55. Then after failing to get a five-second call on an inbounds pass, KU, after a WSU timeout was burned by Darius Carter, scored an easy bucket against the Jayhawks' press.
Next, KU led, 65-57, at 5:20, when Carter scored, Selden turned it over and Cotton converted to up the lead to 12 again.
"We took our foot off the pedal (when up by eight). They made their run and never took their foot off the gas. That was the difference," Oubre said.
Several Jayhawks expressed regret after the season-ending contest. Selden, for instance, was not pleased with his own 0-for-5 shooting effort, 0-1 from three. WSU hit 10 of 20 threes to KU's six of 21.
"You've got to feel bad when you don't do what you are supposed to do," Selden said. "I wasn't scoring the ball well. You can do other things that affect the game like play defense and rebound the ball. I didn't do them.
"It hurts to let so many people down," Selden added. "We work so hard. To fall like this is not what you thought the season would end up like. All the hard work we put forth. We thought we had something special here, which we did, but we could have made it a real special year. We didn't do so. We just apologize to the fans."
Noted Ellis, who tied freshman Devonté Graham for team high scoring honors with his 17 tallies: "It's tough, but they played better. We had trouble running our offense because they were playing defense so well. We couldn't get stops," Ellis added. "They played a great defensive game and also got us out of our offense."
Self, who even used a zone defense to try to slow the Shockers the final half to no avail, stressed that the best team won the game. The fact it was a team from Kansas that KU hasn't played in 22 years ...
"I know that it means a lot to a lot of people," he said. "Anybody that would ever say it meant more to them than it did us, they don't know what they are talking about. Our guys were ready to play. They were just better. Both teams were ready to play.
"The rivalry and how it played out, it certainly adds attention and adds to a lot of talk moving forward I'm sure. It's not going to be the most pleasant next few weeks for me personally. It doesn't deserve to be (pleasant). Our team didn't play very well and it all starts with me. If we'd been playing anybody else, it would have meant the same advancing to the Sweet 16. It just so happens we played an in-state team to go where we wanted to go and they obviously were much better today."
---
More news and notes from Kansas vs. Wichita State in the NCAA Tournament
---