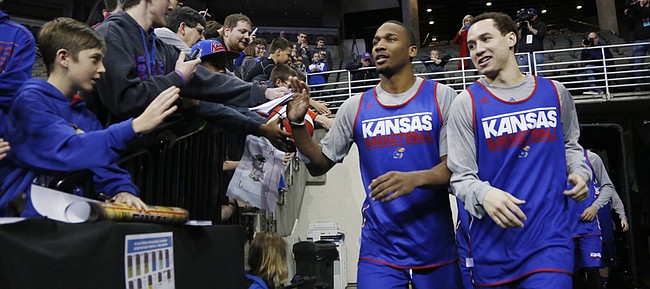 Omaha, Neb. — Kelly Oubre Jr. has the same reaction whenever it is stated in print, electronic or social media that Kansas University's basketball team is destined to suffer the same fate of, say, an Iowa State, Baylor or Texas in the 2015 NCAA Tournament.
That is, a second-round loss.
"I laugh," the KU freshman wing said Thursday before the Jayhawks' 40-minute shootaround in CenturyLink Center, site of today's 11:15 a.m. Midwest Regional contest between No. 2 seed KU (26-8) and No. 15 New Mexico State (23-10).
"They've always had us as outcasts the whole year. We are Kansas basketball. We know what we can do. We know what works and doesn't work for us. We are pretty much ready to go out and give it our all."
Photo Gallery
Kansas Jayhawks open practice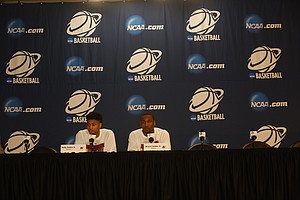 Images from the Kansas Jayhawks Thursday, March 19, 2015, at the CenturyLink Center in Omaha, NE.
Part of the pundits' skepticism about KU's chances in the NCAAs undoubtedly stems from the fact undefeated Kentucky is in the same regional.
UK is the prohibitive favorite to breeze to the Final Four.
However, another reason to doubt KU might be what happened a year ago when the Jayhawks beat Eastern Kentucky in the second round in St. Louis before falling to Stanford and failing to survive the first weekend.
"Wayne is always talking about, 'We can't be like last year. We have to take every game one game at a time and not take anything for granted,''' Oubre said of sophomore Wayne Selden Jr., who has mentored Oubre this season.
"I feel they (returning Jayhawk players) have a chip on their shoulder from last year. I'm just here trying to help my teammates and our team have the best chance to win," Oubre added.
Selden concedes it has been important for him to learn lessons from the early exit his freshman campaign.
"I felt like last year went by way too fast, and just like that we were done," Selden said. "This year (I'm) trying to take a different approach and focusing in on the little details."
For what it's worth, coach Bill Self is not using the us-against-the-world mentality for today's game. It's tough for a No. 2 seed to play the no-respect card.
"I wouldn't think we are anyone's favorite pick to do a lot of things or make it to Indianapolis (site of Final Four) in large part because there are some really good teams in our field," Self said.
"I am not sure anybody is saying New Mexico State, Indiana or Wichita State is going either, because everybody is in with Kentucky. The bottom line is, we are capable of playing with anybody when we play well. We are also capable of being had when we don't play well. We've had ex-players tell us you can beat anybody or be beaten. I do think that is true. There's less margin for error this year than there has been.
"The doubters are what people are saying on ESPN," Self added. "Trust me, Frank (Mason III) is not on the Internet listening to what everybody has to say about Kansas. That didn't register. All we are concerned about is playing for each other, getting ourselves right. We know there may be people out there that think this team isn't capable of doing special things. Deep in our heart, we know we are if we play well."
Moving past the mental to the technical aspects of today's game, Self says it's important the Jayhawks handle New Mexico State's press and its length.
The Aggies start 6-foot-10 Tshilidzi Nephawe, 6-9 Pascal Siakam and 6-8 Remi Barry.
"Their zone is a distorted 3-2 that looks like a 4-1 because they bring their guys up really high, at least initially," Self said. "It's from the same family that Baylor does, so at least we've gone against Baylor three times where we had to attack their zone. The biggest thing is, you have to get to the middle and attack it. Their zone will change shapes. Don't worry about what they are doing, let's just make sure we get the ball to certain areas of the floor."
The shape the Jayhawks are concerned about is height of the Aggies' trees.
"We've played against size before," Oubre said. "It's not like we haven't seen it. We have to step up big on the glass, attack the zone and attack the glass strong. We have to shoot with confidence, follow our game plan, play the game we know how to play, and great things will happen for us."
"We know they've got a great group of guys," junior Jamari Traylor said of the Aggies' bigs. "They have a lot of size, 6-8, 6-9, 6-10. It's a crazy zone they play. We'll have to do our best job breaking it down, getting the basketball moving. They have a great team, a big team."
If KU wins today, it will meet the winner of the Wichita State-Indiana game at a yet-to-be-determined time Sunday. If KU loses today, the season is over.
"I've got to make sure everybody's mind is right. We've got to be turned up this game," Traylor said. "It's an early game. I feel everybody has to be a lot more into it and focused. I've been talking to the guys. We'll be ready for it."
http://www.youtube.com/watch?v=ImE8ApfT4mc