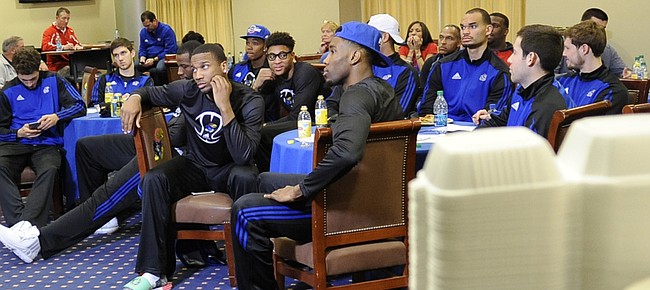 For the sixth consecutive year and eighth time in the last nine seasons, Kansas University's basketball team enters the NCAA Tournament as a 1 or 2 seed.
The Jayhawks (26-8) on Sunday were slotted fourth of the four No. 2 seeds by the tournament committee and placed in the Midwest Regional — better known as the regional with undefeated, top overall seed Kentucky in it.
"If you had told me we were a 2 seed before the season ... we played our walk-ons the last three minutes against Kentucky, and usually we don't do that, especially when we're down 35," KU coach Bill Self said Sunday after learning his Jayhawks would take on No. 15 seed New Mexico (23-10) State in a second-round game at 11:15 a.m. Friday in CenturyLink Center in Omaha.
"After that game, I was thinking, 'Can we even get to 10 (wins)? Can we get to 15?' Obviously, being a 2 seed means the guys have gotten a lot better and tried real hard. (I'm) really proud of them," Self added.
If KU wins Friday, it would meet either Wichita State or Indiana at a yet-to-be-determined time Sunday, with the winner advancing to a possible Sweet 16 meeting against No. 3 seed Notre Dame the following Thursday in Cleveland.
Kentucky — yes, the Kentucky team (34-0) that bashed KU, 72-40, in Game Two of the season, looms as the potential Elite Eight foe, also in Ohio.
"You know what, if this team gets a chance to play in the Elite Eight game, then it's been a hell of a year. Let's just call it like it is. And regardless of who you play, it would be a great opportunity for a one-shot deal to go to the Final Four," Self said.
"But look at the other brackets. Do you want to play Wisconsin? Do you want to play Duke? Do you want to play Villanova (No. 1 seeds)? The answer would be, 'They are all good.' Kentucky has been a different level, without question. But we don't even need to talk about that. I hope we have to talk about that next week.
"We need to win a four-team tournament this weekend, and that will be the same goal of New Mexico State, and it will be the same goal of Wichita State and Indiana. But it will certainly be some pretty good ball. There's some good teams playing in our pod."
One of them is Wichita State. The Shockers, who reached the Final Four two years ago and lost only to Kentucky last season, are 28-4 and a 7 seed.
"If you're fortunate enough to win, the winner of Indiana, storied program, or Wichita State ... how in the world are they a 7 seed blows my mind, 28-4," Self said.
"I thought the Missouri Valley probably deserved a little more credit than what they got. I thought they (Shockers) would be a higher seed. I was thinking they were a lot better. And I thought Northern Iowa (30-3 and 5 seed) would be a higher seed, too. But you've got to lace 'em up, and you've got to play, and certainly our goal is to go win two games this weekend, and we'll adjust from there."
The first foe does not figure to be a pushover.
"I had New Mexico State, like, a 13 (seed)," Self said. "I was surprised when we drew them. I've said most years, as soon as you get in, you are first thinking, 'Gosh, that seems harder than what others got.' When you really start studying it, it's all hard. It's a hard first game, and we've got to be ready Friday because we've shown when we are good, we are good, but when we are not very good, we can really labor in a lot of ways, and we can't afford to take any more five- to 10-minute breaks like we did last night (in loss to Iowa State)."
The Jayhawks do figure to have lots of fans make the trip to Omaha.
"If you remember back, we've had a couple of pretty good runs going through Omaha," Self said. "We won it in '08 and got the finals in '12 (after starting in Nebraska)."
Banged-up team: The Jayhawks will return to practicing today after taking a day off Sunday.
"Kansas City was maybe a little more taxing on us than what you guys (media) know, because we are beat up. I mean, we are beat up," Self said of an injury report that includes Perry Ellis (sprained knee), Landen Lucas (hip, knee, back), Frank Mason III (assorted bumps, bruises, fatigue). "We'll do a recovery lift (weights) tomorrow, then primarily shooting. We'll go light, 30-40 minutes, then really get into it Tuesday and Wednesday before we leave.
"The most important thing is try to get our bodies back fresh. Landen is really nicked up. Perry actually did very, very well, even though he's not close to where he needs to be, so this next four days are real important for him to get that bounce back and that fire back in his jump and explosion. Frank's played a lot minutes. He's tired. Wayne (Selden Jr.) played a lot of minutes in the tournament. I think a day-and-a-half of rest will probably be good for us."
Same story: Self isn't counting on freshman Cliff Alexander to be cleared this week and play in the NCAAs. "I've already told you what our feelings were, and if there's new information, you'll get it," Self said. "Until then, I don't even think it deserves mention because all it does is take away what's really important. Right now, it's just our guys getting ready to play."
KU in the tournament: Former KU coach Larry Brown's SMU team is a No. 6 seed in the South Regional. Brown, who also coached at UCLA, will coach against the Bruins in an opening game.
"They are good. I was really hopeful they weren't a 7 or whatnot because I know that would be a talked-about game," Self said of a possible KU-SMU matchup against his mentor. "But now we've actually given you guys even more to talk about than that from a potential standpoint (if KU and WSU win Friday). But I'm really happy for coach."
Former KU coach Roy Williams' North Carolina team drew a 4 seed in the West and will play Harvard in the first round. Former KU guard Jerod Haase's UAB Blazers drew a 14 seed in the South and opening game vs. Iowa State.
Perry Ellis on possibly playing his hometown team, WSU: "If that happens, I'm excited to play. Whoever it is, it is what it is. Our main focus is on New Mexico State right now. A lot of people talk about it all the time. They want to see us play. That's great. Fans want to see that. Our focus is not on that right now. It's on the first game."
Ellis on his health: "It (knee) is getting better and better each day. I'm going to get there tip-top (shape). I'm working hard with my treatment. It's going real well.
"When I'm posting up and stuff, guys are brushing againt it (knee brace). I'm like, 'All right.' It's withstanding it. That gave me confidence (minutes in Big 12 tourney)."
Selden on being in Kentucky's regional: "If we are fortunate to get down the road to play them, that would be great. We're not really looking ahead much to that."
Practice: Kansas will hold an open-to-the-public practice 1:30-2:10 p.m. Thursday at CenturyLink Center.