Legible name. Clear number. School colors. Pronounced logo.
That's about as far as the check list goes for college basketball fans and the requirements they have for the uniforms worn by their favorite teams. But for those behind the scenes, the process of taking the uniforms from concept to creation is much more intricate and actually begins as many as 10 months prior to their teams wearing any new gear.
When the Kansas University men's basketball team opens play in this year's Big 12 tournament at 1:30 p.m. today inside Sprint Center in Kansas City, Missouri, the Jayhawks will do so in their brand new postseason uniforms, the adidas brand "Made in March" look specifically designed for the 2015 season.
Such a shift from regular duds to a fresh postseason look has taken place regularly during the past several seasons, and, according to Larry Hare, KU's assistant athletic director for equipment services, is all a part of the quest to keep up with the demands of modern advances, both in terms of aesthetics and performance.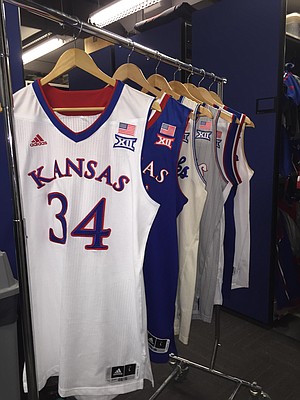 Some years, as in 2014, the shift has been seamless and gone mostly unnoticed. Other years, such as 2013 when KU and several other adidas schools wore the "Impact Camo" uniforms, the new design was all people talked about.
Due, at least in some part, to the negative feedback that came when the camouflage uniforms were unveiled, adidas, which two summers ago agreed to a six-year contract extension that would keep the company the official provider of footwear, uniforms, apparel and accessories to each of the Jayhawks' 18 intercollegiate athletics teams through 2019, agreed to pull back a little on the wild endeavors.
"They were going with much more exceedingly trendy looks that were pulling some of their traditional schools too far away," Hare said. "But they have vowed to put the emphasis on school logos, school colors and accentuate those. That's made it easier because the past two years our postseason unis have been a different pattern but they've been pretty clean. It's a different look but it doesn't depart from who Kansas is."
That's not to say it's all about what Kansas or Kansas fans want all the time. Same for fellow-adidas schools UCLA, Indiana, Michigan and others. In fact, Hare said a good part of the daily focus from people on both sides of the business emphasizes synergy.
A yes here, to a trendy or particularly bold uniform design, may allow the Jayhawks to say no down the road when adidas strays too far away from tradition.
"It's all about being a good partner and it works both ways," Hare said. "My job is to make sure adidas is providing what our teams need. And the flip-side of that is adidas has strategies that they'd like to promote over the course of the season and they float ideas."
One big advantage at play at Kansas, Hare said, is that the school's licensed property manager employed by adidas, 2000 KU grad Stephanie Temple, has an office in the building. That not only allows the two sides better communication when wrinkles need to be ironed out, but also forces the two to be accountable to one another, which both Hare and Temple said has helped create a stronger partnership.
"We don't always agree on everything and there is definitely some communication that takes place," Hare said. "It's easy to say no to someone who is miles away, but here, we have to look each other in the eye every day."
Coming up with the proper look for KU's postseason duds is only part of the equation when it comes to outfitting Kansas' athletic teams. The school has its own rules and regulations for how its logos are to be handled. The NCAA has four pages in its rule book devoted to uniforms. And the Big 12 Conference now mandates that its new logo be put on all of the uniforms used in competition by conference teams. At KU, such requirements — and even one's that aren't; Hare still puts the American flag on all KU uniforms — meant slapping more than 6,000 patches on the uniforms that have been used during the 2014-15 school year.
The whole thing can have a never-ending feel to it. Just when Hare and his crew are finished taking care of one team or one season, they immediately start looking ahead to the next.
"We are already looking at uniforms for next year and next postseason right now," Hare said.
As intensive as this all might seem, Hare said it also holds incredible value, both financially for the university — that six-year adidas extension was worth $26 million — and in terms of branding.
For the most part, KU fans want to wear what their Jayhawks are wearing, Hare said. And many of them will spare no expense to make it happen.
Earlier this basketball season, when KU won the four-day tournament in Orlando, Florida, a fan got in touch with Hare about purchasing a polo shirt worn by Bill Self and the KU assistants during one of the games. Because that particular shirt was a part of the adidas golf line and turned into a KU brand by Hare and his staff, the man was out of luck. Or at least that's what Hare told him. Trying to help, Hare gave the man the specific number of the shirt and directed him to where he could find it online. Not long after that initial encounter, Hare caught wind of a guy who went through the trouble of obtaining the proper patches, logos and permissions to make the shirt for himself.
"That took some work," Hare said. "One polo. One guy. But he wanted to have the exact shirt that Bill Self was wearing."
It's moments like those that make the give-and-take nature of KU's partnership with adidas worth it.
"Anything that helps create a little stir that can get people heading to stores is viewed as a good thing," Hare said. "It's the synergy between what we wear and what's being sold at retail. Your value as a property is very much based on your ability to sell products with the (school and adidas) logos co-mingled. So the more things we can put out there that people want to buy — because they will — that adds value. Especially with men's basketball here."