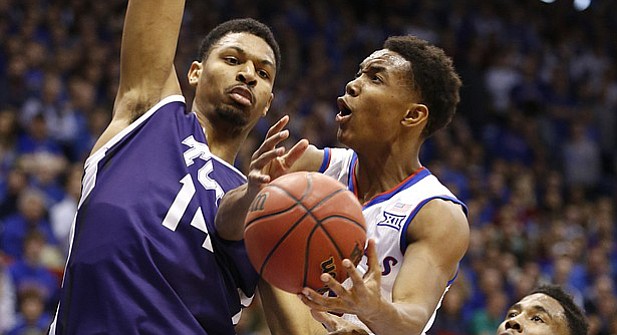 Thursday update: Injured KU forward Perry Ellis will sit out against TCU, according to coach Bill Self.
---
Those folks who figured Kansas University forward Jamari Traylor wanted to play Kansas State instead of TCU today in the quarterfinals of the Big 12 tournament figured wrong.
"If that guy was suiting up, maybe I would (want to play KSU)," Traylor said. He was referring to the K-State student who charged into him, seemingly on purpose, when storming the court after the Wildcats' 70-63 victory over KU, on Feb. 23 in Manhattan.
"I don't like that guy, but it's all good. I take on average probably a fall worse than that (court-storming bump) in the game anyway. It's all right," he added.
Few, if any, Kansas State fans will be in Sprint Center at 1:30 p.m., today, when Traylor's (24-7) Jayhawks take on (18-14) TCU, a 67-65 winner over K-State in Wednesday's first-round game in Sprint Center.
The Jayhawks hold no animosity against the Horned Frogs, who fell to KU, 64-61, on Jan. 28 in Fort Worth, Texas, and again, 81-72, on Feb. 21 in Allen Fieldhouse.
Perry Ellis (right knee sprain), who practiced with no discomfort on Wednesday while listed as questionable for today, scored 23 points off 9-of-10 shooting, while Devonté Graham had 20 points off 7-of-7 shooting in the win over TCU in Lawrence. That's the feel-good game in which KU team manager Chris Huey entered and played in the final minute of a close contest.
"TCU is one of the toughest teams we've played on the defensive end," said KU freshman guard Kelly Oubre Jr. "They go hard and crash the glass. Rebounding is going to be key."
TCU outrebounded KU, 33-29, in Lawrence and 50-40 in Fort Worth. Chris Washburn (6-8, senior) grabbed 12 rebounds and Trey Zeigler (6-5, senior) 11 in the game in Allen.
On Wednesday, Washburn and Kyan Anderson (5-11, senior) scored 16 points and Zeigler 15 versus K-State. Karviar Shepherd (6-10, sophomore) had nine rebounds, Washburn eight and Kenrich Williams (6-7, sophomore) seven for TCU, which entered the Big 12 tourney with four losses in its last five games.
"They are so much improved. Trent (Johnson, third-year TCU coach) and his staff have done a great job in a short amount of time recruiting a higher-caliber athlete and getting those guys to guard and play together," KU coach Bill Self said.
Ellis recovering: KU junior Ellis, who missed Saturday's loss at Oklahoma because of his sprained knee, practiced pain-free Wednesday both in an hour workout in Allen and a 40-minute shootaround in Sprint Center, Self stated.
He's a game-day decision today.
"He looked good today," Self said of Ellis, who wore a knee brace at practice and will wear it in games. "He didn't really move around much over here (at shootaround) by design. He practiced the full practice (in Allen). He went about 50 percent of practice yesterday. If he's got pain, which he didn't have today, we'll hold him. If he doesn't, we'll put him out there. A lot depends on that and we won't know anything until tomorrow," Self added.
Ellis would like to play and Self sees the value in playing.
"It'd be nice in a perfect world for him to be able to play because he's going to play next week (in NCAA Tournament)," Self said. "You want to get out there and at least get hit and know you can get up and stuff. If it doesn't work out to be a perfect world, we'll just work him hard Sunday, Monday, Tuesday and Wednesday and get ready for next week.
"He wants to play, no question. Depending on his movements, depending on him being honest with the doctors, that will determine whether or not he plays because his want-to level is very high. You can't put him out there if he's in jeopardy at all."
Of Ellis, Traylor said: "He looks good. He was running the floor pretty well today. He's doing moves."
Sophomore guard Wayne Selden Jr. (ankle sprain) is "fine" and will play, Self said. Also, soph wing Brannen Greene, who was suspended for Saturday's game at OU, practiced again Wednesday and will play today.
Finally, freshman Cliff Alexander (NCAA issue) will not play, Self said.
"(There's) no new news on Cliff whatsoever. That's all holding steady, unfortunately," Self said, noting Alexander, "has probably practiced better than he has all year long. It'd be nice to get him back. It's out of our hands. I'm not asking every day, 'Where is it?' There's no reason to. There's been absolutely no movement."
No. 2 seed?: Self thinks KU has to fare well at the Big 12 tourney to be a No. 2 seed in the NCAAs.
"If I was on the committee I'd say we'd be the fourth 2-seed. If you look at the 3-seeds on 'Joey Bracketology' then you could see the 3-seeds could easily jump us, primarily if they play well in this tournament and we don't," he said.
"Oklahoma and Iowa State were 3s today. Utah and Maryland were 3s. I'm not saying a 4 or 5 can't jump to a 2. I do think we have some work to do to make sure we stay on the 2-line."
This, that: KU will wear its adidas "Made in March" uniforms today. ... KU is 9-1 all-time vs. TCU. KU is 5-1 in Big 12 play vs. TCU. ... Bill Self is 13-4 all-time against TCU, including 7-1 while at KU. Trent Johnson is 2-5 against KU, 1-5 while at TCU. ... Self's next win will be his 350th at KU. He has 76 losses.
Possible starters
KANSAS (24-7)
F — Landen Lucas (6-10, Soph.)
F — Jamari Traylor (6-8, Jr.)
G — Frank Mason III (5-11, Soph.)
G — Wayne Selden Jr. (6-5, Soph.)
G — Kelly Oubre Jr. (6-7, Fr.)
TCU (18-14)
F — Kenrich Williams (6-7, Soph.)
F — Karviar Shepherd (6-10, Soph.)
F — Chris Washburn (6-8, Sr.)
G — Trey Zeigler (6-5, Sr.)
G — Kyan Anderson (5-11, Sr.)