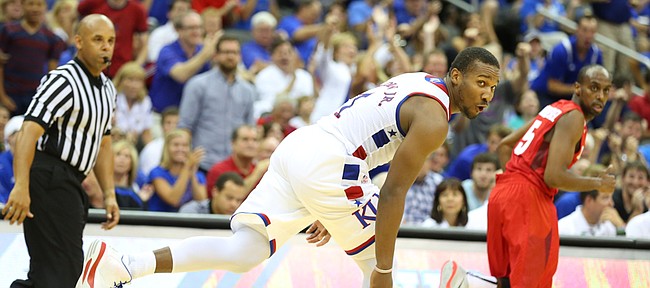 Kansas City, Mo. — Wayne Selden Jr.'s junior year at Kansas University is off to a promising start.
"I think he's played more explosively than he has the last two years. He seems more explosive," KU coach Bill Self said Friday night after the 6-foot-5 Roxbury, Massachusetts, native scored 22 points and grabbed 10 rebounds in the Jayhawks' 87-76 victory over Team Canada before 8,415 fans in Sprint Center.
Self is giving Selden, who had 13 points in Tuesday's 91-83 victory over the same foe, the freedom to crash the offensive boards this season and he responded by grabbing five on Friday.
"I feel good. My body feels good. Our team is really coming together now. We're playing with a lot of energy," Selden said. "Not the whole game (but) I like the way our team is playing with energy."
Selden hit 6-of-11 shots and seven of eight free throws Friday. He cashed three of five threes, his teammates hitting just two of 15 from beyond the arc.
"He was huge. He did real well," said senior forward Perry Ellis, who scored 18 points and grabbed nine boards. "It's a team where different guys can step up on different nights. It was great for him to do that."
Photo Gallery
Kansas (Team USA) basketball v. Team Canada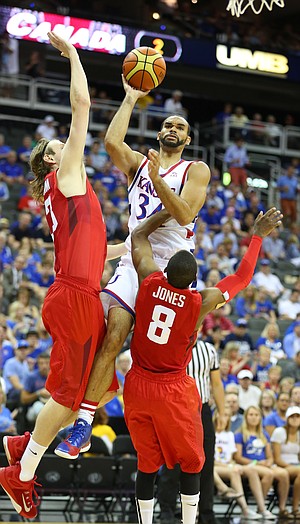 Images from Friday night's exhibition between the Jayhawks, who are representing Team U.S.A. in the 2015 World University Games, and Team Canada at Sprint Center.
Podcast episode
Kansas coach Bill Self — and one of his "assistants," Max Falkenstien — address the media following the Jayhawks' World University Games tuneup against Canada, an 87-76 victory.
Podcast episode
Kansas basketball players Wayne Selden Jr., Perry Ellis and Hunter Mickelson field questions from the media following the Jayhawks' second exhibition victory over Canada, in preparation for the World University Games.
KU actually had three players shine in this week's pair of exhibition games vs. Canada.
Junior Frank Mason III, who scored 15 points, dished 11 assists with five rebounds and four steals Friday, averaged 21.5 points in the two wins. Selden and Ellis each averaged 17.5 points with nobody else in double figures.
"Maybe from the outside looking in," Selden said, asked if the Jayhawks had a "Big Three" emerging this season. "For us, we know everybody has their job to do, certain things we have to do. There can never be a Big Three, especially in college basketball situation. We need everybody."
"We're playing in the team concept and playing hard, just going from there really," Ellis said.
The Jayhawks, as they did in Tuesday's win, trailed 35-25 in the second quarter on Friday.
KU, which had a big third quarter on Tuesday in outscoring Canada, 25-18, this time rolled in the fourth stanza, 29-16.
"We never panic. We're at an even keel. We were never too high or low tonight," Selden said. "We know you can't hit a 10-pointer. We had to take our time.
"We're getting older now. We're starting to learn how to close out games," Selden added, "how to take our time and execute down the stretch."
KU used a 16-5 run to turn a 66-65 deficit into an 81-71 advantage. Ellis and Mason each had four points apiece to open the surge, while Carlton Bragg had four of the final eight points in the run and Selden and Mason two points apiece.
"Energy," Self said. "Our guys played more minutes than their starters did, but we looked fresher I thought. What keys spurts is energy. Jamari (Traylor, six points, seven boards, two steals) sometimes can do that. Hunter (Mickelson, five points, three boards, one steal, one block) can be an energy guy and key spurts. Maybe our guys learned something tonight," he added about showing energy that results in significant runs.
KU's starters (Selden, Ellis, Mason, Traylor, Nic Moore) scored 68 points, the reserves 19.
"Julian (DeBose, four points, 1-of-4 shooting) has given us some good minutes. Lagerald (Vick, four points, three boards, two turnovers) he's not ready yet," Self said. "Carlton gave us (production) late (six points, four boards).
"The reality is we're not taking five of our players off our team (to South Korea for July 3-14 World University Games). I want to go play well over there and win. The biggest thing this is doing is help prepare our guys for next year, too," Self added.
KU will be without Devonté Graham (quad injury), Brannen Greene (hip injury) and foreign players Svi Mykhailiuk, Cheick Diallo and Dwight Coleby.
"I think these two games have prepared us well," Ellis said. "That's a good (Canada) team. I feel it'll help us going forward. It's been a good opportunity for us to get these two games before we go."
This, that: KU broadcaster Max Falkenstien served as honorary coach during the game. He attended the postgame news conference and even fielded one question from the media. ... Self said Devonté Graham would be making the trip to South Korea because he needs to complete work in the class on Korea he's enrolled in this semester. ... KU's first official game in the University Games is against Turkey at 10 p.m., Central time, July 3. It'll be on ESPNU. KU will play China in an exhibition at 3 a.m., Central time, Thursday, July 2, in South Korea.
Bad hand comment revisited: Self says former KU forward Cliff Alexander, who was not taken in the NBA Draft on Thursday, has been getting a bad rap for saying in an interview before the draft he was "dealt a bad hand," at KU.
"It wasn't anything negative toward Kansas at all saying he got dealt a bad hand. I asked him about it. He said, 'Coach that's what you told me.' I said, 'You're exactly right, bud, that's exactly what I told you,''' Self said.
"It's what I told Cliff all along. He got dealt a bad hand with the NCAA situation (sitting last eight games because of an investigation into his mom receiving improper benefits from a third party)," Self added.
Self said he spoke highly of the 6-8 forward to NBA teams.
"He was the best player in the gym after he was declared ineligible. There's no question. He was great. You could ask anybody. He was aggressive offensively, had a free mind. Of course there was no pressure. He was the best player in the gym. We told every NBA team he was at that particular moment," Self said.
Chukwu to visit Syracuse: Paschal Chukwu, a 7-foot-2 former Providence center, will visit Syracuse this weekend, CBSsports.com reports. He's already visited KU, Virginia, Michigan State, Iona and Nebraska. If he chooses KU, he'll pay his own way next season and be eligible as a sophomore in 2016-17.
---
More news and notes from Kansas vs. Canada
---