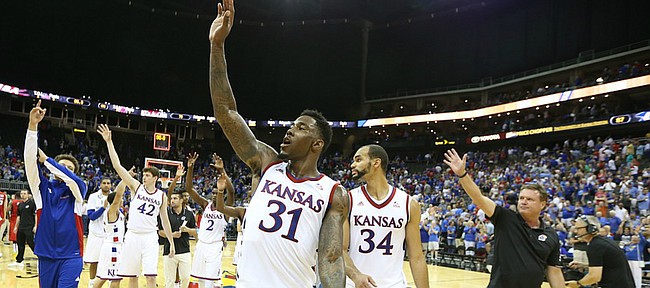 Kansas City, Mo. — When Canada's basketball team assembled a week ago for the upcoming World University Games in South Korea, coach Barnaby Craddock figured this week's pair of exhibitions against Kansas University, the USA's National Team, would go a long way in preparing his group for the competition ahead.
It might not have registered that the Canadian contingent also would have to deal with the Jayhawks' rabid fan base at Sprint Center.
Canada, just like it had three days earlier, took a 10-point lead against KU Friday night in the final tuneup for both teams. But the Jayhawks pulled away in the fourth quarter for a 87-76 win with the 8,415 fans mixing in chants of "USA" and "rock chalk Jayhawk" in the waning minutes.
"It's gonna get away from a lot of people in this environment, let me tell ya," Craddock said after KU outscored the visitors, 29-16, in the fourth quarter.
Photo Gallery
Kansas (Team USA) basketball v. Team Canada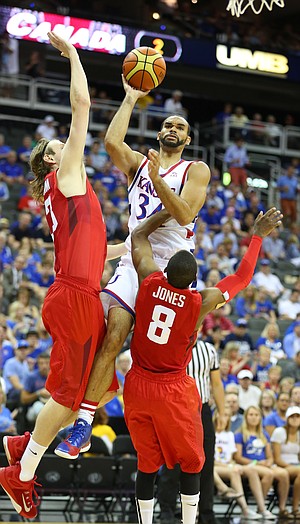 Images from Friday night's exhibition between the Jayhawks, who are representing Team U.S.A. in the 2015 World University Games, and Team Canada at Sprint Center.
Podcast episode
Kansas coach Bill Self — and one of his "assistants," Max Falkenstien — address the media following the Jayhawks' World University Games tuneup against Canada, an 87-76 victory.
Podcast episode
Kansas basketball players Wayne Selden Jr., Perry Ellis and Hunter Mickelson field questions from the media following the Jayhawks' second exhibition victory over Canada, in preparation for the World University Games.
Canada led by two points entering the final 10 minutes, mostly due to its balanced play throughout the night. But when crunch time came, KU leaders Frank Mason III, Perry Ellis, Wayne Selden Jr. and even backup big man Hunter Mickelson ignited the crowd, then fed off the frenzy.
"I couldn't be prouder of our guys," Craddock said. "I mean, the fact that we came in here and managed to get up for a bit and deal with the crowd and environment when Kansas made that inevitable run a talented team's gonna make and we managed to come back again and stay in the game… Eventually, obviously, we couldn't pull it out either of the two nights."
The Canadians only have played together for seven days, the coach added. Craddock thought his players' determination made both exhibitions competitive. At times things broke downs for various reasons — including not knowing an offensive play — but their coach said they made up for that with intangibles and gave Kansas another battle after losing 91-83 to the Jayhawks on Tuesday in the same arena.
Backup forward Tommy Nixon made three of his four shots and scored 10 points off the bench, joining Adik Peter-McNeilly (15), and Aaron Best (10) in double figures. Nixon said the Canadians thought they could play with Kansas, and confidence wasn't the issue late.
"There were just a couple key momentum plays," Nixon said. "The ones that really got the crowd behind them."
Mason flew in for a quick layup that put Kansas up 71-66 with 4:51 remaining and Canada never got any closer.
Peter-McNeilly said he and his teammates would love a third matchup with Kansas in South Korea, in the medal round.
"I don't know what the crowd's gonna be like in South Korea," Peter-McNeilly added, "but I know playing in this type of environment helped out both teams."
Craddock agreed Canada wouldn't mind another shot at the Jayhawks.
"I think we'd both (KU and Canada) like to get to that game," the coach said, "and see if we can do a little bit better away from the friendly confines of Kansas."
---
More news and notes from Kansas vs. Canada
---