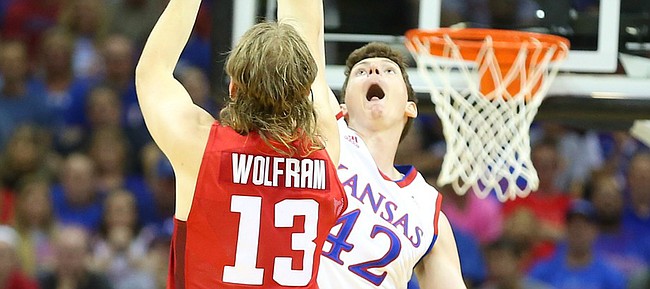 Kansas City, Mo. — Kansas University coach Bill Self told his players at halftime that he wanted to see more energy on the court Friday. Senior Hunter Mickelson took the message to heart.
It was a role Mickelson knew he could fill during Team USA's 87-76 victory over Canada at Sprint Center.
At the end of the third quarter, Mickelson went to the rim and turned to see junior point guard Frank Mason drive to the rim. Once the defense collapsed, Mason flipped a pass to Mickelson, who dropped in a layup before the buzzer.
Then the 6-foot-10 senior from Jonesboro, Arkansas went on a roll.
Mickelson scored on a putback, following a missed shot from SMU senior Nic Moore, to tie the game at 62-all with 9:07 remaining in the fourth quarter. He grabbed a steal on the next defensive possession, followed by another offensive rebound and a trip to the free throw line when he was pushed attempting a dunk.
Photo Gallery
Kansas (Team USA) basketball v. Team Canada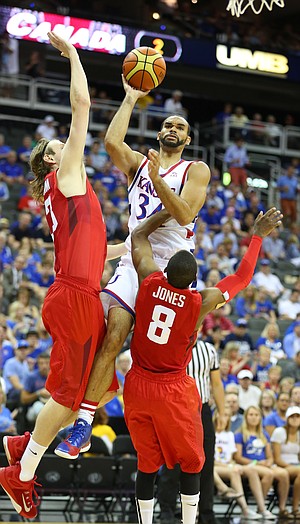 Images from Friday night's exhibition between the Jayhawks, who are representing Team U.S.A. in the 2015 World University Games, and Team Canada at Sprint Center.
Podcast episode
Kansas coach Bill Self — and one of his "assistants," Max Falkenstien — address the media following the Jayhawks' World University Games tuneup against Canada, an 87-76 victory.
Podcast episode
Kansas basketball players Wayne Selden Jr., Perry Ellis and Hunter Mickelson field questions from the media following the Jayhawks' second exhibition victory over Canada, in preparation for the World University Games.
Mickelson went 1-for-2 at the line after receiving a big applause from the 8,415 fans in attendance, then blocked a close-range jump shot on the next defensive possession.
"Coach stressed putting more energy into the game during halftime," said Mickelson, who finished with five points, three offensive rebounds, a block and a steal in nine minutes. "I tried to do that when I was out there. I kind of got some breaks and got current guys on the team giving me some opportunities, so I just made the best of it."
In the first exhibition game against Canada on Tuesday, Mickelson was in the starting lineup, but went scoreless in 13 minutes. He grabbed six rebounds, two offensive, and had a block and steal.
But Friday was different. Self wanted energy and Mickelson provided the Jayhawks with the spark they were looking for off of the bench.
"Hunter is a really good athlete," Self said. "He can run and jump. He played to his athletic ability. He looked more bouncy. I think sometimes kids, when they want to do well so bad, they think and when they think, they get paralyzed. That happens a lot with a lot of players."
"I think tonight for the first time in a while, I thought he played to his athletic ability," Self added. "He made a couple of great blocks. He scored with his left, which we've been trying to get him to do a lot. Then of course, he showed a lot of bounce, too. He was just playing with energy."
With the Jayhawks scheduled to play five pool-play games in six days once they travel to Korea, they know they will receive more minutes and will try to make the most of them.
"I got a great pass from Frank to kind of kick it off," Mickelson said. "From there, it kind of started on the defensive end and then everybody started picking it up after that. It's just really fun and it's really easy to play when you've got guys this talented in a situation like that where you can just move the ball quick and get good looks from it."
---
More news and notes from Kansas vs. Canada
---