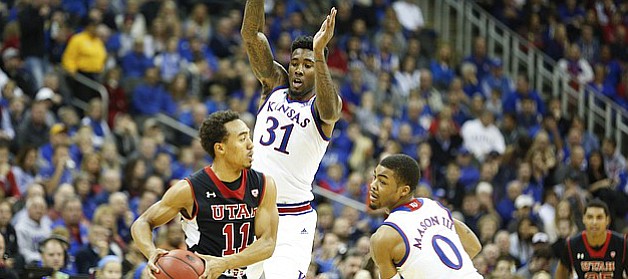 University of Alberta coach Barnaby Craddock, who has been following Kansas University basketball "since Danny Manning was doing his thing back in the day," had his 12 Team Canada players pose for a group photo Monday afternoon in Allen Fieldhouse.
"It's an honor to come down here and play basketball. Playing in the Sprint Center will be an exciting experience. We'd love to have been here in 'The Phog' as well, but it's a little hot here in the summer," Craddock said with a smile.
Absence of air conditioning in Allen Fieldhouse has made it necessary to play today's KU-Canada World University Games exhibition in Kansas City's Sprint Center. Tipoff is 7 p.m. The game is not televised, but is available on Lawrence's KLWN radio.
Canada's World University Games team, which is led by 6-7 shooting guard Aaron Baker and 6-0 point guard Jahmal Jones, has been practicing twice a day since Saturday when it assembled for the first time in Lawrence. The Jayhawks have been practicing since June 7, though the team has changed a bit since point guard Nic Moore's arrival on the 12th and combo guard Julian DeBose's on Sunday.
The Jayhawk players, who normally would be practicing two hours a week in the summer in accordance with NCAA rules, have had unlimited practice time this month.
Podcast episode
Kansas junior point guard Frank Mason III talks with media members about playing against Team Canada at Sprint Center, in Kansas City, Missouri, this week, as well as how the Jayhawks are progressing and meshing with their new teammates for the World University Games, in South Korea.
Podcast episode
Kansas senior forward Jamari Traylor speaks with the media a day before KU's first exhibition against Team Canada. Traylor says the Jayhawks are excited about the chance to play this summer at the World University Games, and he has even tried some Korean cuisine, called kimchi.
Tonight, they get to see how far they've come before a live crowd. About 7,000 tickets had been sold as of noon Monday. Tickets will be on sale up until game time with walk-ups encouraged.
"It'll be great just for an exhibition game. We're looking forward to it. It's great to have 7,000 fans. I wish we could have more," KU junior point guard Frank Mason said.
"Practice has been going great," Mason added. "All the younger guys (freshmen Carlton Bragg, Lagerald Vick) have been learning as the days go on. Coach (Bill Self) has been doing a great job. Everyone's getting it."
KU senior forward Jamari Traylor said the Jayhawks are raring to put on their new World University Games uniforms and tip it up versus Canada.
"We actually are kind of excited to get back on our feet, to get a chance to get get out and play some games," Traylor said. KU and Canada will play again at 7 p.m., Friday, back in Sprint Center. "We exited the year pretty prematurely to me (losing in second round of NCAAs to Wichita State). This is something good, something positive for us," Traylor added.
The Jayhawks, who will depart Sunday for Gwangju, South Korea, site of the July 3-14 World University Games, tonight begin adjusting to FIBA rules during an actual exhibition game, which consists of four, 10-minute quarters. Also there is a 24-second shot clock instead of college's 30-second clock. Grabbing the ball while it is on the rim is allowed.
"We have to play a lot faster. Coach has really been making that a point of emphasis in practice," Traylor said. "The goaltending rule I kind of like that. I've been trying to knock it off the rim and pretty much dunk everything I can if I get a chance."
Self said adjusting to the 24-second shot clock has been challenging.
"It's a big jump," he said. "Our guys always say they want to play fast. They don't know what playing fast is until they've actually practiced this way. It's been good for me to basically kind of reevaluate how we do things to make our guys play with more pace," Self added.
Self said he plans on "playing everybody about the same (amount of minutes)" during the Games, so as to not wear anybody out for the regular season and to give everybody an opportunity. As far as tonight's starting lineup: "I have no idea," he stated.
"He's just pretty much said he wants to split minutes up, make it equal for everybody to get a chance, to get an opportunity to play," point guard Mason said. "As far as I know, that's what he's going to do."
Team Canada figures to provide a stern test for the Jayhawks tonight and Friday. Canada placed fourth; the U.S. ninth at the 2013 World University Games. In 2011, Canada placed second and the U.S. fifth. In 2009, the U.S. notched third and Canada ninth.
"As far as having a good book on them I know nothing," Self said. "They're big (6-10 Mikeal Andrews, 6-9 Chris McLaughlin, 6-8 Josh Wolfram). I'm sure they will be competitive."
Noted Craddock: "Our guys have been working really hard. It's a great group of guys (picked by committee of coaches in Canada), very talented. Hopefully we'll be able to give the Jayhawks a decent game on Tuesday night."
Class lessons learned: Traylor says he's enjoyed the class on Korean culture he's taking with his teammates this summer.
"If we have a lot of time, which we probably don't have, I can say a lot of things that are pretty different about Korea as opposed to here," Traylor said with a smile. "Today I had Kimchi. It's cabbage. They stick it in the ground and let it set there for weeks to get rotten I think, but it's kind of good for you. I don't know if I'm saying it right. I had it. I'm not a big fan of it to be honest, but I'm trying new things."
Ben's camp: Former KU guard Ben McLemore's three-day camp opened on Monday at Sports Pavilion Lawrence at Rock Chalk Park.
"It's always great to come back and give back to the place that helped me get to where I'm at: St Louis, Kansas, Sacramento, all these places," said St. Louis native McLemore, set to start his third year with the Sacramento Kings. "I've been doing this since I've been in the NBA, giving back. To have this opportunity to come back and help kids with different skill sets and to learn the game of basketball is truly a blessing."
The new guys: SMU's Nic Moore, a 5-9 senior point guard, will wear No. 3 tonight. Florida Gulf Coast's Julian DeBose, a 6-4 senior, will wear No. 12.
"They're not young guys so they pretty much know everything," Traylor said. "So far it's been great. They fit in great on and off the court. They are good guys, cool guys. I'm looking forward to going out there and winning some games with them."
KU freshmen Carlton Bragg, a 6-9 forward, and Lagerald Vick, a 6-5 guard, will wear numbers 15 and 2 respectively.
Hip has healed: Traylor said his injured hip is OK. "I've been practicing these last couple days. Getting treatment and everything ... I'm feeling good," he said.
Recruiting: Former Providence center Paschal Chukwu was to visit Michigan State on Monday according to CBSsports.com. Chukwu, a 7-2 freshman, has visited KU, Nebraska, Iona and Virginia. If he comes to KU, he'd pay his own way for one year.
Draft invitee: KU's Kelly Oubre, Jr., will attend the NBA Draft on Thursday in Brooklyn, New York, the NBA announced Monday. He's one of 19 players to receive invitations. Others: Devin Booker, Willie Cauley-Stein, Sam Dekker, Jerian Grant, Rondae Hollis-Jefferson, Stanley Johnson, Frank Kaminsky, Kevon Looney, Trey Lyles, Emmanuel Mudiay, Jahlil Okafor, Cameron Payne, Bobby Portis, Kristaps Porzingis, D'Angelo Russell, Karl-Anthony Towns, Myles Turner and Justise Winslow.
Trade talk: Miami is attempting to trade former KU guard Mario Chalmers, ESPN.com reports. Chalmers is entering the final year of his contract. He's been with the Heat for seven seasons.
Tonight's radio: The game will be broadcast on 1320 in Lawrence, plus station KIOL-AM in Iola, KMAJ-AM in Topeka, KFH-FM in Wichita and KFH-AM in Wichita.