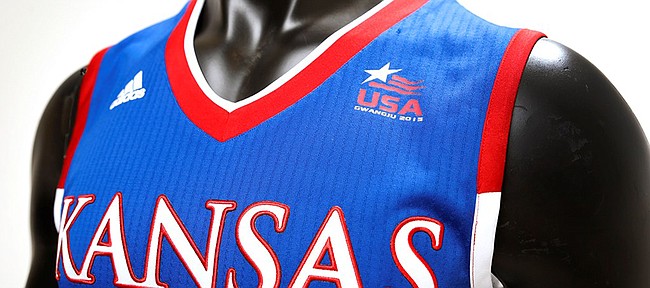 The red, white and blue was not a problem, but creating a uniform that represents both the United States and Kansas University made for an interesting challenge.
Monday, KU released several images of the uniforms it will wear in South Korea next month when the men's basketball team represents the USA in the World University Games.
The uniform predominantly looks like a typical KU basketball uniform, with Kansas boldly stretched across the chest. But there are enough USA-related hints that make it clear that the uniform is not one you'd see worn in Allen Fieldhouse in mid-February.
Kansas and adidas used tradition as the guide in putting together a uniform to honor the program's past and present legacies. KU's NCAA Championship victory in 1952 gave seven Jayhawk players a chance to play on the 1952 U.S. Olympic team in Helsinki, Finland the following summer. Joined by Phog Allen, who was selected as an assistant coach, they helped the U.S. win the Gold medal in basketball.
Using design inspiration from the 1952 KU and Olympic basketball teams, the seven stars present on the back of the jersey pay homage to the seven Jayhawks on that team who represented their school and country. The stripes on the shorts are meant to be a tie to the American flag.
True to form, adidas added its touch of athlete-driven technology as the modern side panels and more breathable mesh were utilized.
While the uniforms themselves will not be available at retail, KU fans will soon get their chance at select offerings of tees that hook to the uniforms as well as the shooting shirts that the team will be wearing while representing the United States in the 2015 World University Games.