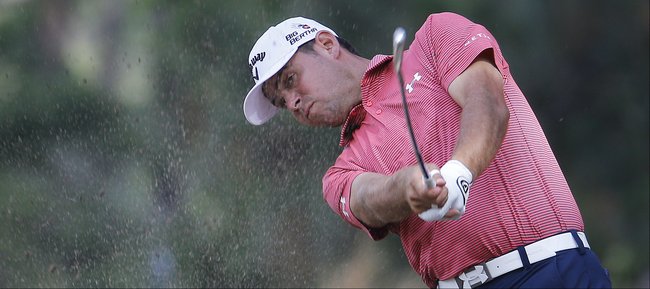 The official address informs that Dismal River red course, designed by Tom Doak, is in the town of Mullen, Nebraska, but Mullen is nowhere in sight.
Those who have played the course and other links-style gems nearby, including famous Sand Hills, will tell you it is not correct to say that the courses are in the middle of nowhere. In the middle of paradise, yes, but not the middle of nowhere.
Until Gary Woodland blew into town last week, clubs blazing, the record-low round at the red course, built in 2013, was 66.
That number was not the goal when Woodland sized up a 25-foot putt on the 18th green last week, studying it from every angle. He was playing with his buddies from Topeka, not against Rory McIlroy as he did in the final of the World Golf Match Play championship last month, so the competition wasn't the source of pressure.
Woodland needed to make the putt to break 60 for the first time. When the number is 59, there is always the possibility, no matter how gifted the golfer, that the opportunity won't present itself again. That's very real pressure.
Woodland made the putt, shattering the course record by seven strokes and joining the 59 Club, rarefied air.
Making that pressure putt is among the many reasons I think Woodland is the best bet on the board at 100/1 odds to win the U.S. Open, which begins Thursday at Chambers Bay in Seattle.
"The guys playing with him were his Washburn buddies from old, and they said it was the most excited they had ever seen him," said Joe Madsen, director of golf at Dismal River. "Gary said he was more excited for shooting a 59 than winning his two tournaments on tour. Those are hard greens to read. Not everything goes in the direction you think it should. He obviously did a phenomenal job of reading them."
Madsen said Woodland became the man he'll root for in the U.S. Open even before he teed off.
"Normally, I go out and meet every group that comes in, just to explain what we do and show them where to go," Madsen said. "As soon as I walked out the door, he took two steps toward me and stuck out his hand. I'm an instant fan. What a nice young man."
Woodland blew up with a 76 in the first round of the Memorial Tournament, and even a second-round 69 wasn't enough to make the cut. So he returned to his summer home in Lawrence and played at Lawrence Country Club with his friends and tied Chris Thompson's course record with a 61. Next stop: The Sandhills of Nebraska. Woodland played the Dismal River red course and Sand Hills to get some work in at links-style courses similar to Chambers Bay.
Madsen said he only knows Chambers Bay from magazines and TV. As he explained the type of course Dismal River is, it sounded in many ways like listening to touring pros discussing Chambers Bay.
"The Doak design is very similar because it has rolling hills and a lot of prairie-grass-type situations," Madsen said. "I'm not that familiar with Chambers Bay, so I'm not exactly sure, but we have a lot of rolling terrain, lots of humps and bumps where you have to get it in areas to score well. Gary obviously did that."
Madsen was impressed enough with Woodland's score at Dismal River that he did a little politicking for his course.
"I told him, 'When, not if, when you win the U.S. Open, can you put a little blurb about it being nice to play Dismal River?' It was great to have him here," Madsen said.
The back tees at the red course measure 6,994 yards, and Madsen said Woodland played from behind the tips on some holes, meaning he played a course longer than 7,000 yards and shot 59.
Woodland enters the U.S. Open played at a British Open-type course ranked 29th in the world and is 20th on the PGA Tour money list. Those numbers and his recent off-tour numbers give him better than a one-in-a-hundred chance of winning his first major championship this weekend.