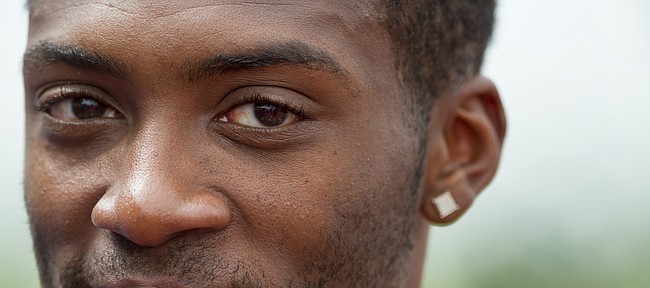 Newly crowned 400-meter hurdle national champion Michael Stigler doesn't have to think too hard to remember the details that led up to last weekend's championship run because they've been ingrained for years.
"I remember everything vividly, because it's a ritual that I do before every race," said Stigler, who will turn pro in the coming weeks and graduate from KU in December. "Sit down, watch a little bit of HGTV, just sit there, take a nap, get up and stretch a little bit. It's all the same every meet."
Other than the heavy dose of HGTV, which he said he watches because he's "into houses," Stigler's pre-race routine included a snack one might not expect from a world-class athlete.
"Chicken tenders and fries," he said. "It's really a little thing I've got going on. Ranch and ketchup."
After finishing second at the NCAA Championships each of the past two seasons, Stigler, who ranks fourth in the world in his signature event, knocked down the door with a stellar race in windy conditions on Friday in Eugene, Oregon.
With track and field being such a technical sport, where a fraction of an inch or a second here or there can change everything, one might think Stigler spent hours watching film and fine-tuning his steps to get over the hump. And he did. But the Canyon, Texas, native credits something else for finally landing him at the top of the medal stand.
"It's maturity," he said. "I had to grow as an athlete and find out which way to run the 400 hurdles worked best for me, and it finally clicked for me this year. I just stayed more mentally focused and engaged while I was running instead of just being engaged off the track."
That advanced frame of mind served him well during the big race. Stigler recalled details about every landing, leap and loud word of direction from hurdles coach Elisha Brewer and then saw it all play out just as he remembered during a screening of his championship-clinching race just a couple of nights ago.
"It comes with a lot of demands," he said of the race. "You have to be focused. You have to be engaged and dedicated to what you do. You have to eat right. You have to make sure you hydrate. You have to have strength to get through the 400, and you have to have some speed. You can't just go out there and jog, because it is a sprint. And you have to have the drive for it, because it's a tough race, and it'll eat you alive."
After managing to put all of that together at just the right time to break his runner-up rut, Stigler exploded with emotion as he crossed the finish line. Comprehending the magnitude of his achievement is still a work in progress.
"I think it's still all coming in after everything dies down," he said. "But just to make it happen for KU was a great feeling."
Now Stigler turns his attention to the USA Championships, June 25-28 also in Eugene, where he'll face some of the best hurdlers in the world.
Emboldened by his recent championship but also by the way he trains, Stigler is eagerly anticipating the next event and not looking back at his recent success
"I won a national championship," Stigler said. "But my mind-set has already moved on, and I'm getting ready for my next goal and task. I'm ready to run with these guys. I feel like my best race is yet to come still."