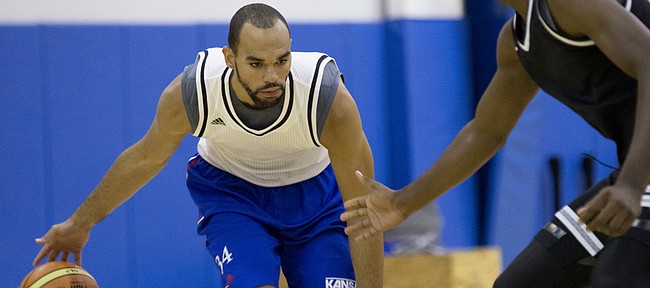 Always-polite Perry Ellis smiled Sunday, agreeing to humor the media when asked why he has decided to grow a beard this offseason.
Could it be in support of LeBron James, the facial-haired Cleveland Cavaliers phenom Ellis teamed with in a pick-up basketball game last July in Las Vegas?
"No, it's just something (that) started to grow ... something new," Ellis, a 6-foot-8 Kansas University senior forward from Wichita, said after signing autographs for 21⁄2 hours at Bill Self's Basketball Camp.
Though Ellis looks a bit different, his effort and productivity at World University Games practices have closely resembled that of last season, when Ellis led the Jayhawks in scoring (13.8) and rebounding (6.9).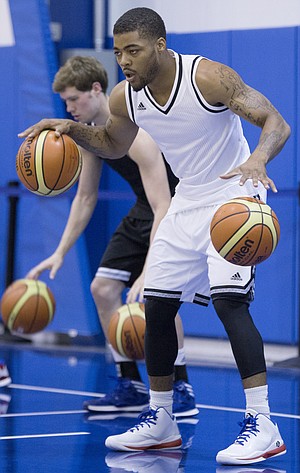 "Perry has been our best player so far," KU coach Bill Self said. "I think he's ready to have a breakout type year, a player-of-the-year-type year."
Ellis, who said he has completely recovered from the sprained knee that slowed him the last six games of the 2014-15 season, has been spending a lot of time in the gym.
"The thing is, it's my last time. I want to make it my best," Ellis said of his final season at KU. "I am thinking this is it for college. I'm excited about it, though. I'm going to go out there and do my best, work as hard as I can, get in the gym extra, as much as I can, just try to make it the best year. I'm going to go out and have fun."
He has been working on some of his perceived weaknesses "(My) ball-handling is getting a lot better in tight situations. I've been shooting a lot, extending my range even more, those two things," said Ellis, who hit 45.7 percent of his shots as a junior, 39.1 percent from three (18 of 46).
He said the first week-and-a-half of University Games practices has been productive.
"It's been going real well," Ellis said. "The new guys (Carlton Bragg, Lagerald Vick) have come in wanting to learn. Overall, practices have been going smooth. Everybody's competing."
What's most important to get out of numerous practices, two exhibition games against Canada (next Tuesday, and a week from Friday in KC's Sprint Center) and eight games July 3-14 in Gwangju, South Korea?
"Just meshing as a team," he said. "Getting all these games in is going to be huge for us. Everybody's going to know how each other plays. It's going to be huge in that aspect."
Asked which one player has made the most improvement this offseason, Ellis paused and said: "Landen (Lucas) is doing well. Everybody pretty much came back and is doing real well, honestly. We've been playing great in practice as a team. That's what's key."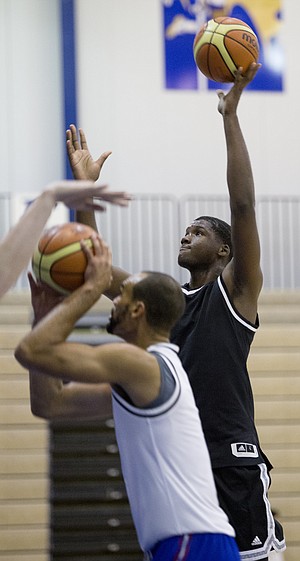 He agreed with those who have compared newcomer Bragg, 6-9 from Cleveland, to Ellis.
"Definitely. He is a real skilled player, strong, pretty quick, quick on his feet also," Ellis said. "I definitely see some similarities. He is learning real fast. He's starting to get more comfortable. I can see it as time's going on. I'm excited to see what he does."
Point guard Nic Moore of SMU joins Frank Mason III, Devonté Graham, Wayne Selden Jr., and Vick in the backcourt for the World Games.
"We've got a lot of guards. That's really going to help us with pressure situations," Ellis said. Guards Sviatoslav Mykhailiuk (not born in U.S.) and Brannen Greene (injured) cannot play in the games but can play for KU in 2015-16. "It's going to be cool to see how we play that way."
Self has said he is going to play all his players about the same amount of minutes. After all, a long season follows this summer's Games.
Ellis' minutes will not have to be monitored, however, because of any lingering effects of his knee injury.
"I'm 100 percent. My knee feels great, no problems with it anymore," Ellis said. "I'm happy about that. It got better pretty fast (after season). Just rest, a lot of rest helped. I'm back."
Self is happy Ellis decided to return to KU a final year and not declare for the NBA Draft. He does think the NBA is in the future for his senior standout.
Ellis wants to play in the NBA, but stresses he is extremely "excited" about being back for a final go-around.
"It's the goal. You can't rush it. You'll know when the time comes. It hasn't come yet. I'm glad to be here," Ellis said.