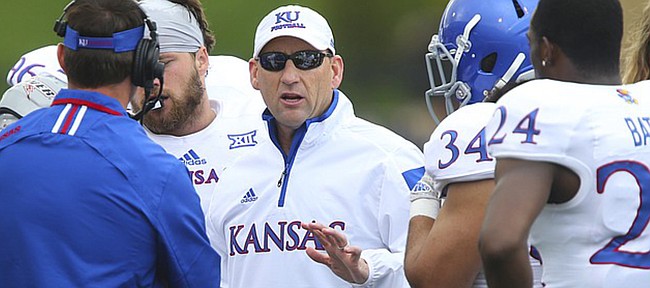 It's time to take a position-by-position look at how the Kansas University football roster shapes up, fitting each player into one of six offensive positions and five defensive ones and then ranking the positions.
1 . Defensive ends: An argument could be made that the reserves here are better than the starters at any other position on the defense. Damani Mosby and Anthony Olobia, a pair of long, 239-pound juco transfers who red-shirted last season, impressed coaches during the spring with their ability to get off the line of scrimmage and make things happen. T.J. Semke and Ben Goodman are two of the toughest players on the roster. The most talented recruit in the class, Dorance Armstrong, also has a shot to play right away.
2 . Tight ends: Third-year sophomore Ben Johnson has the edge here on Florida transfer Kent Taylor because he's a better blocker. Taylor tried to put on weight at Florida and since arriving at Kansas, but has had trouble bulking up. Johnson caught 10 passes for 80 yards last season as Jimmay Mundine's backup.
3 . Safeties: Bazie Bates has worked hard to add muscle in order to make his explosive hits hurt even more. The juco transfer brings speed, a nose for the ball and polished coverage skills from his days as a cornerback. Greg Allen will be given every opportunity to show he's a worthy starter. Fish Smithson, an instinctive player with brains and toughness, played well in reserve last season. Converted quarterback Denzel Feaster, a true freshman from Texas, has good long-range potential.
4 . Defensive tackles: Depth in terms of size and experience are problems here beyond returning starter Andrew Bolton, a strong, explosive senior with quick feet for a D-tackle. Senior Kapil Fletcher gets the most out of his 271-pound frame, and juco transfer Jacky Dezir plays with passion.
5 . Running backs: Corey Avery led the team in rushing last season as a freshman, but he was run from the team for violating team rules. His sticky fingers made him a threat to catch passes out of the backfield as well.
Great medical strides in terms of concussion detection make it essential to increase depth at a position where concussions are common. Kansas appears to have come up short in that regard. Talented, driven De'Andre Mann was limited by concussions a year ago, and a close eye will be kept on his condition before anybody clears him to resume his career. Taylor Cox's recovery from an Achilles injury was not complete by the completion of spring football.
If Mann and Cox can't contribute, KU will have just two scholarship running backs, both promising. Ke'aun Kinner, a 5-foot-9, 180-pounder, runs with great balance and vision and can run away from the defense as well. Kinner was named National Junior College Athletic Association offensive player of the year in 2014.
Taylor Martin, a 5-foot-10, 180-pound two-star recruit from Fort Worth, Texas, was a district champion in the 100 meters, so he definitely has ample speed. He rushed for 1,833 yards as a sophomore, 1,604 as a junior and 1,543 as a senior. He averaged 24 rushing touchdowns per season.
6 . Interior offensive linemen: Nobody stepped forward during the spring to claim the starting center job. Joe Gibson, Keyon Haughton and possibly juco transfer De'Andre Banks are candidates. Guard Junior Visinia (6-4, 375) started three games last season and has the highest ceiling of the interior linemen, provided he doesn't put on too much weight. Senior Bryan Peters is in the mix here as well.
7 . Quarterbacks: Michael Cummings is expected to miss the season and apply for a sixth year of eligibility, which leaves Montell Cozart as the season-opening starter unless a true freshman, Carter Stanley of Vero Beach (Florida) High or Ryan Willis of Bishop Miege High, picks up the offense in unusually quick fashion.
8 . Cornerbacks (and nickelbacks): JaCorey Shepherd is with the Philadelphia Eagles, Dexter McDonald the Oakland Raiders. Precious little experience returns. Matthew Boateng played in eight games as a freshman, but didn't impress in the spring. Ronnie Davis and Colin Spencer each played in 10 games last season, but mostly on special teams.
Juco recruit Brandon Stewart is the team's most talented cornerback and will need help from incoming recruits, including juco transfer Marnez Ogletree.
Hard-hitting Tevin Shaw has come a long way and has play-making potential at nickelback.
9 . Offensive tackles: Converted tight end Jordan Shelley-Smith has beefed up to about 300 pounds and will be counted on to get up to full speed at a relatively new position. Larry Mazyck, haunted by false-start penalties a year ago, didn't show the passion for football during the spring and will need to do better in that area to nail down the starting spot at right tackle. Devon Williams and Jayson Rhodes, natural guards, will try to get into the rotation.
10 . Linebackers: As is the case with running backs, linebackers are at high risk of concussions. Two-year starter Jake Love had to end his career because of them. Undersized Courtney Arnick returns and will bank on help from a pair of linebackers who have had difficulty staying healthy. Schyler Miles brings strength and instincts, but is limited by bone-on-bone knee pain. Marcquis Roberts, a transfer from South Carolina, has missed time because of shoulder and ACL injuries, but has the talent to start if healthy. Kryon Watson, lacks speed and size.
11 . Wide receivers: Tre' Parmalee is the lone returning player who caught a pass lined up at wide receiver in 2014. He caught four for 21 yards. Recent addition Quincy Perdue caught two passes for 82 yards and does not have to sit out because UAB dropped its football program, only to resume it, but not in time to have a 2015 season.
So, other than at defensive end, Kansas does not have much depth at any position, even before inevitable injuries mount.