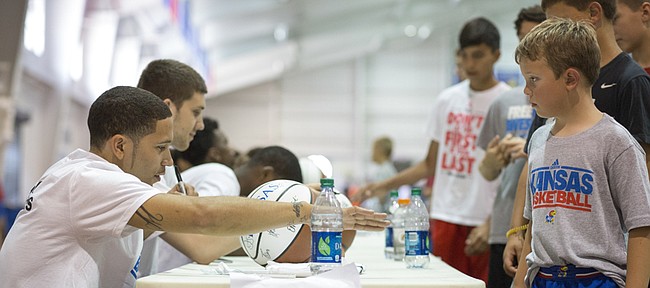 Kansas University coach/Basketball Boogie emcee/comedian Bill Self on Saturday roasted a current KU player and one the Jayhawks have borrowed from SMU for the 2015 World University Games.
"Frank wanted us to make sure to take Nic so he wasn't the shortest guy on the team," Self deadpanned in introducing SMU senior Nic Moore to several hundred patrons who attended Saturday night's Assists Foundation fundraiser at Abe and Jake's Landing.
Frank Mason III is indeed KU's shortest player at 5-foot-11, 185-pounds, while Moore stands 5-9, 170. All joking aside, Self has utmost respect for junior point guard Mason, as well as Moore, floor general at SMU.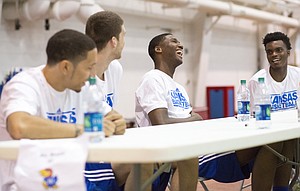 "He's player of the year in their conference. He's one of the best guards in the country, period," Self said of Moore, who led the American Athletic Conference champion Mustangs in scoring (14.5), assists (5.1) and steals (1.3.) last season. He hit a career-high eight three-pointers in a 28-point outburst against Houston on Jan. 24.
"I feel loved here ... but I'm a Mustang at heart," Moore said Sunday after signing autographs for 21⁄2 hours at Self's basketball camp orientation in Anschutz Pavilion. "I've only been here for a day-and-a-half now. I'm getting used to the things that the guys do. Everybody has made me feel welcome so far."
Moore said it was an "honor" for him to be asked to be the only non-KU player on the USA's 2015 World University Games team.
"Coach Brown (Larry, current SMU coach/former KU coach) let me know in his office one day. He said I had an opportunity to be able to play with KU and represent the United States. To be able to hear that from him and for KU to accept me, like I said, it was an honor," Moore said. "I had smiles on my face. Just to be able to do what I love with a great group of guys is pretty fun.
"Coach Brown has been everywhere (in his career). Just to be around him every day is an honor for me and to learn from him," Moore added. "To go from one school I play for him to come back to his school that he first started at just shows they see something in me and I could be able to play with them."
Self worked for Brown one year at KU. Brown's associate head coach, Tim Jankovich, worked for Self four seasons at KU.
"I mean, he (Self) is another image of coach Brown and coach Jankovich," Moore said. "I like the way he (Self) coaches, fast tempo. What he says is like second nature to me because I hear it every day from coach Brown and coach Jank. When I see coach Self, I see them."
Moore, who arrived at KU for his first practice Friday, hasn't had any serious sit-downs with Self yet.
"He hasn't really explained any of that to me," Moore said of the coach's expectations for him. "I think he just wants me to have fun. It's not my team. It's KU and coach Self. It's basically coming here, do what he says and just work hard."
Moore has a vision of his role for KU in the University Games July 3-14 in Gwangju, South Korea.
"I want to bring hard work and leadership, really," Moore said. "I just want to get along with the guys, see how they play, be able to have fun out here with them. I know I'm new. They don't really know me, but I want to be a leader out on the floor, talk to them, any possible way I can help this team.
"I want to show the guys I'm here for them, move the ball, be a point guard and be a leader. I want to win every game if it's for the USA, if it's for my school, if it's pickup ball, YMCA … I want to win every game. But then to represent the United States is another step up."
He said he hasn't studied film or scouting reports on his new KU teammates.
"No. Whoever is open gets the ball. That's how I play," Moore said. "I'm not worried about who is on the court with me or what guy can do what."
If he sounds confident, it's because he is confident.
He has overcome a lot of naysayers into becoming a standout college player.
"A lot of mid-major schools were recruiting me out of high school. I've heard it's my height my whole life. Obviously, it's not. It's just what people say," said Moore, a native of Winona Lake, Indiana, who initially played one season for Jankovich at Illinois State, then transferred to SMU in 2012 after Jankovich was hired as Brown's head coach in waiting.
"I'll just continue to work hard. Once I left Illinois State, I wanted to give that tribute back to coach Jankovich because that's who brought me into all this college basketball. To be able to follow him and now be able to play for coach Brown is pretty cool."
Moore in just one practice has already made an impression.
"I learned he's a leader. He got there halfway through (Friday's) practice, walked in and acted like he owned the place. That's exactly what best players in leagues do," Self said.
Moore explained his entrance: "I actually hopped off a plane, started signing some papers. I only got to practice with the guys about 35 minutes, so I haven't really gotten to see anything yet," he said.
Asked if he's going to "be shy or be a leader," Moore said: "I'm definitely going to be a leader. I wouldn't be here if I was shy."
KU senior Perry Ellis, who has been a leader mainly by example, said he was all in favor of adding Moore to the team.
"He seems like a great guy. I like him," Ellis said, adding, "He moves the ball real well. He can score and is vocal. He's going to be a huge addition to us."
Diallo graduates: KU signee Cheick Diallo, 6-9 power forward from Our Savior New American High in Centereach, New York, tweeted a picture of himself in cap and gown Saturday following his high school graduation ceremony.
"I did it. Now next step is Kansas baby," Diallo wrote above his picture. Born in Mali, he's unable to play in KU's World University's Games. He plans to arrive here in July. Diallo is ranked No. 5 nationally in the Class of 2015 by Rivals.com.
Porter's list: Michael Porter, a 6-8 junior small forward from Tolton Catholic High in Columbia, Missouri, who is ranked No. 2 nationally in the Class of 2017, has announced his list of 17 schools: KU, Arizona, Baylor, Duke, Indiana, Iowa, Kentucky, Missouri, Oklahoma, Oklahoma State, Syracuse, Texas, Texas A&M;, Texas Tech, UCLA, Virginia and Washington.