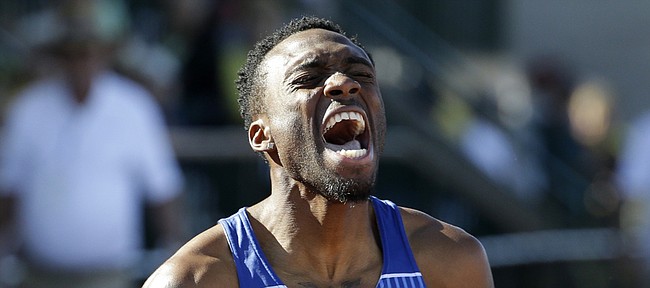 Eugene, Ore. — After consecutive runner-up finishes at the NCAA Track and Field Outdoor Championships, Kansas University senior Michael Stigler finally found gold.
Stigler won the national title in the 400-meter hurdles on Friday at Hayward Field.
"It feels so good to finally be No. 1," Stigler said. "As soon as I crossed that finish line, I couldn't do anything but thank God and give thanks to my coach and my family. To finally get that win and get over that hump, it just means so much to me, and I'm so happy all that hard work finally paid off."
Stigler — KU's first national winner in the 400 hurdles since Cliff Cushman in 1960 — won in 48.88 seconds. He had placed second in the event the previous two years.
He finished undefeated this season in his signature event.
"The key with this race was to just stay within myself and not let the field play a factor in my race," Stigler said. "All year I've spent more time focusing on myself, and I knew if I executed my race that my best race would be put together on the day that it matters."
Stigler became the first Jayhawk ever to earn first-team All-America honors in the same event in four consecutive years.
And he became the 36th individual NCAA Outdoor champ in program history.
Stigler will return to Eugene in two weeks to try to claim one of three 400-meter hurdle spots on the American team that will journey to the World Championships in July. Stigler currently sits as the fourth-ranked American in the yearly standings.
The Kansas men had two other student-athletes competing on Day Three of the NCAA Championships, both in the discus throw.
Junior Mitch Cooper placed 11th with a top throw of 58.19 meters (190 feet, 11 inches). Freshman Nicolai Ceban took 21st with a toss of 54.86 meters (180-8).
Oregon won the men's team title with 85 points. Kansas tied for 19th place with 10 points.
Florida was a distant second with 56 and Arkansas third with 53.
It was the second time, and first in 50 years, that Oregon won the men's crown two years in a row. The Ducks, despite their storied track history, hadn't done it since 1964-65.
The NCAA Outdoor will conclude today.