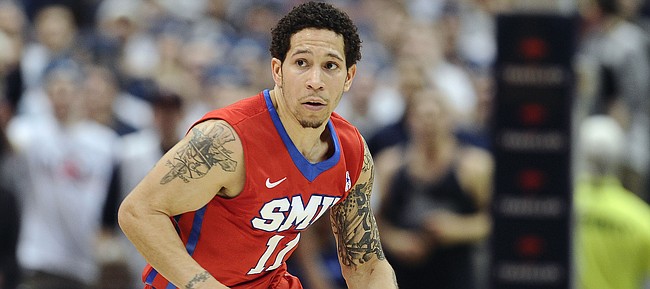 SMU senior point guard Nic Moore, the reigning Player of the Year in the American Athletic Conference, arrived on Kansas University's campus Friday and immediately was escorted to the Jayhawks' basketball practice facility.
"I learned he's a leader. He got there halfway through practice, walked in and acted like he owned the place. That's exactly what best players in leagues do," KU coach Bill Self told the Journal-World after a two-hour World University Games team practice and orientation of his Friday/Saturday Parent/Child camp.
"I'm going to really enjoy coaching him. Our players are going to really enjoy playing with him," Self added of the 5-foot-9, Winona Lake, Indiana, native who led the Mustangs in scoring (14.5 ppg), assists (5.1) and steals (1.3) his junior season.
"I think Nic can help them all," Self said of the 11 Jayhawk players, who, along with Moore, complete KU's Team USA roster for the University Games, July 3-14 in Gwangju, South Korea. "We've got good players, but we haven't had anybody that's been Player of the Year in the league. Nic is Player of the Year in the American Conference, a great league. SMU won it last year."
Self's Jayhawks, who have been practicing since Monday, will continue working out in preparation for a pair of exhibitions against Canada, June 23 and 26 in KC's Sprint Center.
"We've been hitting it pretty hard, harder than we ever have in the summer because we're going on this trip," Self said. "We're experimenting on some different things, and the guys are really trying hard. They're jacked and going at it. It is very competitive. I think some guys are about ready to take off (and play at an even higher level)."
The Jayhawks have a lot to accomplish in a short time.
"We are not the USA Basketball team, but we are representing the USA. I think they (the KU contingent) will get that vibe big-time. It will be a situation the world will do everything they can to try to knock us off," Self said.
The team is getting used to the 24-second clock and other FIBA rules.
"I think any time you force yourself to play with a short clock, it definitely adds to aggressiveness and adds to guys going and making plays on their own, which sometimes we can get a little stale doing that," Self said. "I'm excited about us experimenting as coaches. I'm excited about the clock forcing us to play faster and doing some different things defensively. I think it'll be very good for us moving forward."
Roster talk: KU announced its official World Games roster Friday. Moore is joined by Carlton Bragg, Perry Ellis, Devonté Graham, Landen Lucas, Evan Manning, Frank Mason III, Hunter Mickelson, Wayne Selden Jr., Tyler Self, Jamari Traylor and Lagerald Vick. Sviatoslav Mykhailiuk (Ukraine), Cheick Diallo (Mali) and Dwight Coleby (Bahamas) cannot play because they were not born in the USA.
Assistant coaches on the trip will be current assistant Jerrance Howard, plus staff members Fred Quartlebaum (director student/athlete development) and James Cox (video coordinator).
"Kurtis (Townsend, assistant), Norm (Roberts, assistant) and Brennan (Bechard, director of basketball operations) are staying behind for the July recruiting period. We don't want to miss out on July," Self explained to the J-W. "We're going to put Brennan on the road recruiting as well."
World travelers: Self has taken teams to Canada, Paris and Switzerland for exhibition games before.
"We've traveled to exotic places through the years, but I do believe this will be the most educational trip because we will see the culture and how people live and also hang out with other athletes in their same age group from all over the world. The guys are taking a class to become more familiar with South Korea and the culture and what to expect when they get there," Self said.
This 'n' that: Former KU guard Ryan Robertson is attending the Parent/Child camp with his two sons. ... Tonight is the Bill Self Basketball Boogie at Abe and Jakes in downtown Lawrence. To order tickets, go to http://basketballboogie.org/Tickets. ... KU won't be the only college team playing in the World University Games. Cal State Fullerton's baseball team, Colorado College's women's soccer team and Stanford's women's water polo team will also compete as Team USA in those respective sports. ... Tickets are available for the exhibition games against Canada. The cost is $27 for the June 23 game and $37 for the June 26 game. Tickets will not be sold in the upper level, leaving capacity for the games about 10,000.