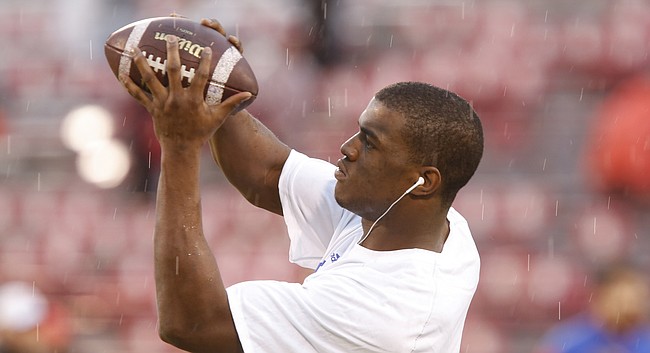 It can be dangerous to spend too much time counting on undrafted free agents getting picked up by NFL teams and making it all the way to the final 53-man roster or even the practice squad.
There's a reason that more than 200 players were drafted before these guys, and that alone makes it difficult for most of them to get a fair crack at impressing the powers that be at the professional level.
In the case of former Kansas University tight end Jimmay Mundine, however, the odds of making a deep run at a roster spot this fall increased recently when Mundine signed a free-agent deal with the New England Patriots.
The defending Super Bowl champions already are the second pro franchise to employ Mundine, who initially accepted a camp invite from Cleveland in the hours following this spring's draft.
While it can be beneficial for undrafted players to land on teams in rebuilding mode, getting away from Cleveland and landing with the Patriots was the best thing that could've happened to Mundine.
For starters, New England has a history of finding and keeping undrafted free agents at a high rate. Some, like Wes Welker and Adam Vinatieri, have gone on to make serious impacts and big names for themselves. Others, though not as well known, became key reserves or valuable parts of the Patriots' Super Bowl championship teams.
That does not necessarily mean Mundine is the next guy in line for such a career, but it does not hurt that the Patriots are known for sifting through the water to find the hidden specks of gold.
Look no further for proof than the fact New England, on the same day it announced the Mundine signing, announced that it had released tight end Tim Wright, who played in 16 games and caught six touchdowns for the Patriots in 2014. Clearly, the Pats believe one of the young tight ends in their camp can do what Wright did in 2014 — 26 receptions on 33 targets for 259 yards and six touchdowns in 16 games.
Beyond that, the 6-foot-2, 240-pound Mundine has two specific skills that make him an attractive option as an NFL tight end. He runs terrific routes and has good hands. I remember former KU coach Charlie Weis saying that those two things, above all else, were the most important things for NFL tight ends. After all, not every tight end is like New England stud Rob Gronkowski, capable of blocking like a fullback and making plays like a top receiver.
If Mundine continues to use his athleticism to get open during camp, he'll open some eyes, and that will increase his odds of making the roster.
Perhaps the biggest element that will help his chances of getting open is the fact that he'll enter Patriots camp knowing a good chunk — probably 75 percent or greater — of the terminology in the offense. Having played for Weis for parts of three seasons, Mundine learned several of the ins and outs of NFL offenses. If that's at all like riding a bike, getting back out there and hearing some of those calls in the huddle and studying them in the film room should give him a head start and make Mundine ultra-confident. That could lead to him playing some of his best football at the perfect time.
Because the Patriots employ a win-at-all-costs mentality, they'll do whatever they can to keep the players they believe will help them win another Super Bowl. Mundine won't be a cornerstone of that, and even if he does make the roster, probably would never exceed the numbers put up by the non-Gronkowksi tight ends in New England over the past few years.
But the opportunity is there. And it's a good one. Now it's up to Mundine to capitalize.