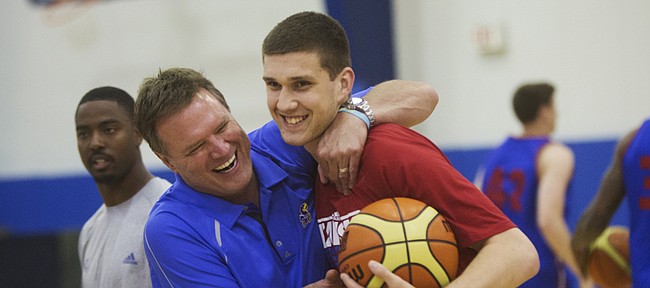 Sviatoslav Mykhailiuk, who last season was billed as one of the youngest players in college basketball history, slowly but surely is growing up — and filling out.
The Kansas University sophomore guard from Ukraine today celebrates his 18th birthday and at 6-foot-8, 205 pounds — 15 pounds heavier than this time in 2014 — is physically resembling a major-college player more than the high-school-aged person of a year ago.
"I'm trying to develop everything. I'm trying to get better at some of my weaknesses and get stronger. I think that (strength) is one of my biggest weaknesses. I try to go to the weight room more than anybody else and work out," Mykhailiuk said Tuesday afternoon in Allen Fieldhouse, a day after returning from a month-long stay back home in Cherkasy.
Asked what KU strength coach Andrea Hudy has in store for him this summer, he said: "Most of the time, I focus on my upper body, because my lower body is a little bit stronger. I need to focus a lot on my upper body when I'm working out with her — squats, bench, incline. Every time is different."
Mykhailiuk, who averaged 2.8 points and 1.2 rebounds while logging 11.2 minutes a game in 28 games his freshman season, said he had a productive four weeks in Ukraine mentally and physically.
"Yes, I needed to go back home. I needed the rest. Everybody needs rest," Svi said. "I missed my parents and friends, so I just spent time with my parents and then went and chilled with friends. I went downtown with my friends and worked out with my team (members of Cherkasy Mavpy SuperLeague squad).
"I was working out a lot, trying to prepare for next season, which is very important for me. I worked out at my gym, and I was with my team. Most of the practices I was doing individual stuff with my home team and coach," he added.
Mykhailiuk hit 26 of 85 shots a year ago for 30.6 percent. He iced 15 of 52 threes (28.8 percent).
"I'm not just going to shoot three-pointers. I'm not that type of player; I'll try to do whatever coach (Bill) Self needs from me," Mykhailiuk said.
"Everyone (back home) is excited to see me play next year. They say I'll do well next year," he added of the 2015-16 season. "I'm getting older. I'm not a freshman. That was a great experience for me (last season). I've been in the system, and I think I'll feel more comfortable. Mentally, your first season ... for freshmen, it's hard every time. I'll be good next year."
Since he's from Ukraine, Mykhailiuk cannot compete for KU in the World University Games. Svi can take part in some practice situations in his role as team manager.
"Probably not," he said, asked if he'd make the trip to South Korea for the July 3-14 Games. "I'll probably be here working out."
For now, he's happy to be settling back in the USA. He arrived back on campus at 8 p.m. Monday. His total flight time was over 14 hours, counting the connecting flights in returning from Ukraine.
Recruiting: Paschal Chukwu, a 7-foot-2 former Providence player who has announced plans to transfer, visited Iona on Monday, Zagsblog.com reports. He will visit Virginia on June 19, Michigan State on June 22 and will also visit Syracuse and UConn, CBSsports.com indicates. He has visited KU and Nebraska.
http://www.youtube.com/watch?v=wTITRGm-C-I