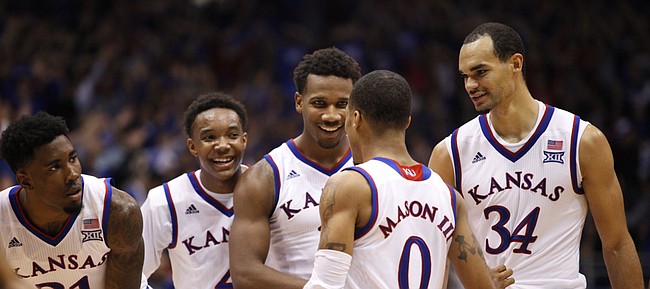 Watching Frank Mason and Devonté Graham play together for the final 10:34 Saturday, turning a one-point lead over Texas into a 75-62 Kansas University victory in the Erwin Center felt a little like watching the Royals' stress-free bullpen work.
Mason and Graham have a knack for taking pressure off of each other and putting it on opposing defenses.
"When we're in the game at the same time, that's our job," Graham said. "Coach always tells us we've got to get a good shot every possession, so taking care of the ball is the key to getting a good shot every possession. We can't just be out there turning the ball over as point guards."
Graham has proof that he values possessions, both preserving them and stealing them. He not only has a 3.4-to-1 assists-to-turnover ratio, he has more steals (11) than turnovers (8).
The hand Self played for the final 10:34 Saturday in Austin wasn't available to him in six games this season, including a 25-point loss at Temple, because Graham was lost to injuries. He won't go in that direction for such a long stretch in every game, but the coach has nothing but confidence in the tandem.
The two small guards played together for 12 minutes in all Saturday, and the statistics backed up what everybody's eyes saw. The Jayhawks play more aggressively, move the ball better and get better shots when Graham and Mason form the backcourt.
In the 28 minutes that either Mason or Graham was on the court, but not both, Kansas and Texas played to a stalemate, 44-44. KU shot .386 from the field and had three turnovers with one point guard, and shot .556 with no turnovers with two point guards.
Clutch free-throw shooting is another factor that gives Graham and Mason a Wade Davis/Greg Holland feel to them.
In the final five minutes of games, Graham has made 22 of 24 free throws (.917), Mason 19 of 23 (.826). Those numbers scream composure and conditioning.
Now that Perry Ellis is playing with restored confidence, Cliff Alexander has a better understanding of what it takes to stay on the court and Graham is healthy, Kansas has made a big leap in a short time and has established itself as the favorite to make it 11 Big 12 titles in a row.
Of course, as soon as the players believe the race is over, it won't be, because any team in the conference is capable of staging a major upset, as was illustrated Saturday when Texas Tech shocked Iowa State.
No doubt, though, Kansas will be as tough to catch from behind in the Big 12 race as it is in games.