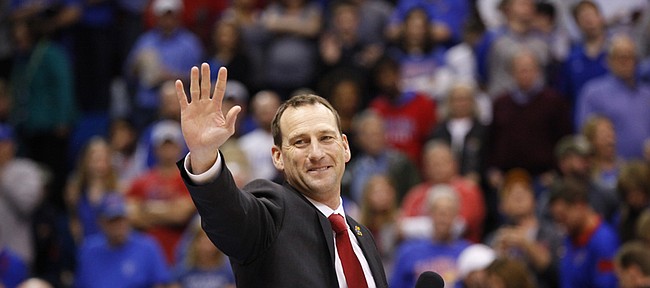 New Kansas University football coach David Beaty knew when he accepted the job that the upcoming season could present enormous challenges.
From the obvious transition period that often brings trouble to inheriting a roster short on numbers and a group of players who lack experience and know nothing about consistent success, Beaty is aware of the obstacles he'll face in his first season as a college head coach, and he's not afraid to admit it.
"Listen, I know there's some tough times ahead," Beaty said following Monday's introductory news conference. "I get that. But I'm excited about the future. I don't worry about tough times. And the great thing is, we're not starting over."
In many ways, the Jayhawks are. Thirteen of the 22 starters in KU's season-ending loss to Kansas State were seniors. And 18 Jayhawks who played in the finale will not be back next season.
Despite the loss of several key contributors, Beaty said he believed what interim coach Clint Bowen did during the final nine weeks of the season with regard to reshaping the team's mind-set and philosophy was a fantastic starting point for the program he hopes to build at Kansas. He thinks that because he saw it with his own eyes.
"I've watched every one of (KU's) games this year," Beaty said. "I've Tivo'd 'em. I've ran 'em back. Because it's important to me."
So what did he see when he watched the games? Enough talent in certain places to inspire him to take the job and hit campus with the idea that the foundation is in place.
"I'm encouraged by the guys we have on campus," he said. "And we're gonna go out, and we're gonna find guys that are gonna push them."
Like most coaches entering new situations, Beaty plans to bring stability to the program through discipline, an upgrade in talent and a fresh outlook. He's confident enough to believe all three can take hold at Kansas and optimistic enough to believe he'll be here for a while.
"I didn't come here looking to go somewhere," he said. "I came here looking to stay and build this thing into something we can all be proud of. I see this place the way a lot of people don't. I think you can make it a nationally prominent program. I've seen it done. And I want to be here as long as they'll have me."
Staff chatter
With Beaty in place and assistants Bowen and Reggie Mitchell already known to be sticking around, the attention shifts to filling the out the rest of Beaty's coaching staff.
No names have surfaced for the remaining seven full-time assistant coach openings, and Beaty said people needed to be patient.
"It's gonna get done pretty quick," Beaty said. "However, the people that I'm interested in, they're really, really good in this business, and a lot of them are still playing."
Beaty said during his introductory news conference that he was seeking assistants who could recruit and develop talent.
"That pool is small," Beaty said. "(The pool of) guys that can do one or the other is pretty big, but the pool of (guys) that can teach and recruit, it's small, and relationships are the key to getting those men to come here."
Short moving on?
The on-again-off-again connection between cornerback Kevin Short and KU appears to be done.
Short, the former junior college All-American who missed the past two KU seasons — 2013 because of academic issues, and 2014 after leaving for personal issues a week before the season opener — revealed on his Facebook page Tuesday that he would play out his college career at Lindenwood College in St. Charles, Missouri.
Coincidentally, Beaty is a 1994 graduate of Lindenwood, where he played football and served as team captain in 1992 and 1993.
Short was arrested in Lawrence last weekend on suspicion of failure to appear in court in a case that was not related to the weekend arrest of KU wide receiver Rodriguez Coleman and KU basketball forward Jamari Traylor.