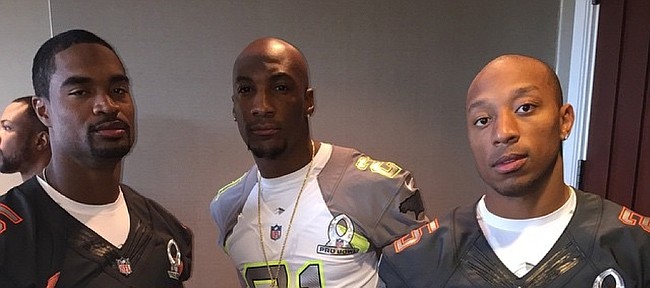 When former Kansas University safety Justin Thornton sits down to watch this year's NFL Pro Bowl — 7 p.m. Sunday night, ESPN — he'll see three guys he started next to in KU's 2008 Orange Bowl secondary making their first appearances in the postseason all-star game.
The 27-year-old Thornton admits it will be unusual to see some of his best friends and former teammates playing in a game they once dreamed about together. But for Thornton, who works as a general manager for Centerplate food and beverage service and still lives in Lawrence with his wife, Ashley, and their children, Isaiah and Ellis, there is no feeling of regret, only joy.
"I'm just proud of them," Thornton said of former KU defensive backs Chris Harris, Darrell Stuckey and Aqib Talib. "I'm proud that we were able to do what we did. And I think those guys making it to the Pro Bowl is just a testament to why we were able to do it."
Starting together for the Denver Broncos during the 2014 season, Harris and Talib — KU's starting cornerbacks in the 2008 Orange Bowl — were two of the top-rated defensive backs in the NFL this year. Both were voted to the Pro Bowl on the strength of their stats and success of their team.
Stuckey, now in his fifth season in San Diego, was named to the Pro Bowl as an alternate just this week and got the nod because of his play on special teams. He joins Harris on Team Irvin, drafted by former Dallas receiver Michael Irvin, while Talib will play for Team Carter, drafted by former Minnesota receiver Cris Carter.

Regardless of the paths they took to earning their spots, Thornton said all three former Jayhawks have found NFL success because of the same thing.
"I can tell you exactly why they've all been successful in the league," said Thornton, who got his shot with the Pittsburgh Steelers in 2010 and made it to the final cut of the preseason. "No. 1, they work hard. They want to be the best at what they do, and they work to become that."
Thornton said a couple of other elements have contributed to Harris, Stuckey and Talib becoming the first trio of former Jayhawks to play in the same Pro Bowl since Galen Fiss, Mike McCormack and Curtis McClinton appeared in the 1963 game. Included among them were: a strong presence in their communities, a desire to prove they belong and, in Talib's case, "freak" athleticism.
"Aqib's always been great," Thornton said. "First-round pick, tremendous player; that dude's a freak of nature. And both Darrell and Chris have been underdogs their entire careers."
Like most former Jayhawks who have cringed while watching the KU program recently fall on hard times, Thornton was quick to point out that his former teammates could play an important role in helping rebuild Kansas football.
"How many times has this even been done before, three guys from the same college who played at the same time playing in the Pro Bowl?" asked Thornton, noting that he knows plenty of other schools have sent many more players to the Pro Bowl than KU. "All three of those guys are just hitting their primes. And if they can stay healthy, it'll be the same story next year, I promise you."