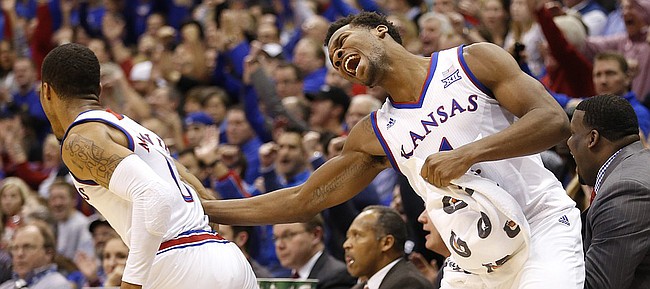 Just a sophomore, Wayne Selden Jr., is savvy enough to know that Kansas University's basketball rematch against Oklahoma State on Feb. 7 in Stillwater could turn out differently than Tuesday's 67-57 KU victory in Allen Fieldhouse.
"I don't want to say too much because we've got to play him again, but really just chase him around," Selden said, asked the secret to holding OSU sharpshooter Phil Forte III to four field goals in eight tries and just one three-pointer in two attempts. "Stay in his hip pocket," Selden added.
The 5-foot-11 Forte finished with 18 points, but totaled just one basket in the second half of Tuesday's contest.
"In the first half we gave him a lot of cheap fouls and technical fouls that got him to the line (where he went 9 of 9). I don't think he got too many good shots the first half, either (six shots first half; two second). He found openings on the fast break. I feel the second half we didn't give him too many touch fouls," Selden stated.
Overall, the Jayhawks held OSU to 31.4 percent shooting. KU outrebounded the Pokes, 43-26.
"There are two areas we played really well — our field-goal percentage defense was great and rebounding was great. That's a pretty dominant effort on the glass," KU coach Bill Self said. "For them to miss 35 shots and only get four back (four offensive rebounds to KU's 10), that is good. That's a positive.
"Fortunately for us they missed some open looks. I mean, they go 3-for-16 from three (to KU's three of 12). They didn't get a ton of open ones, but of the 16 there could have been seven or eight that were fairly unguarded. We got lucky some. I thought our scouting report defense ... we did a good job. With the exception of Le'Bryan (Nash, 19 points second half) a couple times off cross screens, I thought we did a good job of playing to scouting report."
KU on Wednesday ranked first in Big 12 Conference games only in scoring defense (55.3 ppg), field-goal percentage defense (32.7) and rebounding margin (plus 6). The Jayhawks also ranked second in blocked shots and steals in league games only.
Forte hobbled: The Oklahoman reported that Forte suffered from leg cramps on Tuesday.
"Usually I take a lot of pride in being the best-conditioned player on the court. So I don't use that as an excuse. I don't really see what was different. I just try to go out there and play hard every game," Forte told the Oklahoman.
"Second half, I don't know, my hamstring just kept tightening up. So I just need to continue to take care of my body — ice it, eat right, get the right rest. At this point, that's even more important than getting shots up and working on your jumper in practice."
Pickens' pick: OSU booster T. Boone Pickens said on Twitter before the game, as reported by the Oklahoman: "I think my Cowboys will win. We've got Bill Self's number. #AskBoone."
Self is 13-6 vs. OSU as KU coach. The Jayhawks have won eight of the past 10 contests.
Wooden snub: Despite a 14-2 record, KU has no players included on the 2014-15 John R. Wooden Award Midseason Top 25 list. Big 12 players on the list: Buddy Hield, Oklahoma; Georges Niang, Iowa State and Juwan Staten, West Virginia. Cliff Alexander, Kelly Oubre Jr., Perry Ellis and Wayne Selden Jr., were on the preseason Top 50 list.
Tops in RPI: KU on Wednesday was listed No. 1 in ESPN's RPI Index. Yes, the Jayhawks, thanks in part to a No. 1 strength of schedule, had an index of .7217, a bit better than Kentucky's .7205. Virginia was third at .7153. The second Big 12 school listed was West Virginia at No. 14.
Ellis struggling: Perry Ellis scored seven points off 1-of-8 shooting with five turnovers, eight rebounds, three steals and two blocks in 28 minutes. He's scored in single digits in four of the last seven games and two of three Big 12 games.
"I don't know if I am going to say turnovers are the reason he's laboring a little bit. I think he's basically just laboring some," Self said. "We played through him quite a bit. He wasn't aggressive. He made one great move the first half, a powerful, explosive move that may even have been on (Michael) Cobbins. He was not aggressive like he normally is. If you are aggressive you catch the ball with two hands, just things like that. It would be nice to get he and Wayne playing offensively like they are capable of because that changes our team overnight to being a much harder team to defend. We still won. Perry was able to do some things. He rebounded well, got eight boards, a couple key blocks. He found some ways to help us when offensively obviously he was struggling," Self added.
Wiggins to dunk?: Hoops Hype Canada tweeted that former KU guard Andrew Wiggins of the Minnesota Timberwolves will participate in the 2015 NBA All-Star Slam Dunk Competiiton on Feb. 14 in New York. The Website cited Wiggins' dad as the source of the information.
The Toronto Globe and Mail's Cathal Kelly, by the way, in a recent column says the Toronto Raptors "have their sights set directly on him (Wiggins) once he becomes an unrestricted free agent, as early as 2021. ... Wiggins is the key target. He also seems to be the guy who feels the biggest pull toward home. During last year's post-season run, while he was still attending the University of Kansas, Wiggins had to be talked out of coming to a game at the Air Canada Centre in Raptors gear."