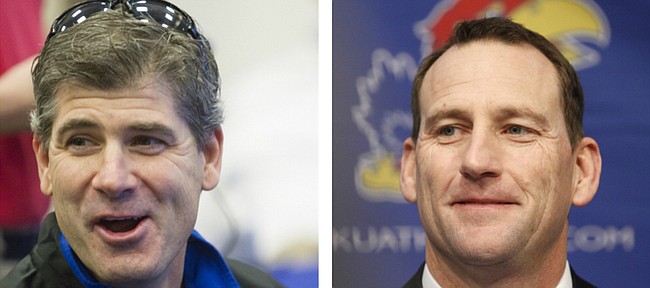 Rob Likens' path to becoming the offensive coordinator for the Kansas University football program started with a simple pre-game drill in 2012.
As Likens, then the wide receivers coach at Louisiana Tech, and his Bulldogs prepared for what would turn out to be a wild, 59-57 loss to Texas A&M; and quarterback Johnny Manziel, the coach ran his receivers through a common warm-up routine known in Air Raid circles as the noose drill.
It's a simple drill that runs from one side of the field to the other and back and serves football players the same way chipping serves golfers before a round. However, on this day, new KU coach David Beaty, who also ran the drill at A&M; and was the Aggies' wide receivers coach at the time, noticed Likens doing it like he had never seen it done before.
"I watched how much detail those kids were putting into that drill and it actually was embarrassing to me," Beaty told The Journal-World. "He incorporated six or seven coaching techniques into that one drill and I was getting two things out of it."
Included among the techniques that Likens worked during the 10-minute drill were stances, hand-to-hand combat, route stems, settling into zones, working different tempos and releasing against one defender and multiple defenders.
"Just watching the detail and the intensity level and the tempo that they went through really impressed me," Beaty recalled.
A&M; won the game but did so in less-than-comfortable fashion. After leading 21-0 after the first quarter and 39-16 at halftime, the Aggies saw Likens and company come storming back with a 41-20 second-half advantage that put them on the doorstep of a big-time upset.
It didn't happen — partly, as Beaty says, "because they didn't throw to Rob's guy on the two-point conversion try" — but the close call was enough to get Beaty to pick up the phone and ask an old friend for a little more information.
"After the game, I called (former KU football staff member) Rajeeb Hossain and asked him who coached their receivers," recalled Beaty of the former La. Tech staff member who now is on staff at Oklahoma. "He told me Rob Likens and from then on he just kept telling me how good of a coach he was and how well he taught his kids."
It was not just Likens' on-the-field exploits that impressed Beaty. While at Louisiana Tech, Hossain spent some time as a man without an office because the Bulldogs' facilities did not have the room. Rather than letting him float, Likens took him in.
"Rajeeb's office was in Rob's room and he sat in his meetings every day," Beaty said. "For me, it was like an interview every day for that guy because Rajeeb's still one of my best friends to this day and he kept telling me nothing but good things about him."
From that point on, the friendship between Beaty and Likens grew. Beaty made trips to San Francisco to talk shop with the man he one day would hire to become his offensive coordinator and Likens made trips to Texas to pick Beaty's brain. Regardless of how much they studied together, what they learned from or taught each other or how many different experiences the two guys had since becoming friends, it always came back to that first meeting on the field for Beaty, who, like A&M; head coach Kevin Sumlin, has a philosophy of wanting to hire guys who gave him trouble or beat him. Before going on to help make Cal one of the top offenses in the country for two seasons, Likens did just that at Louisiana Tech and Beaty never forgot it.
"That's exactly what it was," Beaty said. "Do more with less."
Likens never forgot either. And when he first got the call from Beaty about leaving Cal to join him at Kansas, his instincts told him joining forces with Beaty was the perfect next step in his career.
"It had to be the right situation," Likens said Wednesday during a meeting with the local media. "I've always said that I'm not just looking to go up the ladder of success and make a bunch of money. That's not why I got into coaching football. It was to impact young men and influence their lives like my high school coach did for me.
"As soon as coach Beaty shared his vision with me I was like, 'Let's do this. I'm onboard.' He wants to do it right. He wants to build a solid foundation doing things the right way, building a program over the long haul not just coming in here and doing quick-fix type stuff. That was very attractive for me."