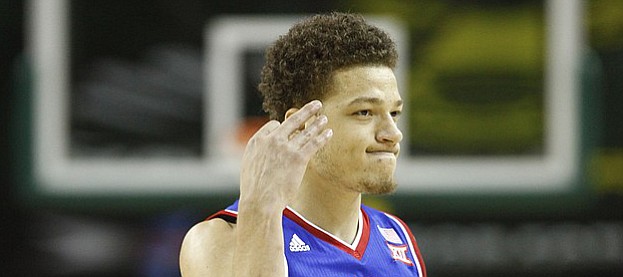 Cliff Alexander has no worries when one of his Kansas University basketball buddies steps to the free-throw line.
"It's icewater every time. He's going to knock it down," the Chicago freshman said of 6-foot-7 sophomore Brannen Greene, who has hit 17 free throws in as many tries heading into today's 2 p.m., Big 12 Conference clash against (10-5, 0-2) Texas Tech.
"He never misses," Alexander added of Greene in games as well as practice sessions.
Greene — his two free throws gave the (12-2, 1-0) Jayhawks a 56-53 lead with 6.3 seconds left in Wednesday's 56-55 victory at Baylor — has made 21 straight free throws dating back to last season.
"There's nobody we'd rather have on the line late than him because basically he has no conscience which is a good thing when you are shooting them," coach Bill Self said, adding, "Brannen's been money from the line."
Perfection is the goal of Greene.
"I hope so," the Juliette, Georgia, native said with a smile, asked if he thought he could go through the whole season without misfiring at the line. "I've joked around about it with coach and stuff when we are shooting free throws. Of course that's a realistic goal. I mean that would be amazing. That would be really cool. I don't know who's done that before. It's definitely a goal. I don't know if that will happen or not, but we'll see."
Greene was asked how many he's made in a row when shooting on the side at practice or on his own.
"I made like 100 and something, probably like 130 when I was in high school. When we shoot around I go like 50 for 50 sometimes, something like that," said Greene, who noted he's "had the same routine since I've been young. Repetition is key."
Greene has been bothered by a pinched nerve in his neck the last few games.
"Trainers believe it was from when I got my concussion in the exhibition game (against Washburn on Nov. 3) and is now resurfacing," Greene said. "It's the nerves in my neck. Sometimes when I turn my head wrong it'll lock up on me. In the past two to three days it hasn't done it at all. It's improving. I'm pretty close to getting better. I'm probably 85 percent.
"I just get in for treatment, getting two to three massages every day helps me out a lot."
Cliff's back issues: Self said Alexander's back locked and the big man suffered spasms in Wednesday's win at Baylor, but that the Chicago native should be able to play today.
"Cliff is a tough kid. His back locked up Tuesday. He couldn't practice. He tried to get out there and got locked up the whole game (Wednesday). We were lucky we got the minutes out of him (20) that we did. I thought just his presence and size helped us win the game. It (back locking) has happened to him in the past. It usually takes three to four days to work itself out. I don't think he'll have any issues moving forward.
"I'm pleased with Cliff," Self added. "This is a guy I thought arguably he could be the worst passer we've ever had at Kansas when we first got him because he never has (passed) before. He had four assists the other night. He's improved in a lot of ways."
Graham update: Self said point guard Devonté Graham (sprained right big toe) could possibly play limited minutes today. "I wouldn't bank on it (today)," Self said Friday. "He's probably doubtful but that could become questionable, but I don't think it's probable," Self added, smiling. On Saturday morning, Self confirmed in a text message that Graham would play today.
Welcome: Svi Mykhailiuk's parents were due to arrive from Ukraine on Friday for a visit and are expected to attend today's game. Mom Inna is a high school biology teacher; dad Iurri is a college history professor.
About Tech: The Red Raiders are 0-2 in league with losses to Texas (70-61) and West Virginia (78-67) in Lubbock. ... Tubby Smith is 24-23 in his second season at TTU and 535-245 in his 24th season overall. ... Junior guard Devaugntah Williams averages a team-leading 11.7 ppg. He has made a team-best 25 three-pointers. Senior guard Robert Turner averages 8.9 ppg. Freshman forward Norense Odiase averages 8.0 points and 5.1 rebounds. ... KU, which has won 10 straight over Tech, leads the all-time series 27-4. KU is 14-0 vs. Tech in Allen. ... Bill Self is 14-6 all-time against Tech, including 13-3 while at Kansas. Tubby Smith is 2-5 versus Kansas.
Recruiting: Riding a wave of momentum after the commitment of Carlton Bragg, KU's coaches were planning on watching top prospects Malik Newman, Cheick Diallo Thon Maker and others at Friday's Mustang Madness in Paducah, Kentucky. The No. 3-rated Newman, 6-3 senior from Callaway High in Jackson, Mississippi, is considering KU, Kentucky, UConn, Mississippi, Mississippi State and others. No. 6-ranked Diallo, 6-9 senior from Our Savior New American in Centereach, New York, is down to KU, UK, Pitt and St. John's. Maker is considering reclassifying to the Class of 2015 from 2016. He's 7-foot from Athlete Institute in Mono, Ontario, ranked No. 1 in the Class of '16.