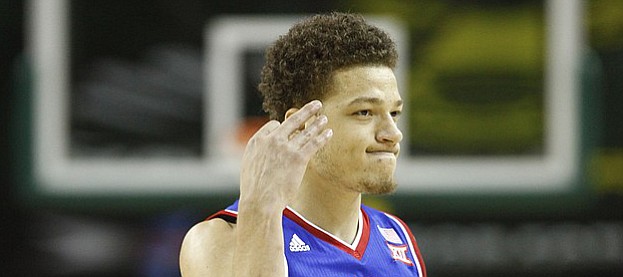 Podcast episode
A day before his Kansas University basketball team plays host to Texas Tech, coach Bill Self speaks with media members about Brannen Greene's shooting ability, the availability of Devonté Graham, the toughness of Tubby Smith's teams and more.
Podcast episode
Kansas University sophomore Brannen Greene, who hasn't missed a free throw this season, discusses the art of successful foul-line shooting with members of the media.
Podcast episode
Kansas University freshman big man Cliff Alexander speaks with the media about his desire to polish up his offensive game, doing what his coach wants him to do and knowing he can step it up more going forward.
Perfection is the goal of Kansas University sophomore guard Brannen Greene, who is 17-of-17 from the free throw line this season.
"I hope so," the 6-foot-7 Juliette, Georgia native said with a smile, asked if he thought he could go through the whole season without misfiring at the line. He was speaking at today's pre-KU/Texas Tech media session in Allen Fieldhouse.
"I've joked around about it with coach and stuff when we are shooting free throws," added Greene, who has made 21 in a row dating to last season.
"Of course that's a realistic goal. I mean that would be amazing. That would be really cool. I don't know who's done that before. It's definitely a goal. I don't know if that will happen or not, but we'll see."
Greene was asked how many he's made in a row when shooting on the side at practice or on his own.
"I made like 100 and something, probably like 130 when I was in high school. When we shoot around I go like 50 for 50 sometimes, something like that," Greene said.
Greene has been bothered by a pinched nerve in his neck the last few games.
"Trainers believe it was from when I got my concussion in the exhibition game and is now resurfacing," Greene said. "It's the nerves in my neck, a pinched nerve. Sometimes when I turn my head wrong it'll lock up on me. In the past two to three days it hasn't done it at all. It's improving. I'm pretty close to getting better. I'm probably 85 percent.
"I just get in for treatment, getting two to three massages every days helps me out a lot."
NOTES: Self said freshman Cliff Alexander's back locked in Wednesday's win at Baylor, but that the Chicago native should be fine for Saturday's 2 p.m. game against Texas Tech. ... Self said Devonté Graham could receive spot duty if he practices with no problems today and at game-day shootaround Saturday. "He's probably doubtful but that could become questionable, but I don't think it's probable," Self said with a smile. ... Svi Mykhailiuk's parents were due to arrive from Ukraine today for a visit and are expected to attend Saturday's game.
— For more on Greene's free throws and additional facts about the Texas Tech game, see Saturday's Journal-World and KUsports.com.