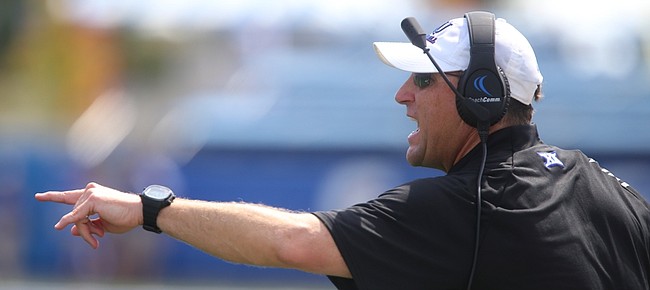 The Journal-World learned Sunday that the Kansas University football program was poised to hire Jason Phillips to join the KU coaching staff as a wide receivers coach.
KU coach David Beaty later confirmed the hire in a news release.
Phillips, who recently served as the offensive coordinator at SMU under June Jones, will work alongside KU receivers coach Klint Kubiak and the two will be used as inside and outside receivers coaches, much the same way Texas A & M did when Beaty was the receivers coach there under Kevin Sumlin.
"Typically, in the air raid offense there are two coaches working with wide receivers," Beaty said in the release. "With Jason joining our staff, he and Klint can join forces to provide us a great pair of coaches working with our players at those positions."
Before running the offense at SMU, Phillips was the offensive coordinator, wide receivers coach, and recruiting coordinator at Houston.
He was the first wide receivers coach current Baylor coach Art Briles hired at Houston and coached for Briles from 2003-06.
Both Phillips and Kubiak have extensive knowledge of the Air Raid offense being installed at KU by Beaty and offensive coordinator Rob Likens.
Phillips also fits the KU staff well because of his recruiting ties to the Dallas and Houston areas. During his three most recent seasons at SMU, he landed a dozen three-star recruits and one four-star athlete.
"Jason's reputation for developing wide receivers speaks for itself," Beaty said. "Everywhere he has been he has pushed his players to excel at the highest level. I have learned a great deal from him about wide receiver play and I am very excited that he is now a part of our staff because of his knowledge of the game, not to mention what he can do for us in recruiting. He has been a player on the national recruiting scene throughout his career and he has very strong ties in the state of Texas, in particular, the cities of Houston and Dallas."
In 2013, at SMU, Phillips coached two receivers — Darius Joseph and Jeremy Johnson — to 1,000-yard seasons and the Mustangs finished in the Top 10 nationally.
To make room for Phillips, Beaty announced that he was shifting special teams/tight ends coach Gary Hyman to an off-the-field role as a special teams analyst.
"Gary will continue to be a very valuable member of our staff, it will just be in a different role," Beaty said. "Gary will be a huge asset to our special teams, he will just be impacting them from an off-the-field position. With the addition of Jason and carving out this role for Gary, I am ecstatic with how we have been able to expand our staff."