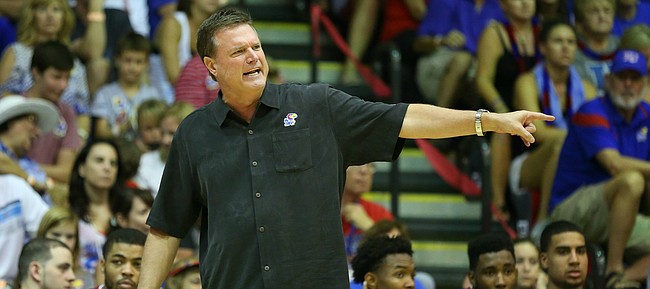 Simple logic — in the form of comparative scores — suggests tonight's Kansas University-Holy Cross basketball game may be a bit closer than the records and the polls would indicate.
"They beat Harvard. I personally thought Harvard was a good team that played great against us," KU coach Bill Self said in previewing today's 7 p.m., home battle between the No. 2-ranked Jayhawks (6-1) and unranked Holy Cross Crusaders (3-5).
KU nudged Harvard, 75-69, on Saturday in Allen Fieldhouse.
Holy Cross tripped the same Crimson team, 50-49, on Nov. 29 in Holy Cross' gym in Worcester, Massachusetts.
"This is a team that's a little bit unique. If you are not alert, they can certainly give you a lot of problems," Self stated of the Crusaders, who are coached by former Princeton assistant and Northwestern head coach Bill Carmody.
Carmody is a believer in a precision offense which includes a bunch of cutting that sometimes results in easy baskets.
"Anytime you play that Princeton style, there are some automatics you've got to be able to defend," Self said. "You've got to eliminate layups and eliminate threes. That's easier said than done. Holy Cross does their backdoors very very well (in averaging 63.2 ppg off 39.4 percent shooting; KU averages 90.9 ppg off 50.7 percent marksmanship. KU has hit 65 of 143 threes; Princeton 63 of 194).
"I would be shocked if they don't get some (layups) just because you've got to kind of go away from your principles how you defended for the first two months of the season. You may defend the first four well and the fifth time they may get an uncontested layup. You've got to be really disciplined to defend the entire clock," Self added.
The Jayhawks enjoy scheduling teams that run varied styles of offense and defense.
"It's a style you could run into later in the season," Self said of the NCAAs. "When you think of the Princeton style you think of Pete Carril obviously but Bill Carmody was assistant (at Princeton). Bill knows this better than anybody," Self added, noting KU went against the style when Colorado and coach Jeff Bzdelik played in the Big 12, also against Georgetown last year and Michigan in the 2013 NCAAs.
"They do a lot of backcuts. I think it will be a little bit hard to guard them," KU sophomore guard Svi Mykhailiuk said.
The Princeton offense could prevent a challenge for KU's freshman bigs — Carlton Bragg and Cheick Diallo — who are still learning the college game.
"Could be," said KU junior forward Landen Lucas, "but the thing is our young big guys are so athletic and gifted if they play hard it shouldn't matter. At the end of the day they can make up for it with other things. If they go out there and want to hustle and use their athletic ability they'll find a way to defend just fine."
KU lost the rebounding battle against Harvard on Saturday, 39-31.
"It's very disappointing to me we're not a great rebounding team yet," Self said. "I thought we'd be a better rebounding team, but if Jamari (Traylor) is starting, he's not a big guy (6-8). Perry (Ellis) is not a 'go out and get you 10 boards a game' guy. Some of our better rebounders are on the bench. We've got to do a better job of doing that."
Self did note it was hard to get rebounds against Harvard the first half because KU forced 15 turnovers, decreasing the number of shots.
KU has, however, been working on rebounding this week.
"Two-on-two rebounding (drills). You have a manager throw it up and miss a shot and we go head-to-head, two-on-two," Lucas said. "It's good for 'em (young bigs). It's physical and that's how it should be because that's how it is in games. They just have to get used to that."
More on minutes: Self said he may tinker with the starting lineup tonight. He's had a regular five of Traylor, Ellis, Frank Mason III, Devonté Graham and Wayne Selden Jr.
"Jamari tweaked his ankle yesterday. Landen is nursing a toe (injury). There's no reason to think they can't play," Self said, reiterating he wants to get Hunter Mickelson, Diallo and Bragg more minutes.
"Why would we want to go into conference play without seeing what he can do, because he hasn't really had a chance to show it?" Self said of the 6-10 Mickelson. "You could say the same thing for Carlton. You could say the same thing for Cheick. Landen to me has had a chance. Perry has had a chance obviously. Jamari has had chances. I'm not saying those guys aren't going to play. They are going to play, don't get me wrong. I'm not demoting. None of that stuff.
"I do think we need to make a conscious effort to try to get those other guys as many minutes so that way we have a true understanding of what our team is," Self said. "I don't want to go into February saying, 'You know ... I think ... maybe,' because that's not the best way to do it. Anybody who thinks it's easy to squeeze six guys (bigs) into 80 minutes, doesn't really understand. It's kind of hard to do when one of them is a preseason All-American."
He added: "We don't want to lose games at the expense of guys' playing time. I don't care what anybody says. The guys we played the other night (vs. Harvard) gave us the best chance to win the game."
About Holy Cross: Patriot League member Holy Cross is located in Worcester, Massachusetts, with an enrollment of 2,904 ... The Crusaders are coached by Bill Carmody who is in his first season at Holy Cross with a 3-5 record and his 18th season overall with a 287-250 mark. ... Junior forward Malachi Alexander leads Holy Cross with an 11.1 scoring average and 6.0 rebounds per game. He is also the team leader with 24 assists through eight games and is second with 11 three-pointers made. Senior G Cullen Hamilton averages 10.0 ppg. ... KU leads the all-time series, 2-1. ... Holy Cross won the first meeting, 57-53, on Dec. 20, 1949, with basketball legend Bob Cousy on the Holy Cross roster. ... Holy Cross is the second member of the Patriot League Kansas will play this season. The Jayhawks defeated Loyola Maryland, 94-61, on Dec. 1 in Allen Fieldhouse. KU is 8-2 all-time against current membership of the Patriot League.
Probable Starters
HOLY CROSS (3-5)
F — Karl Charles (6-6, Fr.)
F — Malachi Alexander (6-7, Jr.)
G — Matt Husek (6-11, Jr.)
G — Anthony Thompson (5-10, Jr.)
G — Cullen Hamilton (6-2, Sr.)
KANSAS (6-1)
F — Perry Ellis (6-8, Sr.)
F — Jamari Traylor (6-8, Sr.)
G — Frank Mason III (5-11, Jr.)
G — Wayne Selden Jr. (6-5, Jr.)
G — Devonté Graham (6-2, Soph.)
Tipoff: 7 p.m. today, Allen Fieldhouse.
TV: Jayhawk (WOW! channels 37, 226).