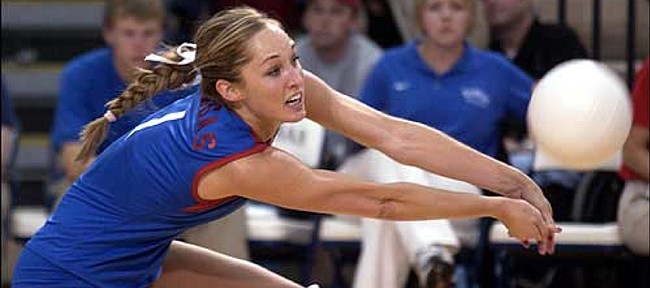 It may sound like a bit of a cliché, but there's really no other way to put it — the Kansas University volleyball program has turned a corner.
So says former KU standout Jill Dorsey Hall, a member of KU's first NCAA Tournament squad in 2003 and television broadcaster for the current team.
Although a decade has passed since Dorsey's squad broke down the barrier that had kept Kansas out of the postseason, the 2005 graduate remembers vividly details of her squad's experience in the 2003 tourney.
"The year before, we were sort of on the bubble, and I remember watching the selection show and finding out we didn't get in," Dorsey said. "It was real disappointing, but we were also like, 'OK, we're at this point, now we have to finish the job.'"
The Jayhawks did exactly that the following season, finishing with a 22-11 overall record and 13-7 mark in Big 12 play that earned them a trip to Malibu, California, where they knocked off Long Beach State — the alma mater of beach legend and three-time Olympic gold medalist Misty May-Treanor — before falling to fourth-ranked Pepperdine in four sets.
That season sparked a stretch of three consecutive NCAA Tournament appearances, all three of them coming on the road.
With the ninth-ranked Jayhawks (28-2) on the heels of their fourth consecutive season of hosting first- and second-round matches, Dorsey believes the current group's ability to elevate both in terms of standards and production year after year has created a more impressive run.
"We were just enjoying the moment and really excited to be there," Dorsey said. "In the backs of our minds, yeah, you want to win once you get there, but it was an accomplishment just to get there. It's really hard to make the tournament. And to host four seasons in a row, like this group has done, is really impressive."
It's also a source of great pride for Dorsey and dozens of other former players who always believed KU coach Ray Bechard would elevate the program to a high level.
Top-10 high and playing deep in the tournament every year? That might have been a stretch even for the biggest Bechard believers, but that's what Dorsey believes is on the horizon for the current group, which will face Loyola-Marymount at 7:30 p.m. Friday in the Sweet 16 in San Diego.
"I do think they're at another level now," Dorsey said. "They're expected to win. It's been a really cool experience watching them play these past few years. Their level of play just keeps increasing."
Just seven programs in all of college volleyball have been consistent enough of late to host first- and second-round NCAA Tournament matches during each of the past four seasons.
Kansas is one of them, and the Jayhawks are included in a group highlighted by the likes of Texas, Penn State, Nebraska, USC and other powerhouse programs who always seem to be there at the end.
With this year's run and what she believes is at least a couple more ahead, Dorsey thinks Kansas could soon transition from up-and-comer to power program.
"I think they have a legit shot the next couple years to continue this success," she said. "They're at the point now where they can expect to win the Big 12 and make the Elite Eight and a Final Four.... From there, once you develop that kind of program and have that kind of streak, the top talent starts to come and you can crack into that top tier. They've turned the corner. They could continue to be a Top 10 program for years to come. I think the building blocks are there."
KU's Volleyball NCAA
Tournament History
2003 — KU (22-11 overall, 13-7 Big 12) won its first NCAA Tournament match by sweeping Long Beach State, which was making its 17th consecutive NCAA Tournament appearance. KU then took the opening set of its match against No. 4 Pepperdine before falling, 3-1, in Malibu, California.
2004 — Led by an experienced group of returners with tourney experience, KU (19-12, 9-11) again won its opening-round match (3-1 over Santa Clara) before falling to No. 7 Washington in a five-set thriller in the second round in Seattle. KU dropped the first two sets before rallying to force a fifth, where it lost 15-12.
2005 — Perhaps buoyed by their recent tournament appearances, the Jayhawks (15-15, 7-13) were picked for a third consecutive postseason trip and fell to No. 12 UCLA in four sets. Kansas took on UCLA without its starting setter and starting outside hitter — both out because of season-ending injuries — and had just nine active players at first serve.
2012 — Led by a strong junior class, most of whom had played since their freshman years, KU (26-7, 12-4) finished with the highest winning percentage in school history (.788) and earned the No. 11 overall seed in the tournament and the right to host for the first time in school history. Playing in Allen Fieldhouse, KU defeated Cleveland State 3-1 before falling to Wichita State in Round 2.
2013 — Redemption was the name of the game for the senior class, which made up for the previous year's tourney loss to Wichita State by stopping the Shockers in four sets at Allen Fieldhouse in Round 1. KU (25-8, 12-4) then downed Creighton in the second round to qualify for the first trip to the Sweet 16 in school history. Kansas lost to No. 5 Washington in three sets in Los Angeles to end the magical season.
2014 — Despite saying goodbye to the core of back-to-back tourney appearances, the Jayhawks again earned the right to host by securing the tournament's No. 16 overall seed. A scheduling conflict forced the matches to be played in nearby Topeka, and KU (22-9, 10-6) fell to Arkansas-Little Rock in five sets.
2015 — After running through the regular season with an all-time best record of 26-2 and earning a second-place finish in the Big 12, the Jayhawks received their highest overall seed (No. 9) and again played host to opening-weekend tournament matches. Kansas dispatched Furman in a sweep in the opener and then stomped Border War rival Missouri 3-0 to advance to the second Sweet 16 in school history.