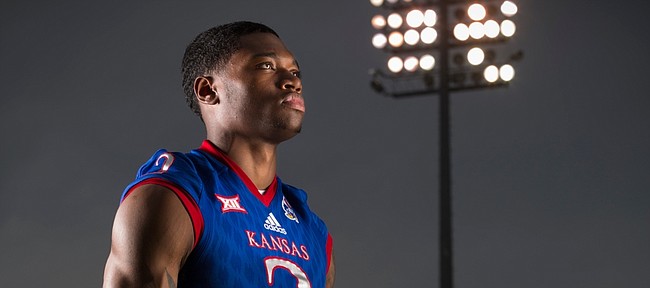 Up a few pounds and 2 percent body fat from the end of the 2014 season, Kansas University junior Montell Cozart on Monday was named the Jayhawks' starting quarterback for 2015 by first-year coach David Beaty.
The announcement paved the way for Cozart, a 6-foot-2, 197-pound Bishop Miege graduate, to enter his second consecutive season as the Jayhawks' starter, thus likely ending a six-year streak during which Kansas trotted out a different QB to start each season.
Unlike the first go 'round in 2014, when he was benched five games in, Cozart pledges to be a different player this season. And he has his older brother, Wade, to thank for it.
"That's my guy," Cozart said of his 29-year-old brother. "I go to him about anything. I talked to him in the offseason, and he just kind of reminded me who I was. He said he saw me take a step back (last season) and not be who I was and what he had seen growing up. That just made me think and reassured me that, 'Hey, I can do this.'"
A big part of Wade's message to his younger brother focused on one of the biggest criticisms of Cozart's game — courage and toughness. Wade's words were why Cozart added the extra bulk.
"Playing the position I'm playing, I needed some fat on me," he said. "It gives me a lot of confidence that I can take a hit and trust myself."
And his new physique is why Cozart is more willing and better equipped to take a few hits on Saturdays this fall.
"As a quarterback, you can't play like that," Cozart said. "You can't play fearful. Now I'm at the point where if I get hit, I'm gonna hop right back up."
So moved was Cozart by his brother's message that he made plans to add a tattoo depicting a likeness of Wade and Cozart's niece, Quayae, across his left ribs. He hopes to get the fresh ink done before the Sept. 5 season opener and said putting it in one of a quarterback's most vulnerable spots would serve as a reminder that his brother has his back.
"He's right there, man," Cozart said. "That's exactly why I wanted to do it."
As for why Beaty and company elected to go with Cozart, the 20-year-old junior's experience, athleticism and consistency were critical in the decision.
"He took the first snap with the ones, and he took the last snap with the ones," Beaty said of Cozart holding down the top spot throughout camp. "Overall, Montell was clearly ahead of the rest of the pack. Now all he's gotta do is go out and produce."
Podcast episode
First-year Kansas football coach David Beaty officially named junior Montell Cozart the Jayhawks' No. 1 quarterback on Monday afternoon, 12 days before KU's season opener against South Dakota State. "Really, really proud of this kid," Beaty said. "He has absolutely earned it."
The news that Cozart had won — rather, earned — the starting job was first delivered by offensive coordinator Rob Likens during a meeting Sunday night. Monday morning, Cozart received a message that Beaty wanted to see him, and Cozart knew what the meeting was about. Hearing the words from the head guy, though, sent a smile across his face and filled his heart and head with excitement. The words?
"We're giving you the keys," Cozart recalled hearing. "It's time for you to lead our guys."
Monday afternoon, Likens elaborated on why the coaching staff picked Cozart and said he was incredibly proud of the way the junior handled himself during the competition.
"I think he expected it, but he was so excited because he knew that he earned it," Likens said. "That was the deal. It started with the quarterback position, and we had one chance to set the standard here, and everybody's got to earn their position, and Montell earned it. It was not given to him just because he had the inside track. We evaluated him. We monitored him every day. We kept the stats. We looked at everything, and he earned it. So he was excited to hear the news."
Beaty has made it clear, and Cozart understands that being named the starter was merely step one. Now, he has to prove he deserved it and can handle it better than he did the first time around.
Judging by how he functioned at Monday's practice, which, admittedly is a much different environment than game day, Cozart already is comfortable with his role.
During the stretching portion of practice, Cozart stood in the middle of the team and hollered out each warm-up exercise before leading the team through it. He had bounce in his step. And he set an example for how each exercise should be done.
It was just a glimpse at the way Cozart functioned throughout the offseason, according to right tackle Larry Mazyck, minus the spot at center stage, of course.
"He's more vocal than he was last year," Mazyck said. "And he's willing to put himself out there to get the offense's attention."
Added Cozart: "All my life I've been quiet, humble, going with the flow. But now it's time to get out of that comfort zone and be able to lead and talk."