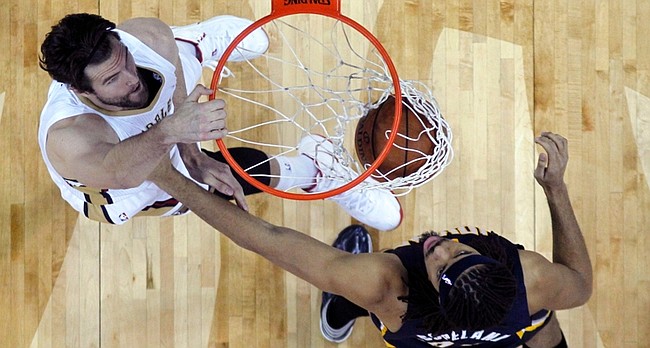 The Utah Jazz on Monday signed former Kansas University center Jeff Withey to a two-year contract.
Terms were not disclosed. However, Adrian Wojnarowski of Yahoo Sports said the contract was partially guaranteed, with a team option in the second year.
"Can't ask for a better organization to play for. So grateful for the opportunity," Withey, a 25-year-old native of San Diego, wrote Monday on Twitter.
A second-round pick who went No. 39 overall in the 2013 NBA Draft, Withey spent his first two seasons in the NBA with the New Orleans Pelicans.
He averaged 2.7 points and 1.7 rebounds while logging 7.0 minutes in 37 games a year ago. He scored 10-plus points three times, including a season-high 14 points with a career-high-tying eight boards versus Golden State on March 20. He has two five-block games in his career.
Withey averaged 3.3 points and 2.6 boards while averaging 11.8 minutes per contest in 58 games his rookie season.
"It is possible Withey makes the Utah roster, but once again it will be difficult for him to get run. Clearly Rudy Gobert is the starter for the Jazz at center, but the minutes behind him are up for grabs," writes Kurt Helin of probasketballtalk.nbcsports.com.
"Rookie Tibor Pleiss will be on the roster, as will Trey Lyles, but throw in Derrick Favors and Trevor Booker and space is limited along the front line. Jack Cooley has a partially-guaranteed deal as well and will be fighting for a roster spot along with Withey," Helin adds.
Wojnarowski stated that Utah has six players with non-guaranteed, partial contracts, with two roster spots available.
Withey in late June tweeted that he had been in Los Angeles working on his game with Pelicans forward Anthony Davis.
"Withey puts up good shot-blocking numbers in the paint, he's a solid rebounder, although his lack of NBA-level athleticism limits him. But even if he defends well, the question becomes (is) his raw offensive game too much of a drag to make him worth it? Has Withey taken steps forward on the offensive end we have yet to see? Maybe a midrange game?" Helin writes.
"If Withey can prove that he learned and grew his game the past couple seasons on the bench in New Orleans — that he's more than just another tall body — he will get some run in Utah. But he's going to have to prove it. They have options."
More on Sasha: Former KU center Sasha Kaun, who is headed to Cleveland on a two-year deal, is not expected to start for the Cavaliers.
"His presence is more about providing depth at center, where he'll back up fellow Russian national team veteran Timofey Mozgov," writes Joseph Zucker of Bleacher Report. "The NBA Finals exposed how little depth Cleveland had beyond its key players, so the timing of Kaun's arrival couldn't be any better."
Dollar figures for Kaun's salary have yet to be disclosed. ESPN's Brian Windhorst says the second year of the deal is a player option.
Former NBA front office executive Bobby Marks says on Twitter the Cavs had $1.2 million available, apparently to pay Kaun that amount per season.
Wiley trims list: Austin Wiley, a 6-10 junior forward from Spain Park High in Birmingham, Alabama, who is ranked No. 15 in the Class of 2017 by Rivals.com, has trimmed his list of schools to eight. They are: KU, Auburn, Alabama, Duke, Florida, LSU, UAB and Mississippi State. He made an unofficial visit to Auburn last weekend and spoke glowingly about the visit to Rivals.com.