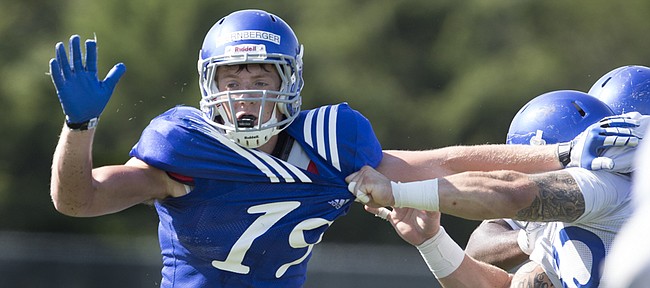 Last week, first-year Kansas University football coach David Beaty made no secret about the fact that he plans to play several of his youngest players during the 2015 season.
A lack of depth throughout the roster, limited experience at several positions and the absence of proven veterans in some of the most important spots have opened the door for true freshmen to get onto the field faster than they might at several other programs.
If you've been paying attention to Beaty's words throughout preseason camp, it's easy to identify who the most likely candidates for early playing time will be.
So let's dive right in and take a stab at IDing the five freshman most likely to make an immediate impact for this year's KU football team.
1. Steven Sims Jr. — 5-foot-10, 170-pound Wide Receiver
Recruited by Beaty while he was still at Texas A&M;, Sims has impressed a little more each day during preseason camp. Fast, elusive, sure-handed and tough, the Houston native carries himself more like a polished veteran than a true freshman and may very well have worked his way into a starting role by the season opener. Starting quarterback Montell Cozart has been assigned as Sims' "big brother" and Cozart praised Sims for his ability to "fly" and said the two talk all the time about routes and KU's offense. "He's always saying, 'Hey, Montell, I'm gonna be open for you. I got you.' And if I want to throw a streak, I just tell him, 'Hey, Steven, I'm gonna let it go, go get it for me.'" That kind of trust is rare between a veteran QB and a true freshman. And it sounds like Sims will have plenty of opportunities to chase down Cozart passes this fall. Added Beaty: "I'm waiting on him to hit the wall and he hasn't done it yet. Hopefully he doesn't."
2. Tyrone Miller Jr. — 6-foot, 180-pound Cornerback
Like Sims, Miller quickly earned an opportunity to run with the first unit and has not looked back since. Strong, physical and very comfortable playing the man-to-man coverages the Jayhawks figure to use most often this fall, Miller has impressed cornerbacks coach Kenny Perry with his maturity and willingness to put himself in any situation necessary to help the team. "He's done everything I've asked," Perry said. "He just comes to play and doesn't say nothing." His coverage skills and speed are solid, but it's his physicality and ability to mix it up with receivers and anyone else who comes in his path that makes Miller stand out. Added Beaty: "He's a talented young corner and I've enjoyed watching him play. He's a really mature guy for his age."
3. Jace Sternberger – 6-foot-4, 225-pound Tight End
Late last week, Beaty said his first KU roster was actually one tight end short. Sounds to me like that means the tight ends that are on the roster all will play. That includes Sternberger, a versatile, physical, athletic player who has looked smooth throughout preseason camp. "Honestly, I want to see more out of him. I want to see him be that guy I saw on tape all the time. We need him to play for us this year and we need him to be productive." A big reason for that is the fact that veterans Ben Johnson and Kent Taylor both spent time dealing with injuries during camp. If either guy were to go down, that would open the door for Sternberger to play a huge role. But even if they stay healthy, the pace of the offense likely means there's a spot for the freshman. "(Tight ends) kind of fall in the same category as running backs," Beaty said. "You almost can't have enough of those guys because they play very physical positions and it's tough for guys to make it through the season unscathed."
4. Dorance Armstrong Jr. — 6-foot-4, 225-pound Defensive End
Regarded by some as the best pure prospect in KU's 2015 recruiting class, Armstrong finds himself at a crowded position but has shown during preseason camp that even battling some of the baddest dudes on the team is not too big of a challenge for him. "I really have been impressed with Dorance," Beaty said. "He can rush the passer now. He's got some talent and he works his tail off. I think there's a chance he could help us this year, particularly in some third-down rush situations." The fact that Beaty's talking like that about a position where Damani Mosby, Ben Goodman, Anthony Olobia and T.J. Semke have been so strong all offseason just shows how impressive Armstrong has been and could be.
5. Emmanuel Moore — 6-foot, 200-pound Wide Receiver
Moore has not shown up on the two-deep at wide receiver thus far but don't discount his potential to impact this team as a kick returner. Back in February, on signing day, Beaty mentioned the return game when talking about several of his new freshman. Given the fact that Moore is still fairly new to the receiver position and Beaty's comments about him in February, seeing him out there returning kickoffs or punts seems very possible. Said Beaty of Moore: "Built like a running back at 6-foot plus, and runs like a running back after he catches the ball, which is something we really need around here, guys that can do more than just catch it."