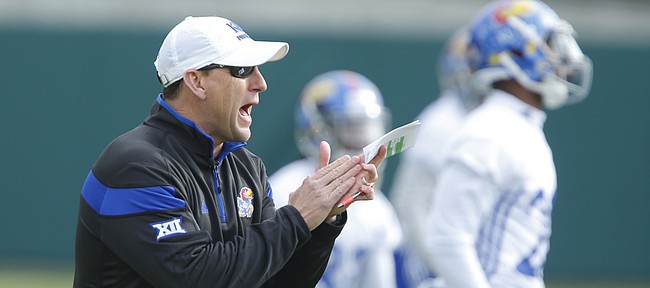 He can't officially play for the Kansas University football team for another year, but one newcomer added to the team this summer already has impressed head coach David Beaty enough to earn some praise near the end of preseason camp.
"His name is Keith Loneker," the first-year KU coach said Friday. "And, man, all he does is make plays."
Loneker, a Free State High graduate and the son of former KU and NFL offensive lineman Keith Loneker Sr., transferred to KU from Baker, where he earned freshman All-American honors last season.
He has to sit out this season as a walk-on, but you wouldn't be able to tell it based on his performance in camp.
"Every time I look up, he's making a play, or he's making it hard on our first group with regard to what he's doing in the scout position," Beaty said of the 6-foot-2, 225-pound sophomore. "He makes it very difficult. You cannot take a play off with Keith out there because you're gonna be made to look bad. He will expose you."
It's not just the tackles and reads that Loneker has made that have impressed Beaty. It's also the way he carries himself, competes and pushes teammates.
Podcast episode
First-year Kansas football coach David Beaty speaks with media members Aug. 21, 2015, about where the players stand two days before the completion of preseason camp, and says Saturday's scrimmage will be important for all the Jayhawks, including the quarterbacks.
"I've enjoyed watching that guy," Beaty said. "He's gonna improve the standard of our team as we move forward. ... It's great to have a local guy doing as well as he is."
Booker coming along
Held out of preseason camp early on because of injury, Beaty said freshman wide receiver Jeremiah Booker still needed a couple of weeks on the shelf.
"Getting better," Beaty said. "He actually had a break in his collar bone. It was kind of a crack-type deal. We gotta hold him back. He's one of those great-work-ethic guys. Hopefully we can get him back here in a couple weeks."
The search for eight
Despite Booker's absence, there are still plenty of wide receivers battling to crack the top eight.
The top six are pretty well set in stone: Tre' Parmalee, Joshua Stanford, Steven Sims, Quincy Perdue, Shakiem Barbel and Derrick Neal. After that, Bobby Hartzog, Darious Crawley and Chase Harrell appear to be battling to fill in the next three spots.
"They're competing," Beaty said. "It's a battle out there. There's some depth finally. We didn't have that before. Hopefully we can find eight that we can count on so we can roll eight and be able to keep fresh bodies in there."
OL still short
Without true starters and back-ups at all five spots on the offensive line, Beaty said O-line coach Zach Yenser had to get creative this month.
"Offensive-line-wise, we're still short-handed," Beaty said. "So those guys have to be versatile. They've gotta play every position. We kind of are looking at it like we're coaching NFL guys, and you've got eight guys available, and they have to be able to play multiple positions. Coach Yenser has done a really good job of doing that and making sure we prepare guys to play all those spots."
Position change
Newcomer Eric Rivers, a junior walk-on from College of the Desert, recently moved from wide receiver to cornerback and might stay there.
"He played for (cornerbacks coach) Kenny (Perry) at Arlington-Bowie (High) back in the day," Beaty said of Rivers. "So he knew he could play corner. He grabbed him the other day and slid him over to corner, and he made, like, eight tackles in the scrimmage. I'm not sure we need him back at wideout right now. We definitely need him at corner, and he's actually done pretty good over there, so it's a pretty decent find."
Rivers' addition brings added depth the cornerback position, which features Brandon Stewart, Tyrone Miller Jr., Ronnie Davis and Matthew Boateng as the top four guys and a host of young, unproven players behind them.
"I know coach Perry's a lot happier now than he was in the spring," Beaty said. "It's hard to go through spring ball with three corners."
Youth will be served
With the overall numbers down and depth hurting in some areas, Beaty made it clear Friday the Jayhawks would not hold anyone back this fall based on age.
"We're gonna play some young guys this year," he said. "There'll be a bunch of 'em we'll play. We don't have any plans on red-shirting any of those skill guys right now. We don't have enough numbers to do it. So those guys will get on the field and get an opportunity if they earn it."
Camp closing
After today's scrimmage, the Jayhawks will wrap up preseason camp Sunday and return to their regular living quarters and a regular week of school and practices next week.
Camp closes with a handful of areas still up in the air, but Beaty said he was pleased with how the past few weeks unfolded.
"I'm really proud of 'em for handling camp as well as they did," he said. "We threw a lot of different things at 'em, probably a lot different than anything they've been through before, and we've been able to accomplish our goals.
"My hat's off to our coaches. They worked their tails off to get 'em through camp and make sure that we made the proper progress. You're never completely happy with everything, but I'm pleased with the progress we've made to this point."