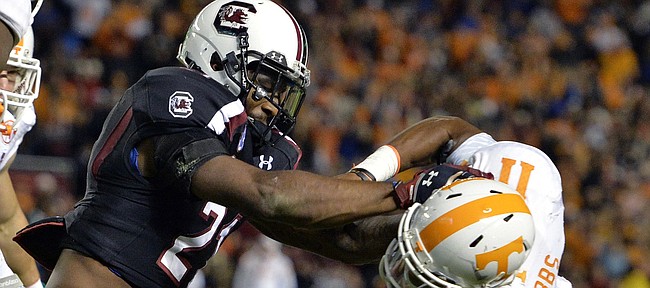 For the second time in two days, a former SEC player has decided to relocate to the Big 12 and play for Kansas University.
Less than 24 hours after former Texas A&M; wide receiver LaQuvionte Gonzalez tweeted out his plans to make KU his new college football home, former South Carolina linebacker Marcquis Roberts announced on his Facebook page his intentions to become a Jayhawk.
"Thank you to all the schools that wanted me to join their school," he wrote in the post. "It feels like a second chance. I will be playing football and working towards my master's degree at Kansas University. Blessed beyond belief."
While KU can't yet comment on the new recruit following his verbal commitment, if Roberts arrives in Lawrence already with his bachelor's degree he would be eligible to play immediately.
Gonzalez, on the other hand, won't participate in KU games until 2016.
A 6-foot-1, 216-pound linebacker, Roberts couldn't compete during his first two seasons at South Carolina. In 2011, shoulder surgery left him sidelined and he used his first medical redshirt. The following year, Roberts had to utilize a second medical redshirt while sitting out to rehab his left knee (torn ACL).
The Powder Springs, Georgia, product finally got healthy and on the field in 2013, when he played in 13 games, had 48 total tackles (31 solo), 1.5 sacks, 3.5 tackles for loss, defended two passes and forced a fumble.
In 2014, Roberts didn't replicate that success. He played in 13 games, compiled 31 total tackles (15 solo), had 1.5 tackles for loss and defended two passes.
The Post and Courier in Columbia, South Carolina, reported Roberts has two seasons of eligibility remaining after starting five games for USC this past season, and nine in 2013.
A three-star linebacker in the Class of 2011 according to Rivals.com, Roberts also received offers from Mississippi State, West Virginia, Wisconsin, Cincinnati and others before choosing South Carolina.