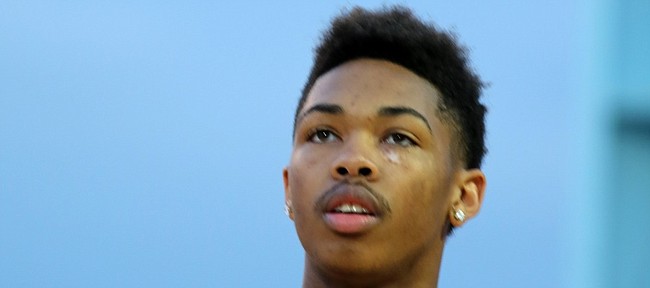 Wearing a gray tuxedo, white shirt and gray bow tie, Brandon Ingram stepped to a podium in the Kinston (North Carolina) High School gymnasium Monday night, and with six microphones in front of him, placed a Duke University hat atop his head.
The 6-foot-8 senior forward, who is ranked No. 4 in the basketball Class of 2015 by Rivals.com, announced for the Blue Devils over Kansas University, North Carolina, North Carolina State, Kentucky and UCLA.
"I chose the program I thought was best the fit for me. Growing up, I was a Duke fan," Ingram said. "I love everything about coach K (Mike Krzyzewski). I want to impact the program as soon as I come in."
Ingram averaged 24.3 points and 10.4 rebounds in leading Kinston to its fourth straight state title.
Questions about what might happen at UNC in the wake of the school's academic scandal hurt the Tar Heels' chances of landing Ingram, who played for former UNC standout Jerry Stackhouse's AAU team.
"We wanted to see something on paper," Ingram's dad, Donald, told the Raleigh News and Observer, saying an ongoing NCAA investigation "played a big factor" in his son not choosing North Carolina.
"We wanted to hear it on television. We wanted to know that they're not going to fall into the same situation like Jim Boeheim with Syracuse (not being allowed in NCAAs last year). So you don't want to go into a (situation) that's already hot. And it played a factor in it."
Diallo decision nears: No. 5-ranked Cheick Diallo is expected to reveal his college choice today or Wednesday, Eric Bossi of Rivals.com reports. It is possible Diallo, 6-9 senior from Our Savior New American in Centereach, New York, will merely report his decision on Twitter. No plans for a news conference have yet been revealed.
Diallo, a native of Mali, is considering KU, Kentucky, St. John's, Iowa State and Pitt. He averaged 17.6 points, 10.5 rebounds and 2.5 blocks a game this past season for the 22-12 Pioneers.
He was MVP of the recent McDonald's All-America game and co-MVP of the Jordan Brand Classic. He also was named Gatorade Player of the Year in New York.
In recent measurements at the Nike Hoop Summit, Diallo measured 6-foot-9 in shoes and 220 pounds. He has a 7-4 wingspan and 9-1 standing reach.
Brown cuts three: Jaylen Brown, a 6-7 senior small forward from Wheeler High in Marietta, Georgia, on Monday trimmed his list of schools to KU, Kentucky, Michigan, California and North Carolina, Scout.com reported. Rivals.com's No. 3-rated player cut UCLA, Georgia and Georgia Tech from his list.
Mlive.com notes that Brown's mom, Michelle, is a native of Muskegon, Michigan, and he has family in the area. Michigan freshman Austin Hatch on Monday was placed on medical scholarship and will no longer be a member of the team. It has opened one scholarship for the Wolverines.
Brown is the state of Georgia's highest rated prospect since Derrick Favors, who was ranked No. 3 by Rivals, in 2009.
Mack update: KU is reportedly recruiting former VCU commit Tevin Mack, a 6-6 senior small forward from Dreher High in Columbia, South Carolina, who is ranked No. 61 by Rivals.com.
Mack initially chose VCU over South Carolina, Clemson, Georgia and UConn. Texas, which now is led by former VCU coach Shaka Smart, is on his current list.
"Kansas has emerged as a MAJOR player in Tevin Mack's recruitment," tweeted Midlands-HSsports.com on Monday night.
Clock talk: The shot clock will likely be reduced from 35 to 30 seconds, NCAA Rules Committee chair Rick Byrd tells ESPN.com. The committee will meet May 12-15 in Indianapolis.
"There's not a lot we can do unless we rewrite the rules," Byrd told Andy Katz, referring to helping increase scoring in college hoops. "There will be pressure to do something, and one of those things to do is to lower the shot clock to 30. I think that would improve the pace of play."
KU coach Bill Self has told the Journal-World he's in favor of a 30-second shot clock. His comments are available at http://ljw.bz/1NLpl6R