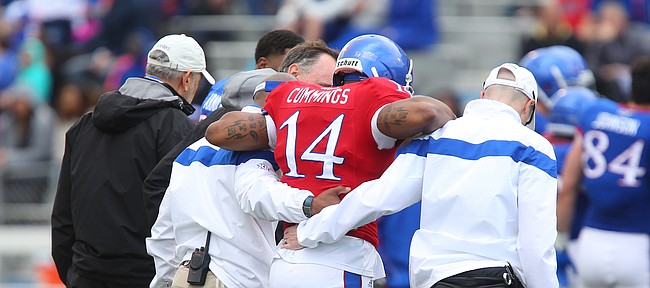 Kansas University football players, coaches and fans held their collective breaths Saturday at Memorial Stadium when senior quarterback Michael Cummings took a helmet to his left knee after taking off downfield in the first half of KU's spring game.
The 5-foot-10 signal-caller from Killeen, Texas, will have to get the knee surgically repaired, KU coach David Beaty announced in a release Monday morning.
"Following his surgery, he will work diligently, alongside our medical staff, to get back to the field as quickly as possible," Beaty said, not disclosing specifics on the injury.
Cummings, like every KU quarterback during the scrimmage showcase, wore a red jersey to indicate he shouldn't be tackled. However, senior walk-on safety Michael Glatczak found himself engaged in a downfield block during the QB's second-quarter scramble, and his helmet ended up knocking into Cummings' left knee as the defender pulled himself loose and hit the QB low.
Immediately following the spring game, KU coach David Beaty related Cummings' take on the play: "Coach, he didn't mean to do it. He got pushed into me."
Beaty on Saturday deemed the play a "complete freak accident," and said he wished he had blown his whistle quicker on that particular occasion during the fan-friendly practice.
"But they were both moving so fast," Beaty admitted, "I'm not sure it would've made a difference. They were just kind of converging right there."
On Monday, Beaty stood by his original assessment of the play, upon reviewing video from the spring game. The coach said Glatczak had his back to the action almost the entire play.
"At the last second he turned to make the tackle without having any idea who was carrying the ball," Beaty said. "He is a great kid, a great teammate and again it was just a very unfortunate accident."
Monday afternoon, Cummings tweeted out a message to his teammate, Glatczak: "Want to give a shoutout to my boy (Glatczak) — he's a great player and teammate, I have nothing but love for him, I'll be back."
The 5-foot-10 QB remained on the turf long after sustaining the injury and had to be helped to the sideline by KU staffers. Eventually, Cummings limped to the locker room under his own power, making Beaty optimistic his program's senior QB, and the incumbent starter, would be OK.
Cummings replaced then-sophomore Montell Cozart as the Jayhawks' first-string quarterback during Week 6 of the 2014 season.
With a new staff in place and months to go until the 2015 season, no starting roles have been assigned. Cozart and Cummings were set to split reps during the spring game until Cummings got knocked from the action.
Incoming KU freshmen Carter Stanley and Ryan Willis also figure to factor into the QB competition once they arrive on campus this summer.