Five years of interviewing shot putters and watching them compete sparked a light bulb in my head, a genuinely good idea, one I'm putting down on paper here before it dies of loneliness or gets trampled by the debris that flies around up there in stops and starts, billions of tumbleweeds caught in that ceaseless wind storm between my left and right ears.
Here goes: A Hollywood producer needs to make a Reality TV show out of the shot-put circuit that starts every year in Lawrence. All of the events must be on city streets, with standings kept, interviews with all the competitors and shots of them checking out the nightlife in American and European cities across the world.
Call it, "Behind the Muscles: Globe-trotting with He-Men." Or something punchier.
John Nubani, a former football and baseball player at Yale and president of "Sports Management and Marketing, Inc." in Pittsburgh, long has been an advocate of having a downtown shot put series throughout cities in America and Europe. So far, no network has bitten. I shared my idea of making a Reality TV series out of it.
Photo Gallery
2015 Downtown Olympic Shot Put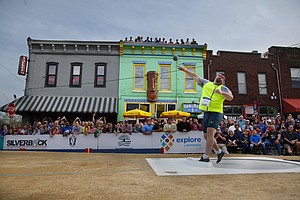 View a gallery of images of the competition during the Downtown Olympic Shot Put event at the corner of Eighth and New Hampshire streets.
"It would be a fantastic reality show," Nubani said. "Can you imagine these guys going to 10 cities or 12 cities over the course of a season, and the winner gets a million dollars or something of that nature? Have these guys scoring points, like the Fed Ex Cup on the PGA tour. And personalize it. Have (footage of) them training and doing the things they do. Guys trying to make the Olympics, trying to be the best in the world. If it were done properly, the athletes would come in on it in a heartbeat because it would get people to see these are human beings. They suffer through hardships, injuries, have to train to make their way back from injuries."
They are physically compelling because they are huge and athletically interesting because throwing the shot requires such fine-tuned mechanics. They don't mind being themselves and tend to be outgoing.
It's an awful event to try to watch when it takes place in the infield of a track-and-field stadium and a fantastic one when it happens on a city street.
Canadian Tim Nedow explained why the winning marks set in the five Downtown Lawrence Shot Put events always exceed 70 feet, not the norm for so early in the season.
"You'll hear the throwers scream, and the throwers will hear the crowd," Nedow said. "In the stadium, you don't know who they're cheering for. It could be a race. It could be a jumper. Here, it's all you. You know they're behind you when you're throwing. It's great, 3,000 people coming out to watch you, and all eyes are on you. And every throw, they're going wild. Not just for their favorite, for everyone on every throw. That's why people throw bigger distances here."
Back to Reality TV, he-man style. The camera crews could follow the unattached, single throwers who are on the amorous side into the bars.
"I'm sure there are some guys ready for that," Nedow said. "I'm not sure I'm one of them."
Again, Nubani thought such footage would work well.
"There are a number of younger throwers who are single and, believe me, they have a lot of fun, especially in Europe, where they're idolized," Nubani said. "These guys, in Europe, they have groupies following them."
Talk about compelling TV. Season I, Episode VI: "Inside the mind of Shot Put Annie."
Christian Cantwell, the most popular University of Missouri athlete in the history of Lawrence, has won the event the past two years. He also deserves a prize for coming up with an outstanding twist to the Reality TV idea.
"Put us all in the same house and make us train together," Cantwell said. "Everybody's true personality would come out. Have the Olympic trials be a series of say eight meets, where you throw out the high mark, the low mark, take the outliers out and average the other six marks. Make the championship meet count double."
One great idea at a time. For now, the throwers aren't thinking about Reality TV, but do want a street-shot-put circuit established. They're all grateful to the city of Lawrence and event organizer Bob Sanner for staging a first-class, world-class event.
"We had meets of this sort before, but I think they do it better here," Cantwell said. "The organization is better here. The word spreads better here."
In Zurich, a vector is constructed in a train station. In Stockholm, it's in a city center, the same for a city in the Netherlands.
"Passers-by will stop and watch, and they do stop, but they don't know anything about us," Cantwell said. "Here, with the mingling we do with the crowd, I feel like people are getting to know us."
Said Nubani: "The throwers in Europe are keeping an eye on the event in Lawrence. They see the good marks, and they want to know what's going on. Many of the meets in Europe are now trying to emulate this and are getting them out of the stadium, so the people can be right on top of the athletes. The athletes want it."
Lawrence, which has such a rich history of track-and-field athletes excelling for Kansas University, is changing the sport for the better, and with any luck it will lead to significantly upgrading Reality TV.