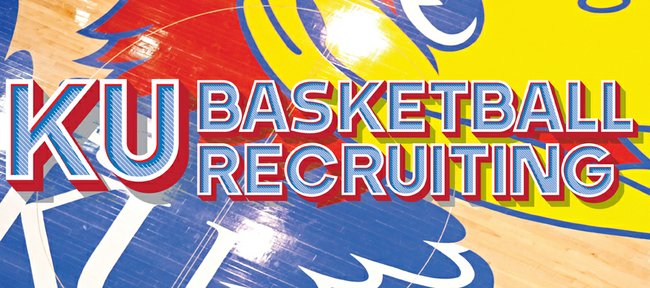 Cheick Diallo, a 6-foot-9, 220-pound senior power forward from Our Savior New American High in Centereach, New York, who is ranked No. 6 in the recruiting Class of 2015 by Rivals.com, completed his weekend campus visit to Kansas University on Sunday.
Diallo, who has visited Kentucky, will travel to Iowa State this weekend. He also plans to visit St. John's on Oct. 17. Pitt is also on his list.
Diallo posted a picture of himself in KU's Booth Family Hall of Athletics on his Twitter account on Saturday. He also retweeted a tweet that read, "Rock Cheick Jayhawk!"
"Similar to Kentucky, Kansas has a pretty solid group of big men that are already on campus but a few of them are threats to leave for the NBA after this season so landing elite guys to replace them is a priority," writes Eric Bossi of Rivals.com. "Diallo doesn't talk a lot about his recruitment but Kansas has positioned themselves nicely here and they are in position to set the bar high before Diallo makes visits to Iowa State and St. John's."
Diallo, who picked up a basketball for the first time four years ago, left his homeland of Mali for New York three years ago with a dream of becoming an NBA player.
Of Diallo, Coast2coasthoops.com's Kevin Geisler wrote on July 10: "Diallo is a highly cerebral defensive power forward who has an outstanding wealth of athleticism to draw from on the offensive end. … Cleans the rim with authority, stays elevated on help blocks all while keeping a hand on his man to deny space. … Explosive player up and down both sides of the court, but his high motor can create easy turnovers when attempting low post drives and single dribble reverse layups. … Has very little mid-range game to speak of, he feasts on open passes under the basket and transition dunks. … Sees the court well enough to make accurate lobs and has the hand-eye fortitude to bring in strong passes with both hands to the body. … Relies too much on athleticism on the offensive end, he could stand to learn low-post maneuvers in order to gain better leverage for hook shots or off-the-glass moves. … Overall Diallo is an intriguing and raw power forward prospect in the 2015 class, he has the intangibles necessary to fill the box score nightly but will need to improve his offensive skills to become a true threat."
Diallo, who has a 7-foot-3 wingspan, has been pleased with his rapid progress since coming to the States.
"I want to prove to everybody what I can do," Diallo told Zagsblog.com. "I've got to prove I can be a defensive player, I can rebound, block shots. But my offense is important as well. I've got to work on my free throws, work on my jump shot. I want to show everyone that I can play."
Self security: KU coach Bill Self has been ranked No. 1 college basketball coach in terms of greatest "job security" by Bleacherreport.com.
"Not only could he go 0-32 next year without getting fired, but Self also could go winless for the next two years before anyone even starts to suggest that it's time for him to go. Based on his age and track record, he's the most indispensable coach in the game today," writes Bleacher Report's Kerry Miller.
Self, 51, who is 532-174 in 21 seasons (325-69 in 11 years at KU), has won one national title and has led his KU, Illinois and Tulsa teams to 14 conference regular-season titles in the last 16 years. Bleacher Report noted that Duke's Mike Krzyzewski has won a share of 12 regular-season titles in 39 years of coaching and Syracuse's Jim Boeheim 11 regular-season titles in 38 years.
Bleacherreport.com lists Arizona's Sean Miller second overall in job security, followed by Florida's Billy Donovan, Krzyzewski, Michigan State's Tom Izzo, Kentucky's John Calipari, Wisconsin's Bo Ryan, Louisville's Rick Pitino, Michigan's John Beilein and Boeheim.
Honorable mentions: North Carolina's Roy Williams, Gonzaga's Mark Few, Wichita State's Greg Marshall, VCU's Shaka Smart.
Various predictions: Bleacher Report says West Virginia's Juwan Staten will lead the Big 12 in scoring this year; Texas' Myles Turner will be freshman of the year in the conference; and KU will be third-best defensive team in the country behind No. 1 Louisville and No. 2 Arizona. ESPN.com, meanwhile, says KU will have the seventh-best defense in the country. Arizona is No. 1, followed by Virginia, Louisville, San Diego State, UConn and VCU.
"Relatively speaking, Bill Self had a down year as far as his defense was concerned in 2013-14," writes ESPN's John Gasaway. "True, KU was tied for first on that side of the ball with Oklahoma State in Big 12 play. The Jayhawks, however, are accustomed to unchallenged preeminence on D, and a return to form this season won't surprise me. Who knows, if he can crack the rotation maybe Arkansas transfer Hunter Mickelson can be the next Jeff Withey, albeit a less awesome version thereof. As a freshman with the Razorbacks in 2011-12, Mickelson posted one of the best block percentages in D-I."
ESPN.com ranks KU's offense fourth-best behind Wisconsin, Duke and Kentucky.
"Since last we saw KU, the Jayhawks generously donated two starters to the very, very top of the NBA draft and watched a third starter call it a career a year early," writes Gasaway. "In such circumstances, a step back would ordinarily be expected. We are talking about a program, however, that has won 10 consecutive Big 12 titles. And in Perry Ellis, Wayne Selden, Kelly Oubre and Cliff Alexander, Bill Self will have a nucleus capable of putting a high number of points on the board."