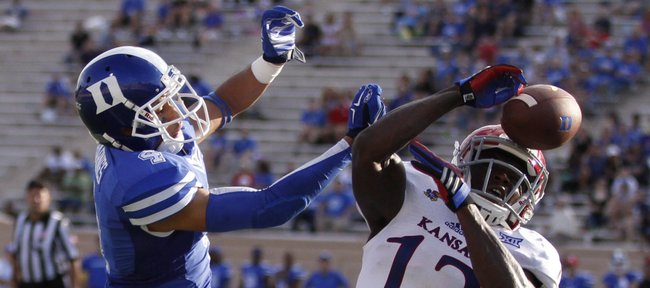 Anybody who picked the Kansas University football team to finish last in the Big 12 has not been given a reason to turn the pencil upside down and put the eraser to work.
KU's 2-1 record wasn't the problem. The fact that KU was outscored by 18 points in the easiest quarter of its schedule is troubling.
Also disturbing: The offensive line lacks quickness, the quarterback can't find a way to get talented receiver Nick Harwell involved, and Kansas still doesn't have a reliable field-goal kicker. Why is it so tough to find one?
KU opens Big 12 play Saturday at home against Texas, a 3 p.m. kickoff. So it's time to predict the Big 12 standings.
1 . Oklahoma: Pflugerville (Texas) High won 55 consecutive football games from 1958 to 1962. That used to rank at the top of the boast list for the city near Austin. Now it's that it's the hometown of Semaje Perine, who played for cross-town rival Henrickson High. Now he plays for the Sooners.
The correct pronunciation of Semaje is "Jerome," and the correct pronunciation of Perine is "Bettis."
Perine, who weighs 243 pounds, rushed for 242 yards and four touchdowns at West Virginia.
2 . Baylor: Quarterbacks Bryce Petty and former KU oral commitment Seth Russell have combined for 13 touchdown passes and one interception.
3 . Kansas State: The Wildcats blew their chance to slow down the slobber-fest over the SEC's dominance.
Still, the 'Cats can contend for the Big 12 title because they have a terrific battery in Jake Waters and Tyler Lockett, and Bill Snyder's teams always improve as the season progresses.
4 . Oklahoma State: Daxx Garman has looked good at quarterback filling in for injured J.W. Walsh (possibly gone for season after foot surgery), and the Cowboys always have plenty of speed.
5 . Texas: Longhorns fans need to stop ... freaking ... out. It's not as if the program is in shambles, even though Texas looked awful in a Week Two, 41-7 loss to BYU. The 'Horns bounced back nicely in a 20-17 loss to UCLA, which relied on Jerry Neuheisel to take over for injured starter Brett Hundley.

6 . West Virginia: Quarterback Clint Trickett is showing the nation just how good he is when healthy and receiver Kevin White is breaking open deep for him. Trickett's averaging 400 passing yards per game, and White leads the Big 12 with 10.5 catches and 158.2 receiving yards per game.
7 . TCU: Plenty are billed as "dual-threat quarterbacks." Trevone Boykin actually is a dangerous passer and runner.
8 . Texas Tech: Typical recent Red Raiders team: All pass, no defense.
9 . Iowa State: The Cyclones lost by 20 at home to North Dakota State and won a road game against Iowa by three points, which leads most to reach the conclusion that ISU is wildly inconsistent. Here's a better way of looking at those comparative scores: North Dakota State is a better football team than Iowa.
10 . Kansas: Tulane has had two Lou Groza Award winners in the past 13 seasons (Seth Marler in 2001, Cairo Santos in 2012). Again, what is so difficult about finding a kicker?